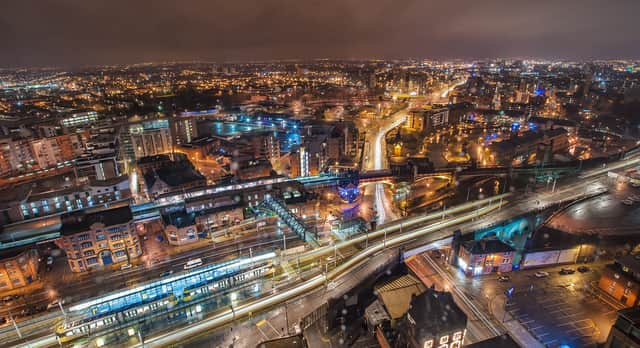 Manchester by night Credit: Shutterstock
Manchester has been named the third best city in the world for 2021 by leading what's on and travel guide, Time Out.
The writers hailed Manchester's nightlife, creativity and people as among its assets, saying: "Manchester sure is a resilient place. All things considered, we've thrived over the past year – with communities here really banding together through the toughest of times.
"This city has a rep for knowing how to have a good time, and it came as no surprise to us that it was voted top for 'nightlife', 'creativity', 'community spirit', 'friendliness' and 'getting to know your neighbours'."
Here are just three of our (many) favourite things about Manchester - you can tweet us @MancWorldUK or post on our Facebook with your own.
Pubs & bars
We'd be hard pressed to think of a city in the UK which has more diverse, fun and entertaining places to grab a pint or a cocktail.
With lots of top breweries on the local scene, finding a world-beating craft beer is easy, but we're not short of classy champagne bars or places selling natural wine.
Where better than the city centre in the sun? Credit: Shutterstock
And there is constant innovation in the hospitality sector: the pandemic has been challenging to pubs and bars but none have rested on their laurels and this year has seen the arrival of everything from a prison-themed cocktail bar to a gastro-pub where you can play a game of cricket.
No two nights out need ever be the same!
The sports scene
But Manchester is not a one-sport city: it's also a rich hub for everything from cricket to winter sports, and we host national centres for cycling, sqaush, water polo, tae kwando and lacrosse.
There are also thriving community, grassroots sports clubs where the talent of the future has a chance to grow and there are real efforts to make more sports accessible to all.
You only have to look at the success of our local Olympians and Paralympians in Tokyo to see how embedded sport and nuturing talent is in the city's blood.
Charlotte Worthington competing in the women's Park final at the Olympic Games. Photo: Jamie Squire/Getty Images
The people
We have to agree with the Time Out survey on this one - Manchester people are not just resilient but proud people - and under our hardy exterior, folk are warm, friendly and welcoming. There is a reason why so many people flock to our city to live, work and visit - and decide to stay for life.
A city is nothing without its people and we're sure that's why Manchester sits near the top of the best cities list.