Tyson Fury: WBC champion's dad takes aim at son's trainer SugarHill Steward in latest rant
Fury Sr said Tyson's trainer SugarHill Steward should've been sacked last month.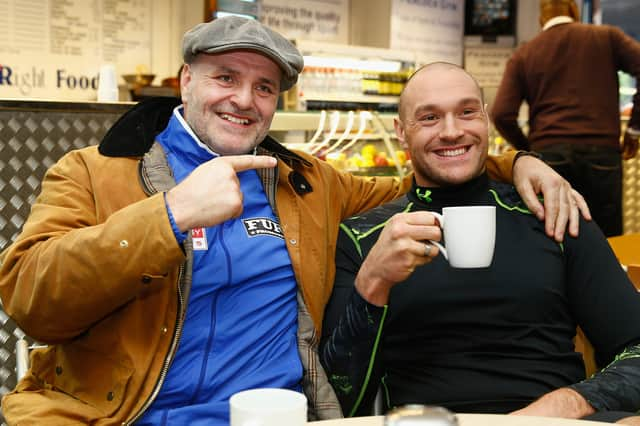 Tyson Fury's dad, John, has slammed his son's training team and says they are "all just after the ten per cent". The Gypsy King, 34, who holds the WBC title, was set to test himself against Oleksandr Usyk with everything on the line to crown the first four-belt heavyweight champion, but discussions fell through.
It was said that the Ukrainian side ended the talks after disagreements over finances and compensation. However, Oleksandr Usyk's team claims it was due to unacceptable demands from Fury's end. Fury Sr directed the blame at his son's trainer SugarHill Steward and said he should be sacked after it was suggested that he arrived in the UK  to train Lawrence Okolie instead of preparing Fury for Usyk.
In John's latest rant, he stated that he is the only person that tells his son the truth about his boxing career. He also took aim at Fury's coaching team once again for "thinking of their own ends and making a living".
"Tyson likes different people around him telling him how great he is," he told Stamina For Sale. "I'll tell them straight, if it's not working I'll say it's not working. In Tyson's case, he don't like the truth, but I'm going to tell him it anyway because he's my son, and it's on his best interests.
"All the SugarHills, everybody out there, they're all 10% men. They're all after the 10%. It's a business. You can't blame them. They're thinking of their own ends and making a living. But it's up to you to have enough brains to see through that. You don't move them out of their job. Don't make a friend out of them or get close to them.
"They're not going to tell you the truth, are they? Frightened of getting sacked. There's many times [Tyson's] looked rough in the gym, and I've said that's not too good today, mate. 'What do you mean?' I say 'I've told you, need to improve.' But they don't listen to their dad, do they? Nobody does."