Tommy Fury exchanges blows with Love Island star Idris Virgo during KSI Vs Joe Fournier at Wembley Arena
Tommy later went face-to-face with KSI after the YouTuber recorded a second-round knockout victory against Fournier.
Tommy Fury got into an altercation with a former Love Island contestant on Saturday after a scuffle in the crowd during a boxing event at Wembley Arena. Tommy, the half-brother of WBC world heavyweight champion Tyson Fury was in attendance to watch potential opponent YouTuber KSI fight against Joe Fournier.
The professional boxer and reality television personality traded blows with fellow Love Island star and boxer Idris Virgo midway through the undercard after Anthony Taylor beat Salt Papi. The pair began pushing each other before security waded in and desperately tried to separate them. Tommy Fury's father, John, and former cruiserweight king Mairis Briedis were seen amidst the chaos.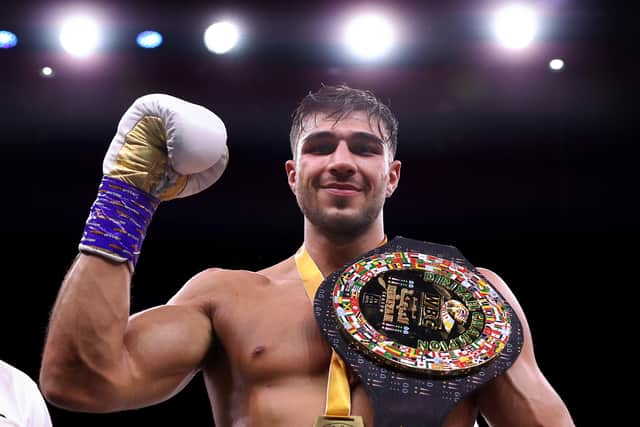 Tommy  later told TalkSport: "He's just another bum looking for a payday. That's all." He also admitted to being interested in a fight with KSI, saying: "Yeah, definitely. In my opinion, out of all this influencer boxing stuff, I beat the top of the tree. Jake Paul's the best out of all of these, so all this now is easy money, baby."
The 24-year-old later went face-to-face with KSI after the YouTuber recorded a second-round knockout victory against Joe Fournier and called him out. Tommy, who was sitting ringside, stepped into the ring to confront the YouTuber.
When facing off with Tommy Fury, KSI said: "I want this. I want to do what Jake Paul couldn't: knock you out". Tommy replied: "That's never, ever gonna happen. All I can say is, sign me up. Easy money, easy money. Sign me up, easy money. You're going to sleep within four rounds."
KSI added: "People always say 'KSI won't be able to do it, he won't be able to beat Jake or Logan Paul' but I always prove them wrong." Tommy responded, saying: "You didn't beat a pro boxer tonight. I'm the pro boxer. Jake Paul is already ticked off, and you will be ticked off the list next, and then Misfits is going to be over."
Tommy went head-to-head with YouTuber-turned-boxer Jake Paul on 26 February this year and won by split decision. He ended Jake's perfect 6-0 record whilst raising his own record to nine unbeaten fights since his professional boxing debut in 2018.