Tommy Fury has silenced claims that he would pull out of his rescheduled fight against Youtube star Jake Paul, confirming the 6 August fight will go ahead.
The highly anticipated fight was due to take place in December 2021, but Fury had to pull out due to an illness.
Paul, who is famous for being part of 'Team 10' amongst other things, took to social media to claim Fury was backing out of the rematch, saying: "Tommy Fury, you pulled out last year. Then you agree to fight me now but your dad is trying to pull you out again?
"We've given you everything you asked for — $2 million purse, VADA testing. You have 24 hours to clear this up or I will never give you this opportunity again."
The rematch was in limbo of sorts, with people unsure if it would actually take place. Paul, who has had a few bouts in recent years was the catalyst for the recent confirmation, taking to twitter to say: "Tommy Fury and boxers like him are the reason this started to die. Tommy, you have 24 hours to fix this" accompanied by a one minute and 40 second video.
A brief social media exchange between the two saw the former Love Island star tweet 'See you August 6th pal'.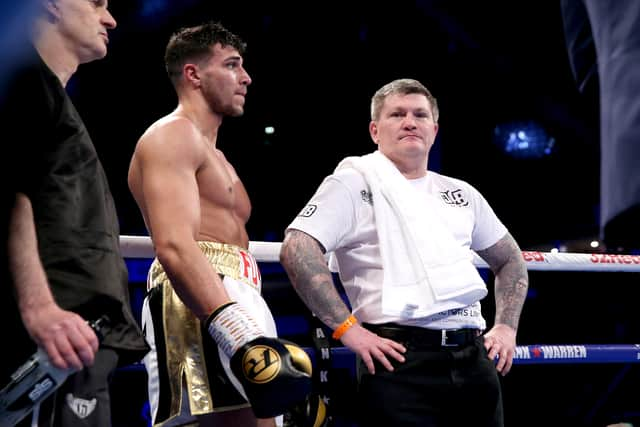 When is the fight taking place?
The fight is set to take place on 6 August at the iconic Madison Square Garden in New York, USA.
It's a place that the Fury family are familiar with, as Fury's recently retired brother, Tyson, went to war with Deontay Wilder at the venue.
Is there genuine hatred between the two?
It's common that when a fight is coming up, opposite ends will act like they really despise the other, to increase knowledge of the fight and viewership.
This was with Conor McGregor v Floyd Mayweather, when it came to light that McGregor didn't mind the latter.
The back and forth via social media has included Tommy's girlfriend Molly Mae-Hague, who Tommy met on Love Island, with a lot of trash-talk ensuing.
It's unknown if it's a genuine feud, or they're playing up to it, but it has gotten personal between the two.
What are the latest betting odds?
Some bookmakers have Tommy Fury at 1/2 and Jake Paul at 6/4.
How much are both expected to earn from the fight?
This is a high stakes fight between two people with significant social media following, meaning they're likely to make some good money from this.
The purse for the fight is $2 million, which was reportedly the figure Fury was after.
This will eclipse his entire career earnings, which is reportedly below $2 million.
What is their individual net worth?
Tommy Fury has an extimated net worth of more than £1m whilst it's estimated Jake Paul's net worth is more than $30m.
Who is Tommy Fury?
Tommy Fury is an English boxer and social media personality.
He is the half brother of British heavyweight champion Tyson Fury, and the boyfriend of Molly Mae-Hague, one of the UK's biggest influencers.
He starred in the 2019 edition of Love Island, where he met Molly, with the pair finishing second.
He currently has a perfect boxing record, with eight fights, eight wins with four wins by knockout.