Leila Farzad's redemption comments emerge after 'affair' with Amy Nuttall's husband Andrew Buchan
Leila Farzad tactless redemption comments surface after 'affair' with Amy Nuttall's husband Andrew Buchan
Watch more of our videos on Shots!
and live on Freeview channel 276
Visit Shots! now
Leila Farzad's redemption comments about her character in BBC drama Better have raised eyebrows since her 'affair' with co-star Andrew Buchan was revealed.
The actress, 40, from London, is rumoured to be living with the Broadchurch star after he left his wife of over 11 years Amy Nuttall. Andrew reportedly left the Emmerdale star and their two children just before Christmas.
Leila, who has a nine-year-old daughter with James Maizels, explained that her character is "trying to be better and see if she can be redeemed" during an appearance on Virgin Radio to promote BBC's Better last month.
The comments about having a "crisis of conscience" have been seen as ill-timed in the wake of her having an 'affair' with her married co-star.
Leila said: "'It's about someone you think should be good actually being terribly corrupt.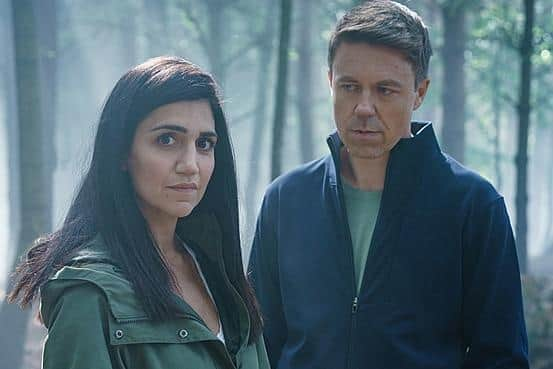 "Maybe an institution that purports to being morally superior, maybe there are some bad eggs and bad apples.
"It's about an anti-hero. She's a police officer who's also working for a corrupt drugs baron and something happens to her and she has a conscience crisis.
"It's about her trying to be better and if she can be redeemed."
A source close to Amy told The Sun that she became suspicious of how close Andrew had become to his Better co-star Leila Farzad after spotting "tell-tale signs" in their social media posts together. The actor had also been frequently staying away from the family home in favour of sleeping at hotels "very near" to where they live.
The final straw was when Amy discovered that her husband had purchased racy lingerie in a size that was not her own. According to friends and family she has been left so "crushed" by the way her marriage has ended that she has been crying almost every day.
Amy's social media followers have argued that Leila should be having a "crisis of conscience" like her Better character.
One follower posted on Amy's feed: "That woman is not a patch on you, when the novelty has worn off he'll regret his decision, trust me!"
This is not the first time Leila has made questionable comments amid her 'affair' with Andrew Buchan. In scenes from Better, she and Andrew are seen sharing an embrace, with Leila describing their 'on-screen' relationship as "intense."
On working with the actor on the show, Leila added: "We never worked together before. He's a dream to work with."
She went on to pay a gushing tribute to Andrew and the Better team for "holding her up and wiping away her tears," alongside an Instagram snap of them filming.
Since their secret 'affair' was revealed, Leila has chosen to stay quiet and the gushing social media commentary has ceased. Comments have been turned off on her social platforms and she hasn't commented publicly on her relationship with Andrew Buchan.