Amy Nuttall was reportedly suspicious of Andrew Buchan's relationship with Leila Farzad before finding sexy lingerie that he had bought.
The Emmerdale actress, 40, from Blackburn, had been married to the Broadchurch star, 44, from Stockport, for over 11 years before they split in the weeks leading up to Christmas.
A source close to Amy explained that she became suspicious of how close Andrew had become to his Better co-star Leila Farzad after spotting "tell-tale signs" in their social media posts together. The actor had also been frequently staying away from the family home in favour of sleeping at hotels "very near" to where they live.
"But the final straw was the lingerie — that's what clinched it. Amy just knew instinctively that it wasn't meant for her," the insider told The Sun.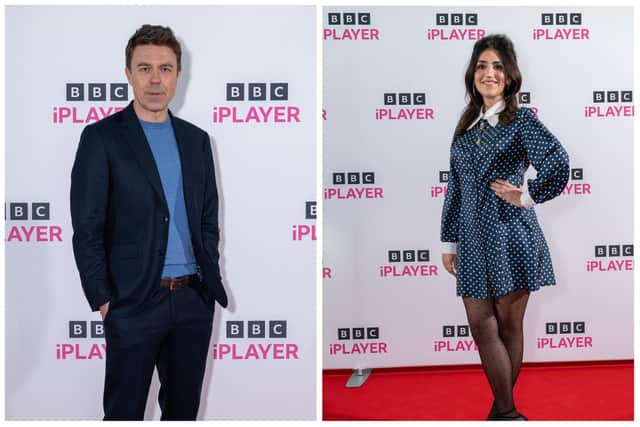 It is now believed that Andrew Buchan, who shares a son and a daughter with wife Amy, is living with Leila, much to the shock of family and friends. Leila also has a daughter, nine, with husband James Maizels, from whom she is separated.
This is not the first time that Amy Nuttall has been cheated on.
Whilst playing the part of Chloe Atkinson in Emmerdale she dated co-star Ben Freeman for more than four years. In similar circumstances, the couple separated in 2004 amid claims that he had cheated on her.
Amy had discovered calls and text messages to another woman and bravely confronted the lady in question. The cheating rumours were confirmed and Amy was forced to end the relationship.
On Tuesday, the Downton Abbey star was pictured for the first time since it emerged that her husband has walked out on her and their two children. It is clear that friends and followers are rallying to support Amy and her children during this difficult time.
Amy has been relatively quiet on social media since the split but shared a cryptic message around Valentine's Day.
Followers have been quick to provide comfort in the comment section of the post, which read: "I am not impressed by money, social status or job title, I'm impressed by the way someone treats other human beings."
One fan commented: "You will come out the stronger one and will be able to hold your head up high. Stay strong".
Another wrote: "That woman is not a patch on you, when the novelty has worn off he'll regret his decision, trust me! And you'll be stronger, wiser and ready for someone who truly loves and deserves you 💗💪🏻"