Helen Flanagan sparks 'feud' rumours after fans spot she didn't publicly congratulate winner of I'm A Celeb
Myleene Klass was crowned I'm A Celebrity… South Africa's first ever 'Legend' as Diversity's Jordan Banjo was named runner up
Helen Flanagan has sparked feud rumours after opting not to publicly congratulate the winner of I'm A Celebrity... South Africa. The actress, 32, from Manchester, returned to screens for the first All Stars version of I'm A Celebrity, 10 years after her first appearance on the ITV show.
She sparked rumours of a feud after failing to publicly congratulate Myleene Klass on winning the show after the final episode aired. Meanwhile, their fellow campmates took to social media to publicly congratulate Myleene on her victory.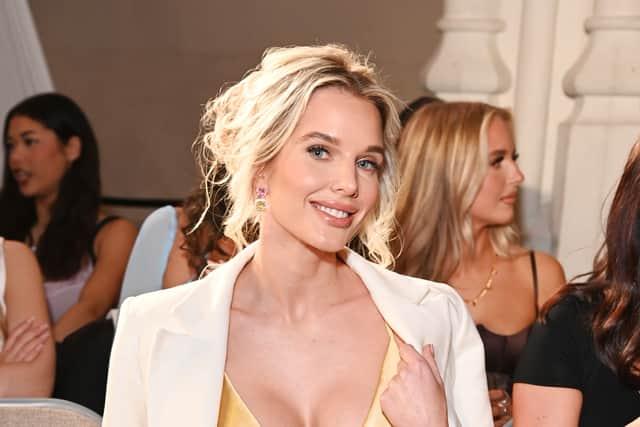 Runner up Jordan Banjo, took to Instagram to congratulate the musician, saying: "Myleene is an actual G, no one was beating her in that eating trial…especially not me. Well done mate!"
Carol Vorderman commented: "Booommmmmm...incredible baby girl," on Myleene's Instagram post where she models the crown she was awarded as the first ever I'm A Celebrity 'Legend.' Whilst Dean Gaffney, took to his Instagram and wrote: "Well done @myleeneklass for being crowned the first ever 'Legend of the jungle' ❤️"
Despite fan speculation, this doesn't mean that Helen didn't congratulate Myleene privately.
Rumours initially started to circulate after Helen  revealed who she wanted to be crowned the winner of the ITV spin-off show. When asked at the Pride of Manchester Awards, Helen told The Mirror: "I don't know really, I mean I became very close to Jordan, I've been really close to Jordan, yeah."
After being pushed to reveal who she thought will win the show, she said: "Maybe [Jordan], maybe, maybe," despite already knowing the winner. She admitted that she's very much a "people person" and really got on with both Carol and Fatima.
The brave mum-of-three spent two weeks on the serieshappily taking on the challenges that were thrown at her, which was  a stark contrast to the Helen that took part in the show 10 years ago. In 2012, she became known for giving up on the difficult trials and even refusing to try them at all.
Helen recently appeared on ITV's Lorraine and discussed how much she had changed in the past decade and credited her three children for contributing towards that.
Lorraine said: "When you did it before, you were only 22, and you were scared and you were wee [young] and it was hard." Helen: replied: "I just had no idea, I really was totally clueless."
Lorraine continued: "So when they said come back, it was kind of like, yeah, I'm going to come back and I'm going to do everything….and you did!" To which Helen replied: "Yes, I was really determined to, you know, to try and smash it, especially for my kids!"
Helen was then awarded a "no expenses spared tiara" by Lorraine which was labelled "Most improved campmate."