Nurse, 76, who worked 60 hour weeks in Manchester care home surprised with award on Good Morning Britain
Gladys Nhkola was surprised by the GMB team at Monet Lodge care home in Withington.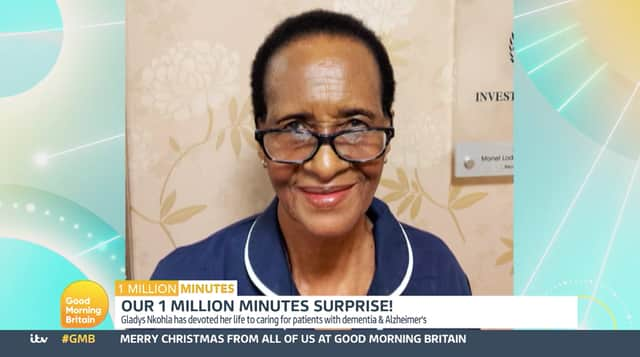 A 76-year-old nurse from Manchester has been named the winner of Good Morning Britain´s 1 Million Minutes Dame Barbara Windsor Award.
Gladys Nhkola, who moved to Hulme from her native South Africa in 2002, received the award from GMB presenter Pip Thomson in a programme screened on Christmas Day.
The GMB team surprised Gladys at Withington's Monet Lodge, where she cares for people with dementia, by serenading her with a gospel choir.
Gladys said: "The award came as a complete surprise, I had no idea what was happening.
"I went into work and there was a red carpet, and then the choir started, and they told me I'd won an award. I was actually speechless!"
How Gladys helped combat loneliness
Gladys was singled out for the honour after award judges read how she regularly worked 60 hours a week during the height of the pandemic to support her patients at Monet Lodge, a specialist dementia hospital run by adult health and social care charity Making Space.
When restrictions meant patients were separated from their loved ones, Gladys volunteered for extra shifts to help combat their loneliness – all despite being in at-risk group herself.
Gladys said: "I should have been shielding according to my age. But I don't have any underlying health conditions, I was healthy and I always felt safe – we always had full PPE at Monet Lodge, we were well looked after.
"But our patients couldn't see their relatives or friends, and that was very hard to watch. For people with advanced dementia, all the new measures were confusing and upsetting. It was very clear in their faces how much they missed their loved ones."
What have people said?
Gladys' selfless actions came as no surprise to her colleagues at the home.
"Gladys thoroughly deserves to be recognised with this award, she really is such a wonderful inspiration to everyone here," said Monet's manager, Meena Patel.
"Being recognised in such a public way is a very fitting way of saying thank you for everything that she does to help others. She was absolutely stunned when she found out, she couldn't even speak! It was such an exciting day, we're all thrilled."
Rachel Peacock, CEO of Making Space, said: "Gladys has an inherent sense of humanity, compassion, love and understanding.
"She never stops developing herself personally, her clinical knowledge is vast and she is a great motivator, as well as a calming presence for colleagues, residents and families.
"Despite losing friends to Covid, her commitment to nursing has never wavered. She truly is one in a million."
Now in its sixth consecutive year, 2021's 1 Million Minutes initiative rolled out across the UK this December and has been backed by a host of celebrity endorsements, plus GMB.
The project asks viewers to pledge time rather than money and this time is donated to charities looking for volunteers to connect with those who feel alone. So far, this year's campaign has raised almost 156 million minutes of donated time.