Several changes are being introduced on Manchester city centre's free bus which will see new destinations added to the shuttle service from the middle of April.
With the existing contract coming to an end, Transport for Greater Manchester and Manchester City Council have agreed to continue funding the service 'for the foreseeable future.' First introduced in parts of the city centre not served by public transport such as trams, the free bus connects key destinations including visitor attractions and shops with transport hubs and railway stations such as Piccadilly.
A revised service will launch from Sunday 16 April which TFGM says 'better reflects current demand'. Two new routes and new timetables will replace the existing three-route service. Both routes will operate from 7am to 7.30pm Monday to Saturday, and 10am to 6.30pm on Sundays and bank holidays.
The routes will allow passengers to travel from Piccadilly to new destinations such as HOME and Deansgate Locks, while maintaining links to Deansgate and Victoria rail stations, Spinningfields, Chinatown and the Museum of Science and Industry (MOSI).
Stephen Rhodes, TfGM's director of bus, said: "The free bus has been a staple of Manchester city centre's transport network since it was first introduced as Metroshuttle more than 20 years ago. The service is provided by TfGM and Manchester City Council, and by delivering these changes we are keen to build on this partnership and continue delivering the service for years to come."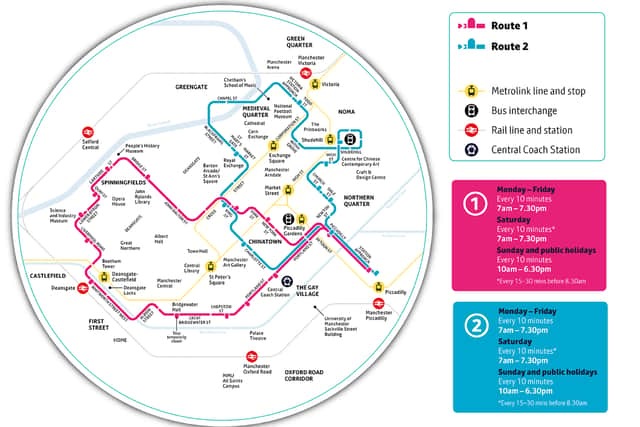 During the main part of the day each service will run every 10 minutes, and will serve the following routes:
Free bus 1 will follow a clockwise loop from Piccadilly rail station to Deansgate rail station, then via MOSI, Spinningfields and Chinatown back to Piccadilly. This route will provide a link from Piccadilly to attractions at the bottom end of Deansgate, such as MOSI and HOME, while maintaining links between Piccadilly and Spinningfields
Free bus 2 will follow a clockwise loop from Piccadilly rail station to Chinatown, King Street, St Marys Gate, Victoria rail station and Shudehill, then back to Piccadilly. This route will provide a link from Piccadilly to the shopping areas of King Street, Market Street and Deansgate.
On Sunday 16 April, Free bus 1 will be affected by diversions put in place for the Manchester Marathon, with the route being diverted away from Deansgate Locks, MOSI and Gartside Street. While Free bus 2 will run as normal, there may be some delays due to displaced traffic.
Neil Fairlamb, strategic director of neighbourhoods for Manchester City Council said: "The free bus services around Manchester are a vital asset for many of our residents, one which we are glad to continue funding alongside our partners at TfGM. We know that public transport is the better, more environmentally friendly way to travel and we hope that for many more years to come people will take advantage of this shuttle service."
For more information about the new Free Bus routes and timetables, see TFGM's website.