An academic based in Manchester is challenging the water company serving Greater Manchester to be more transparent about how much sewage is ending up in the city-region's rivers.
Professor Jamie Woodward from The University of Manchester says United Utilities have urgent questions to answer about the amount of waste being spilled into local waterways.
Last year the water company said it would reduce discharges by the equivalent of 4,000 Olympic-sized swimming pools, but Prof Woodward says this raises more queries about the scale of sewage spills and why action has not been taken to reduce them before.
Prof Woodward wrote an article for The Conversation UK in which he said water companies across the country were not providing enough data on how much waste ends up in waterways and urging them to come clean over the scale of the issue.
United Utilities said it hoped its investment programme would reduce storm overflow discharges by a third by 2025.
What has Prof Woodward said about United Utilities?
Prof Woodward says one of the most significant missing pieces of the jigsaw puzzle for understanding the scale of sewage spillages is the sheer amount of waste ending up in rivers. Monitors set up to show when spillages occur record the start and end time of waste flowing out of the pipes, but it is much more unusual for the volume being discharged to be measured.
United Utilities hinted at the scale of the problem across the area it works in as a whole in July 2022 when it said it was launching a £230 million investment package which said it would "reduce sewer spills into the environment by more than 10 million tonnes a year - the equivalent of 4,000 Olympic-sized swimming pools".
Altogether six Greater Manchester locations were listed for receiving improvements as part of this. United Utilities said it would improve storage capacity in Bolton, upgrade the wastewater treatment works in Bury, Rochdale, Mossley and Walkden and upgrade the sewers in Wigan.
But Prof Woodward, a geographer and geomorphologist who specialises in rivers and has done research on the sewage crisis, said the company's statement contains as many questions as it does answers, mainly around how it knows about the size of the issue and why it is not coming under more pressure to tackle it.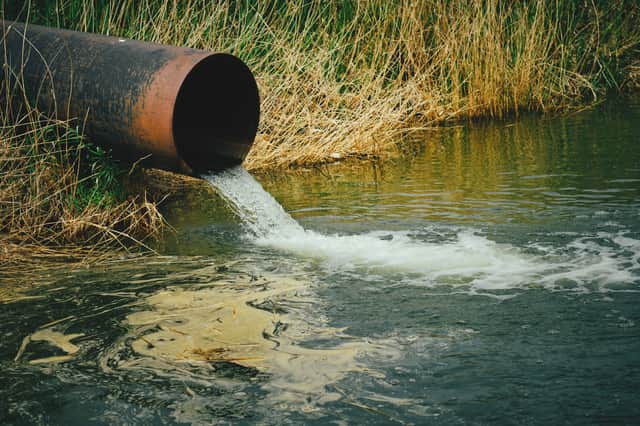 Prof Woodward said: "This is a remarkable admission of sustained sewage dumping on a colossal scale. It appears water companies can provide volumes when it suits them.
"How long has United Utilities been dumping that much sewage in rivers? How did they arrive at that calculation? This sounds like they have data on volume, but we haven't been able to get the full picture because we have information on events and duration but they don't provide information on volume.
"United Utilities are the largest polluter of rivers in Greater Manchester. How long have they known they have been performing poorly on dumping sewage? They've been in charge of this infrastructure for 30 years now, since privatisation. It also doesn't say that if that's how much they are going to save how much they are still going to dump.
"Many of the urban rivers in Greater Manchester are little more than extensions of the sewage network and that has to change."
Thames Water recently launched an interactive map of 468 sewer overflow locations, with updates every 10 minutes on where the company is discharging untreated wastewater and sewage to rivers.
Prof Woodward, who is a professor of physical geography, says all water companies have to be providing this level of transparency by 2025 but he expects United Utilities to be making this available to the Greater Manchester public well before then.
He said: "United Utilities have been fast at getting monitoring equipment into place and have an extensive network in place already, so they should be able to get an interactive map up and running fairly soon. They should be able to do this much more quickly than other companies."
What is happening on the issue of water companies discharging sewage into rivers and the sea?
Prof Woodward wrote in The Conversation UK as environment secretary Therese Coffey has demanded water companies produce plans for reducing the amount of sewage ending up in rivers.
Prof Woodward says huge amounts of untreated waste water and sewage are being pumped into rivers and seas to take pressure off sewer networks and water companies should be blamed for this for not keeping up with infrastructure improvements.
The state of Britain's rivers has recently made headline news with high-profile campaigns on preventing sewage discharge and cleaning up the country's waterways. Currently only 14% of Britain's rivers have a 'good' ecological status.
Prof Woodward said: "Politicians know the sewage dumping scandal could cost seats at the next general election. People need accurate information on what is happening to their local rivers so they can identify the worst offending discharge sites and hold water companies to account.
"If we don't know how much sewage is actually being released – for at least the worst offending locations – we won't be able to measure environmental and industry improvement with any confidence.
"We need full transparency across the industry or the prognosis for our rivers is grim."
Prof Woodward said the issue of sewage being discharged is also closely related to the problem of the amount of microplastics ending up in Greater Manchester's rivers. He was the lead researcher in a team which published a paper after finding large quantities of the damaging tiny particles immediately downriver from water treatment works in the River Tame.
What has United Utilities said?
United Utilities said the sewer network around Greater Manchester was based on Victorian designs and that before 2020 it had already invested more than £1bn into reducing overflows. It also said that its comment last year was based on modelling data and it was increasing storage capacity to help deal with the expected effects of climate change and population growth in the region.
In response to Prof Woodward's challenge over getting an interactive map like the one Thames Water has publicly available, United Utilities said this would be done by the end of this year.
A spokesperson for the water company said: "We care passionately about the customers, communities and environment we serve. We are already investing £230m to reduce the frequency of storm overflow operations by a third by 2025.
"We know that there is more to be done though. With the largest combined sewer network in the country and 28% more rainfall in our region than the UK average, our investment plans from 2025 onwards will see one of the biggest environmental improvement programmes in the country."