Manchester Pride has confimed the theme for this year's parade as it makes a welcome return to the city.
The parade will once more see tens of thousands of LGBTQ+ people and their friends gathering to march through the city for a colourful procession, which didn't take place last year alongside other Pride events due to Covid restrictions.
Organisers came up for some criticism last year that the Pride festival had moved too far away from its campaigning roots, and they have held a series of listening sessions in response ahead of this year's event.
And the theme for the summer 2022 parade has been announced as March for Peace, "with the importance of peace in a world where all LGBTQ+ people are free to live and love without prejudice at its heart", organisers said today.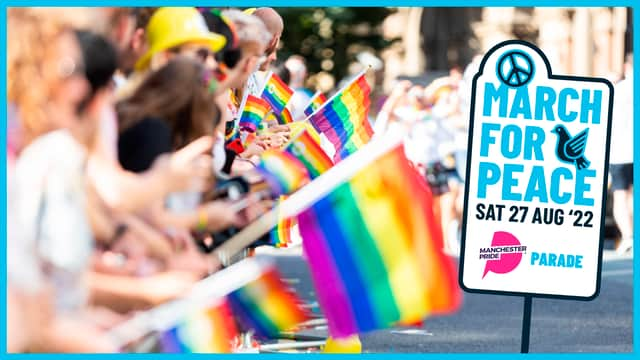 Mark Fletcher, CEO at Manchester Pride, said: "In 2020 we had decided to theme the parade as our March for Peace. Sadly the pandemic took hold and we were unable to take to the streets.
"As we look around the world today, this theme has become even more relevant. Conflict within and outside of our communities is rife and we are calling on our LGBTQ+ communities and allies around Greater Manchester to join in and support us as we March for Peace."
Organisers have promised a 'show-stopping, feel good procession' full of colour with strong equality messsaging. They also say they want to make the event greener and encouraging more people to walk the route.
However, it was previously confirmed the annual MCR Pride Live pop concert will not take place as part of this summer's festival.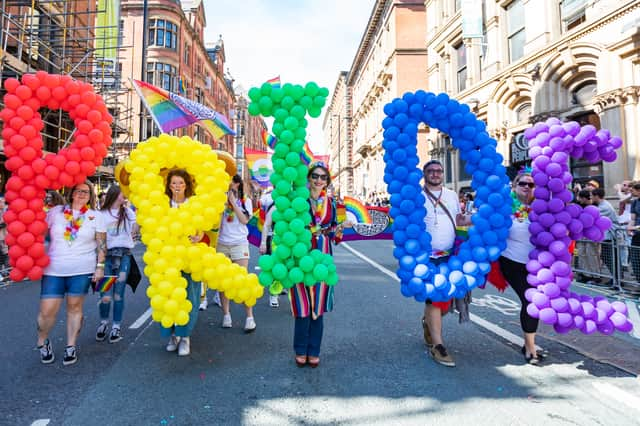 When is Manchester Pride Parade in 2022?
The Pride parade will take place on Saturday 27 August.
Mr Fletcher continued: "LGBTQ+ people have achieved so much in recent history, however, homophobic and transphobic hate crimes have increased in recent years, with many people still facing discrimination because of their identity.
"We are calling on our communities and its allies to come together, embrace differences, and to recognise that everyone deserves the right to be who they are and live their lives in peace.
"Our parade message is loud and clear this year: no-one is really free unless we are all free, and no one gets left behind."
How can I take part in the Pride parade 2022?
Registration is open for organisations to take part in the parade, with entry categories refreshed in 2022 to enable more LGBTQ+ organisations and groups to participate for free, subsidised by larger organisations to wish to participate.
Entry categories for Manchester Pride Parade 2022 are:
LGBTQ+ Organisations (new category)
Non LGBTQ+ Not-for-profit
Greater Manchester Independent Business (new category)
Unlike previous years, all LGBTQ+ organisations are categorised together whether they receive funding or not, and can apply to participate in the parade free of charge if they apply during the first application wave.