Manchester Pride scraps MCR Pride Live event for 2022 after outcry - but free parade returns
The organisation has promised changes following a consultation, after decisions made last year sparked anger and concern among LGBTQ+ communities.
Watch more of our videos on Shots! 
and live on Freeview channel 276
Visit Shots! now
Manchester Pride is scrapping one of its high-profile events and promised to prioritise its history as a "protest movement" not a "pop concert" following a major consultation.
And the MCR Pride Live event, which attracted some major names in music to the city to perform, is to be shelved, with the focus of the celebration of LGBTQ+ people, communities and culture returning to the Gay Village.
The popular free parade is set to return for 2022.
Manchester Pride has spent six months talking to LGBTQ+ communities after a number of decisions made last year prompted deep unease and alarm.
Why has Manchester Pride released the report?
Last year's Manchester Pride took place against a background of controversy and threatened protests and breakaway events after organisers came under fire for a string of decisions.
An announcement the charity would no longer fund the LGBT Foundation's Safer Sex scheme after more than a quarter of century of supporting it prompted fury and concerns that Pride was losing touch with its roots and history.
The scheme gives out free condoms and lubricant and is seen as a lifeline by many people.
Organisers also faced flak when the free parade through the city was scrapped but many of the paying events went ahead.
Manchester Pride said it had no choice but to cancel the highly-visible public event for Covid-19 reasons.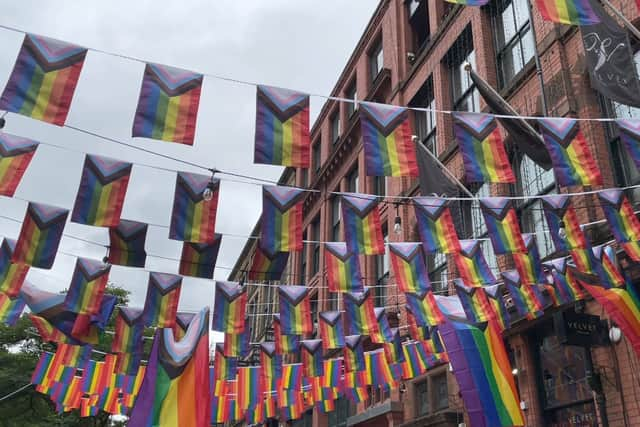 However, for those who were already concerned about the festival's overall direction of travel and ethos it was seen as further evidence that it was losing its way.
The charity has now acknowledged that some of its grant-giving had excluded a number of key causes that really mattered to the community.
And it hopes the findings of the consultation will address this along with questions about the format and delivery of Manchester Pride itself.
The charity admitted it has made some mistakes and apologised, while the report makes clear it has not done well enough on its grant-giving and its overall transparency and communication.
What are the outcomes of the report?
The charity has promised to refocus on its activist roots.
The festival will remain in August but will be focused around the Gay Village Party, with MCR Pride Live not going ahead in 2022.
A number of big names including Gabrielle, Zara Larsson, Annie Mac performed in 2021 at First Street as part of this but the consultation found it was less important to LGBTQ+ people.
The Parade, The Candlelit Vigil, the Gay Village Party, Superbia Weekend, Youth Pride MCR, Family Pride MCR and Human Rights Forum will proceed as the community said they were vital elements of the event.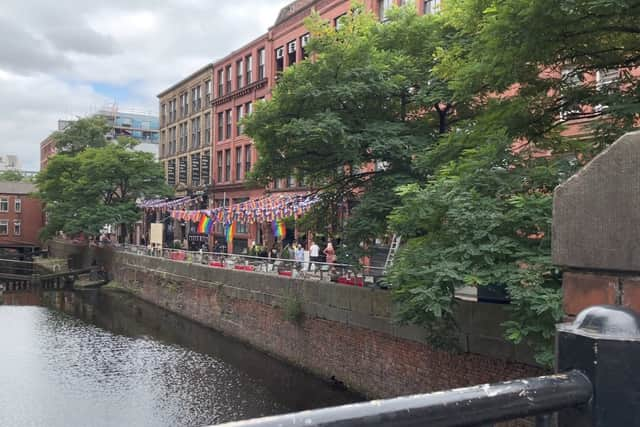 A fixed amount or percentage of each ticket purchased to Manchester Pride events will go directly to the community fund and the board of trustees has pledged to be more visible and connected with communities and committed to ensuring greater transparency on the charity's actions.
In addition the charity has promised that communities will have more input into the design of its events and its grant-giving will be connected to what the communities say and want.
It also wants to introduce quiet spaces, clarify and publish a commitment to having tickets available for those on low incomes by the end of March and work to improve accessibility accreditation and offer to partner LGBTQ+ businesses in the Gay Village to help them be part of this.
What has Manchester Pride said?
Paul Wheeler, chair of Manchester Pride's board of trustees, said: "I'd like to say a big thank you to the thousands of individuals who had their say on the future direction of the charity.
"Manchester Pride should be something everyone feels proud of and can see a little bit of themselves reflected back in.
"We acknowledge we got some things wrong last year and we're sorry for the upset and frustration this caused. It is important that Manchester Pride reflects what Manchester's LGBTQ+ communities tell us they want and this review has shown how we can do better.
"The communities have been clear in saying their must-have elements over the weekend specifically include The Parade, The Candlelit Vigil and the Gay Village Party, whereas MCR Pride Live was seen as less important to furthering our cause.
"First and foremost, we're a campaigning charity fighting for equality and opportunities for LGBTQ+ individuals across Greater Manchester, and the response from across our communities corroborates that position.
"We want more input into the charity's operation, with a greater focus on campaigning, lobbying and education, whilst seeing fewer celebrity headline acts at MCR Pride Live.
"That's why we're going back to our roots, our Pride celebration is about protest. As a result, we've listened to the communities' comments, and will address their recommendations to refocus efforts back towards activism.
"Furthermore, we will commit a fixed amount or percentage of each ticket purchase to Pride events directly to the community fund and provide clarity on where the remainder of the amounts generated from ticket sales is attributed.
"The organisation has sought to address big questions and concerns, such as the role of Pride as a protest movement as opposed to a pop concert, how Pride can be more accessible, inclusive and safer, and how we go about giving grants.
"We've also tried to address how we can be more transparent and connected as an organisation to Greater Manchester's LGBTQ+ communities, surrounding the themes of communities, activism, giving and transparency.
"Ensuring the charity now reflects the needs of our communities is now our focus. We don't see this review as the end of the conversation, rather it's the start. This report marks the beginning of more co-creation, more transparency and more listening."
What has the reaction been?
LGBTQ+ organisations who responded to the report on the day it appeared (Monday 14 February) gave it a broadly positive response.
Tim Sigsworth MBE, chief executive at akt, an LGBTQ+ youth homelessness charity working with young people aged 16 -to-25, said: "Pride must always be a space to celebrate our wonderful and diverse community, to shout loudly as activists and provide a welcome for the next generation of LGBTQ+ youth.
"At a time when we are being challenged and driven apart by haters, akt welcomes this report from Manchester Pride, which promises a platform for engagement, unity, activism and community back at the heart of Pride."
The LGBT Foundation tweeted: "We welcome the publication of this report and are pleased to see the emphasis on transparency and listening to LGBTQ+ communities.
"We stand as supporters of Manchester Pride and look forward to the full and speedy implementation of the report's action."