Eight days of strike action by Border Force staff have begun at Manchester Airport with the trade union apologising for any disruption caused but saying it felt it had no other choice but to walk out.
Industrial action at a number of ports around the country - including Manchester's airport - began on Friday (23 December) in a dispute with the Home Office over pay and issues relating to job security, pensions and redundancies. Staff on the picket line on Friday said they were sorry for anyone who ends up in queues or delayed while travelling over the festive period and stressed that its dispute is not with the British public.
It said it could simply find no other way to get the Government to listen to its members' concerns and said that at Manchester the first day of strike action had largely been met with a very positive response from those passing by the picket line.
What has the PCS union said about the Border Force strike action?
Members of the PCS union employed in Border Force roles in passport booths by the Home Office are taking eight days of strike action over what was felt to be an inadequate pay rise and disputes over pensions, job security and the possibility of cuts to redundancy terms. The industrial action began on Friday (23 December) with strikes also taking place on Christmas Eve, Christmas Day, Boxing Day, 28 December, 29 December, 30 December and New Year's Eve.
Union representatives in Manchester said they simply felt there were no other options left but striking to get their employer to acknowledge their dissatisfaction with the situation. And they said that the response on the first morning of the walk-out had been very positive.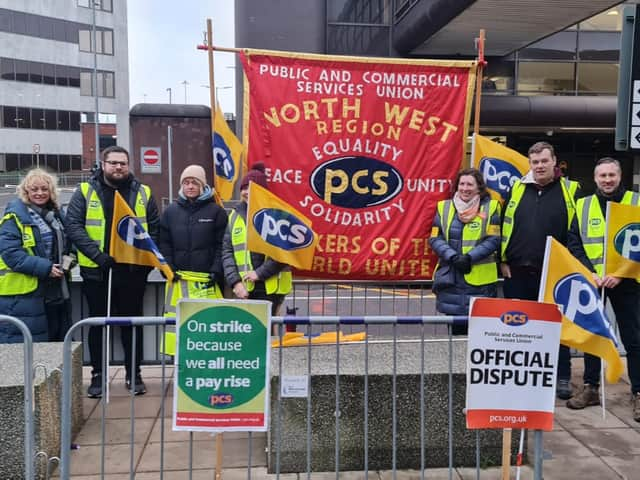 Jack Ogden, PCS branch secretary for Home Office Greater Manchester, said: "I want to say to people who are caught in disruption, have their holidays plans affected or have to wait at immigration that I am sorry.
"However, we are doing the only thing we have left to show the Government what we are doing. We have no grievance with the British public. They support us and we support them. This is the only way we can make our voices heard.
"We are members of the local community, we come from all over the North West. We are local people. We need to be able to afford to pay our bills so we can spend money in the local economy and support these people.
"We've not had a single person say anything against what we are doing today. We've had numerous passengers come up to us to say thank you and that they agree with what we are doing. People are telling us to keep going and saying we are doing well. We've also had horns being honked by the van drivers and taxi drivers coming past."
Why are the PCS union on strike?
Jack said the pay rise that Border Force staff have been offered is not adequate due to the current cost of living crisis which has seen bills spiral, saying some people are now facing real financial hardship while in work.
He said: "Some of our members have been offered about £200 and that's it. With inflation running at 11% plus the Government is basically saying to our members that we can take a large pay cut.
"We've got people working at the airport and the Home Office in Manchester whose rents are going up massively, landlords' rates have gone up, mortgage rates have gone up. We are seriously struggling to cover the costs.
"We've got people who are single parents who are really struggling to get the heating on. At the end of the month some of our members are left with nothing or are going overdrawn on their bank balance just after paying for all the essentials. Their bills have gone up so much that they don't have the money to cover it.
"We're not asking to live a life of luxury, we're asking for a life that's worth living where we can pay our bills at the end of the month.
"Our members here love their jobs, they love being a Border Force officer, but it gets to a point where people can't afford to do the job. We have a massive staff retention issue because people are leaving. It gets to a point where enough is enough.
"This is a decision that has been hard to make. None of us want to be on strike but it feels like the only action available to us because the Government is not listening to our concerns."
What else has been said about the strike days?
Manchester Airport has said it does not expect any inbound flights to be cancelled during the strike action, and passengers have been told they do not need to change their travel plans unless they are contacted directly by their airline. However, it warned queues at immigration might be longer than normal.
The Royal Navy, Army, and Royal Air Force have been called in to help at Heathrow, Birmingham, Cardiff, Gatwick, Glasgow and Manchester airports.
Steve Dann, Border Force chief operating officer, said: "We apologise for any disruption caused to travellers entering the UK. Border Force's number one priority to is keep our citizens safe and borders secure. We are working together with partners across the travel industry to ensure we can continue to meet critical demand and support the flow of passengers and goods through our border.
"During the periods of industrial action, travellers should be prepared for disruption. We encourage everyone to check the latest advice from your operators before travelling."
Prime minister Rishi Sunak today told TV journalists he is "sad" and "disappointed" about widespread strike action across a number of sectors, but he insisted refusing to negotiate on public sector pay is the "right thing" in the long term.