Plans to fully close the M6 between Lancaster and north Preston for bridge repairs have been cancelled this weekend (23-25 September).
National Highways says it has axed original plans for a full closure, after previous closures two weekends ago caused chaos and saw some motorists trapped in congestion for up to 12 hours between junctions 33 at Galgate and 32 at Broughton.
The roads bosses had originally planned four full weekend closures, including this weekend, to allow renewing the waterproofing and surface on the bridges north of junction 32.
They have amended plans following criticism for the jams, however, some lane closures will be in place.
It comes after the work was put on ice last weekend because of the Queen's state funeral taking place on Monday (19 September).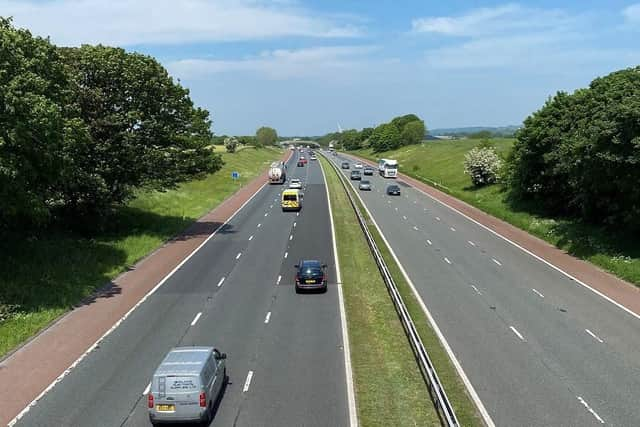 M6 lane closures
A Highways spokesman today said: "Having taken on board recent feedback in response to the disruption caused by the last weekend closure we are no longer planning any full weekend motorway closures for the remainder of the project.
"Some previously scheduled works will continue with overnight lane closures on the southbound carriageway this Friday (September 23) and a single overnight full closure on the northbound carriageway (J32-33) on Monday (September 26) between 9pm and 5am.
"The new schedule of works will be carried out using lane closures for four weeks starting on Sunday October 2, which will ensure the motorway remains open during the daytime providing a safe environment for both workers and road users.
"This will result in the following:
Overnight closure of the M6 southbound on Saturday October 1 (9pm-5am) to enable the installation of traffic management systems.
From Sunday October 2, for four weeks, the M6 southbound (J33-32) will have permanent daytime lane closures (with speed restrictions) with two narrow lanes remaining open during the day.
During the same period, overnight restrictions (typically 9pm to 5am) will be in place throughout, which will result in the closure of the M6 southbound carriageway(J33-32).
"A fully signed diversion route will be in place using the A6 from M6 J33 before re-joining the motorway network at M55 (J1).
"Additional lane closures on the northbound carriageway (typically 9pm-5am) will also be in place for the duration of these works.
"The works will require four weeks for completion. However, these may need to be extended if affected by inclement weather.
"We will keep customers updated [on the National Highways website] and on our social media channels, National Highways North West on Facebook and @HighwaysNWest on Twitter."
While the concrete bridge decks are exposed, they also plan to carry out further inspections and repair work with the aim of reducing the need for reactive repairs in the future.