Prime minister Boris Johnson made a visit to Greater Manchester as he joined the local election campaign trail.
Mr Johnson was in Bury on Monday (25 April) and visited Bury FC's Gigg Lane ground where he spoke to fans of the club which was expelled from the Football League in 2019 due to financial problems.
He spoke about the supporters' efforts to get their club back and was also asked about a number of political hot topics.
ManchesterWorld has also taken a look at the political situation at the council which Bury voters will be considering when they head to the polling stations on Thursday 5 May to elect their councillors.
Why was prime minister Boris Johnson in Bury?
Mr Johnson visited Gigg Lane to speak to supporters about their efforts to bring football back to the venue and club representatives.
A fans' group recently purchased the stadium from the administrators and said they have also acquired the trading name and history of Bury FC, marking a major step in the club's potential rebirth.
A fan-run club, Bury AFC, was founded after Bury FC were booted from the professional ranks and currently plays non-league football.
Mr Johnson said it was "a real privilege to be here" when he visited Bury.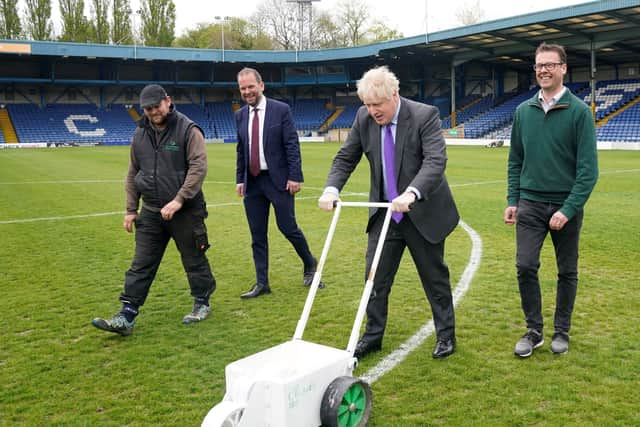 He congratulated Bury North MP James Daly for his work on the issue of the football club's future and said it was an example of why the Government wants an independent regulator which will "help fans to stick up for their interests".
This follows the endorsement of an independent review into football regulation led by Tracey Crouch.
He added: "And I'm proud of the role that the Government was able to play in this – we played a small role, we used the community ownership funds – but this has really been led by the fans and I congratulate them."
Asked several times for a timescale for the creation of the independent regulator, Mr Johnson said people would have to "contain your impatience" but added that he wanted "rapid legislative progress".
What else did Mr Johnson say during his visit to Bury?
Mr Johnson condemned a Mail on Sunday article about Labour deputy leader and MP for Ashton-under-Lyne Angela Rayner which accused her of distracting him in the House of Commons by crossing and uncrossing her legs as "the most appalling load of sexist, misogynist tripe".
He said the story was "totally intolerable" and said he would unleash "the terrors of the earth" on whoever was responsible for sending the comments to the newspaper if they could be identified.
He was also asked about suggestions that the Conservatives could lose hundreds of seats in this year's local elections.
Mr Johnson said the party's best asset was its councillors and praised their "dynamism, energy and effort" as well as saying they run councils efficiently and "deliver taxpayer value".
He said: "That's what people will be focused on, and we will be fighting for every vote right up till polling day."
What is the current political situation in Bury?
Bury is this year staging what is called an "all-out" election, which means all 51 seats in the borough's 17 wards are up for grabs.
This is in contrast to boroughs like Manchester and Wigan where only one councillor per ward is up for re-election.
Currently Labour has 28 seats with the Conservatives on 15, the Liberal Democrats on four, hyperlocal party Radcliffe First on three and one independent councillor.
However, there have been reports that Labour is concerned it could lose overall control of the council on 5 May, with all-out elections typically being more difficult for the established parties as voters are more likely to use their three votes to support a variety of candidates.
Labour and the Conservatives will contest every seat in every ward and Radcliffe First will field nine candidates for the nine available seats in the town's three wards.
The Liberal Democrats and Green parties are fielding several candidates and are joined by a number of independents and a single candidate each from the English Democrats and the Communist Party.
Bury North is also a key parliamentary swing seat with the current MP James Daly having a wafer-thin majority of just 105, making it the tightest marginal in England at the moment.
Where has Keir Starmer been today?
Meanwhile, Labour leader Sir Keir Starmer appeared on ITV's This Morning, where he gave his reaction to the Mail on Sunday saga and defended his Labour colleague Ms Rayner.
Sir Keir told the programme that Ms Rayner was "really disgusted that all of her political attributes were put aside for this ridiculous, offensive story."
He said: "She shouldn't have to put up with it but all women in politics shouldn't have to put up with it.
"Almost every woman in politics has had an element of this in some shape or form.
"We have got to change the culture."