Kidical Mass Manchester: mass city centre family cycle ride to push for more and safer active travel
A two-wheeled procession will make its way through the city for the first Kidical Mass bike ride in Manchester, which organisers hope will lead to more action to encourage active travel and making the streets safer for children.
Watch more of our videos on Shots! 
and live on Freeview channel 276
Visit Shots! now
Cyclists will get on their bikes and ride across Manchester city centre in the first local event to be organised as part of an international movement pushing for better and safer active travel, especially for children.
Kidical Mass Manchester is putting on its first event in the city and encouraging families to join a bike ride from outside Manchester Central Library to Whitworth Park. A group of parents who would like to be able to ride more around the city with their children have brought Kidical Mass, which has groups organising more than 200 cycling events across Europe this year, to Manchester. They hope to demonstrate the need for more and safer active travel infrastructure around the city and to encourage its leaders to do more to prioritise walking, cycling and wheeling.
When is the Kidical Mass Manchester event and what is happening?
Kidical Mass Manchester is putting on a mass family bike ride through the city centre for its first event. It takes place on Sunday 14 May and anyone who wants to take part needs to meet in St Peter's Square opposite Manchester Central Library at around 11am.
There will then be a safety briefing before the column of two-wheeled traffic sets off at around 11.30am. With stewards watching on to ensure safety, the riders will proceed along Deansgate and down Oxford Road before reaching the final destination of Whitworth Park before 12.30pm. In total the route runs for just under two miles through the middle of Manchester.
Organisers have said the ride will proceed at a gentle pace to make it suitable for cyclists of all ages and abilities. It will be a single mass ride with everyone taking part cycling together in one big group. Riders at the front will have child-friendly pop tunes playing to encourage a carnival-like atmosphere and young cyclists will have flags,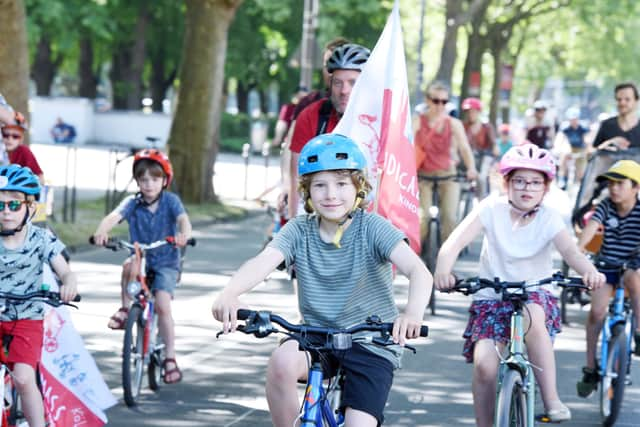 In the park there will then be a get-together to celebrate the success of the ride, get to know other cyclists and share experiences of riding in Manchester. People are being encouraged to bring their own picnic for this.
For those who don't have their own bike but would like to give cycling a go, Transport for Greater Manchester (TfGM) has provided 40 vouchers for people to ride one of the yellow Bee Network bikes for two hours for free. MCR Bike Hire is also supporting the event with a day of free cycling on a family cargo bike or a week's hire of one for £50.
To register for the event, go to Eventbrite. Organisers say more than 100 people have already signed up and they are hoping more will join them to create a real spectacle in the city centre.
Why is Kidical Mass organising an event in Manchester?
Kidical Mass Manchester has been put together by a group of parents from the city who want to see more action taken to create infrastructure for walking, cycling and wheeling and to make active travel safer.
Kidical Mass is an international movement which has groups putting on hundreds of rides in Europe this year alone, all created by groups of people wanting child-friendly changes in urban centres.
Kidical Mass Manchester says moves to encourage Mancunians to leave the car at home and venture out on foot or on two wheels instead would also have considerable environmental benefits as the city faces challenges such as climate change and high levels of air pollution. Organisers also want to see
Pauline Johnston, one of the ride organisers, said: "People across Manchester are frustrated at the slow pace of change to transform our local areas into better places to get about by bike, especially as it is increasingly the natural choice for so many in other global cities.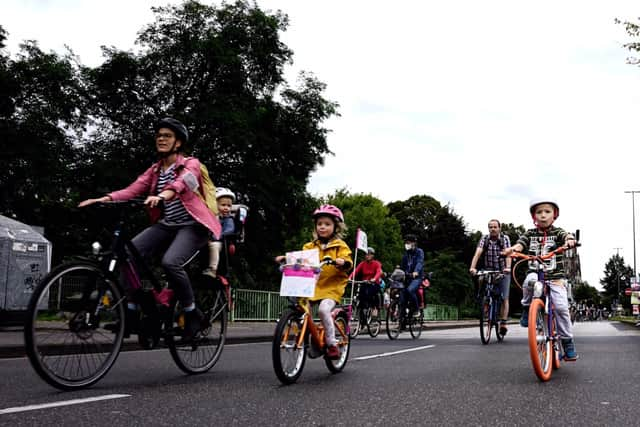 "There has been a swell of people including families and parents trying to get about by bike in Manchester, and while the infrastructure is improving it's still a challenge. People are holding on to the hope that we can change things and make active travel the first choice. We need segregated infrastructure to get more families and people in general on bikes so they can feel safe.
"We support the recent active travel strategy published by Manchester City Council and welcome focused efforts to get more bums on bikes and more world class wheeling infrastructure here to support that.
Layla Siebert from Kidical Mass Manchester,, who is the main organiser of the ride, said: "We're really looking forward to people of all abilities and backgrounds joining us on our ride, to highlight the need to prioritise our children's right to move about safely and happily in our towns and cities.
"We want all Manchester families to feel inspired and confident to use cycling, walking or wheeling as a main mode of transport. This will only happen if the streets are safe.
"We have an urgent need for fit-for-purpose cycling and wheeling infrastructure across Greater Manchester. By making our streets safe and enjoyable for kids, we will make them safe and enjoyable for all."