Manchester City Council has launched an ambitious active travel strategy as it aims to get far more residents to use alternatives to their cars to get from A to B, especially for short journeys in and around the city centre.
The document sets down a number of goals, including making walking "the natural choice" for short trips and to double the percentage of journeys in the city being made on bicycles by 2028. The local authority says it wants to make walking, wheeling and cycling something that residents can do on a daily basis. It says increasing active travel use will benefit areas of policymaking including tackling air pollution, improving public health and moving towards net zero.
The strategy also aims to tackle car culture in Manchester by making 20mph the default city centre speed limit and reducing 40mph zones to 30mph in the next five years, after residents said the most common reason for not using active travel was that there were too many vehicles going too fast on the city's roads.
What targets does the active travel strategy for Manchester set?
Manchester City Council has called its active travel strategy "bold" and "ambitious" as it tries to convince residents to get out of their cars and out and about on foot or by bike instead. One of its key targets is to double the modal share of cycling within the next five years. Currently 6% of journeys in the city are undertaken by bike and the council wants this figure to be 12% by 2028. At the same time the town hall wants to enable at least 70% of primary and 40% of secondary pupils to walk or cycle to school by 2028.
It is also aiming to have removed all access barriers on walking and cycling paths which prevent non-standard cycles, such as those used by people with disabilities, from getting onto them by 2024. In Manchester walking is already the dominant mode of transport for journeys under 2km, with 59% of journeys being made this way according on figures from 2021.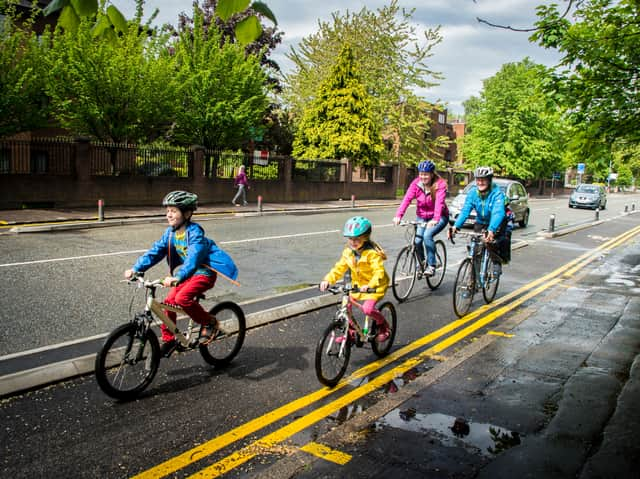 These targets sit alongside the 2040 aims for Greater Manchester, which include ensuring only half of daily trips in the city-region are made by car (currently it is 61%) and that 90% of morning peak trips to the city centre are by public transport and active travel before 2040. At the last count, in 2019, this figure was 61%.
In its latest strategy document Manchester City Council also wants to have created at least one school street, where roads are closed at drop-off and pick-up times to encourage walking, wheeling and cycling, in each ward by 2028.
There will also be measures to put the brakes on motorists around the city, with plans for a default speed limit in the city of 20mph and 40mph zones to be brought down to 30mph where this is, in the council's words, "justified and consistent with road safety".
The local authority has set itself four overarching aims for the active travel strategy. These are: improving access to the city centre, district centres, parks and other major destinations, enabling safe access to schools and colleges, improving health and wellbeing and reflecting the diversity of Manchester and addressing transport inequalities.
What did people say about active travel and how will the council address their concerns?
As part of developing the strategy the council spoke to communities across the city to gauge their thoughts on walking, cycling and wheeling. The local authority said the most common barrier to getting out and about on foot or using a bike was the perception that it was not safe. The amount of traffic on Manchester's roads and the speeds being reached were cited by 64% of respondents.
Additionally 53% said crossing busy roads and junctions was a barrier, and 42% citing the poor physical condition of pavements.
Asked to think about potential solutions to these problems, 70% of respondents suggested creating segregated spaces for cyclists, 53% suggested putting filters in place to create low-traffic streets and 38% thought level surfaces and dropped kerbs would remove barriers.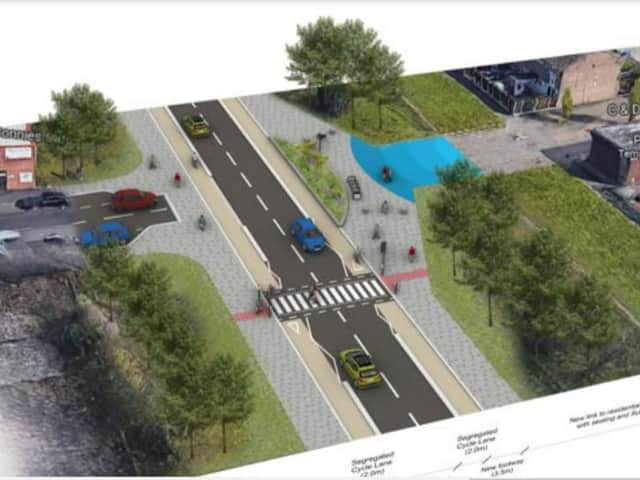 The council's strategy suggests that within areas identified as priorities schemes could be put in place which include segregated cycle lanes, modal filters, measures on side roads to prioritise pedestrians and cyclists, junction improvements, crossing points and school streets.
And the Manchester Network Plan says the ambition is not only to connect communities in Manchester but to link the city centre with the surrounding boroughs of Bury, Oldham, Salford, Stockport, Tameside, and Trafford.
What has been said about the active travel strategy and what happens next?
Coun Tracey Rawlins, executive member for environment and transport at Manchester City Council, said: "Active travel is one of the most important policies in recent memory that Manchester City Council has proposed.
"We know how important it will be in not only creating a greener and less polluted city – contributing to our goal of becoming zero carbon by 2038 or earlier - but in shaping our neighbourhoods to become more vibrant and safer, as well as improving health across generations.
"School safety also plays an incredibly important part in the work we are doing. Providing safe and accessible spaces for our young residents is something the council is eager to work on as in many areasschools lie at the heart of our communities.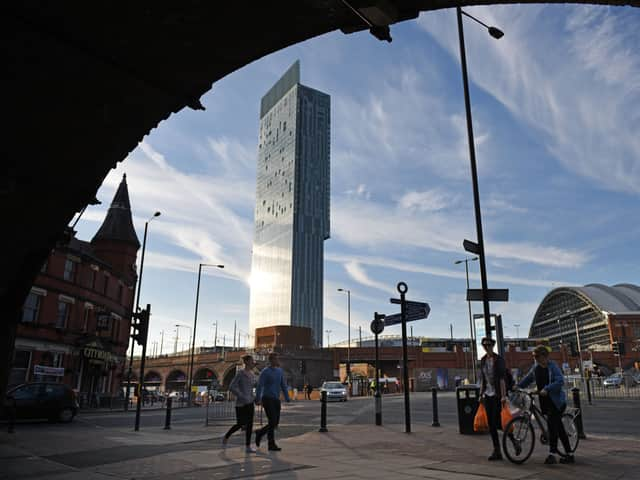 "Most importantly, this work will be inclusive and we will work hard to make sure that every one of our residents is represented. Our city is for everyone to enjoy and it is crucial that no one is left behind for any reason. We must work tirelessly to identify barriers that get in the way of active travel ensure that active travel works for everyone."
Coun Bev Craig, leader of Manchester City Council, said: "We want Manchester to be one of the best places in the country to live and work. That means attractive, green, and connected neighbourhoods with safe streets which prioritise residents.
"Running alongside Greater Manchester's launch of the Bee Network we feel this policy puts detail on Manchester City Council's long-running ambition to make sure our roads our safer and that air pollution can be tackled."
The proposals in the strategy document will be heard by councillors on the environment and climate change scrutiny committee on Thursday 9 February before going before the council's executive committee on Wednesday 15 February.