Just Stop Oil protestors guilty of blockading fuel terminal - but judge says they are 'good people'
Three activists from Greater Manchester were found guilty of aggravated trespass but the judge said their motivations for disrupting oil supplies could not be criticised.
Watch more of our videos on Shots! 
and live on Freeview channel 276
Visit Shots! now
The activists from the city-region were part of a blockade at the Esso fuel terminal in Birmingham in April 2022 and were found guilty of aggravated trespass at Wolverhampton Magistrates' Court. However, the judge described them as 'good people' whose motives could not be criticised.
Afterwards the trio said they had taken part in the protest action because Exxon Mobil, which owns and operates the depot, had not taken swift action over the role of fossil fuels in the climate crisis and because the government was not doing enough to phase out oil and gas either.
The Government has defended its energy policies, however, while Exxon Mobil has also said it is committed to a more sustainable future and that the Birmingham protest was unlawful.
Who are the Just Stop Oil protestors from Greater Manchester who have been in court?
The three Greater Manchester activists from Just Stop Oil who were in court in the West MIdlands on Thursday (16 February) were Paul Barnes, a 43-year-old design manager and father of two from Bolton, 58-year-old Alan Woods, a company director from Wigan, and Oliver Clegg, 20, a plant science student from Manchester.
They appeared in the dock in Wolverhampton alongside six other protestors who had been involved in the fuel terminal blockade, which disrupted supplies on 3 April 2022 for almost 12 hours.
They were found guilty of aggravated trespass and given a 12-month conditional discharge. They were also made to pay costs of between £250 and £500 costs and a £22 surcharge.
Just Stop Oil says that 13 of its activists have been in court over the Esso terminal protest, with the other four being acquitted in an earlier trial.
What did the protestors say?
The protestors said they took part in the action because the government was not doing enough to reduce the use of fossil fuels in the face of climate change and had issued new licences for exploration and production, and claimed large oil companies such as Exxon Mobil had known about the environmental crisis and not acted.
Paul said: "My children, who are seven and four years old, have no concept of the risks our government is taking, by issuing over 100 new fossil fuel licences. It's my job to protect my children, now and into the future, to weigh up the risks and to take action to prevent them from coming to harm. It is the government's job to do the same for their citizens. A duty they are failing to undertake, for the sake of the short-term profits of oil companies and big business."
Alan added he had taken action to demand the UK does not license any further fossil fuel projects, while Oliver said: "I never expected that I'd find myself breaking the law, getting arrested and before a judge. However, I also never expected that the government would license new oil, gas and even coal mines, whilst claiming it's leading the world on the climate crisis! If the government will not stand up to the fossil fuel industry, then it's up to young people to defend our own futures."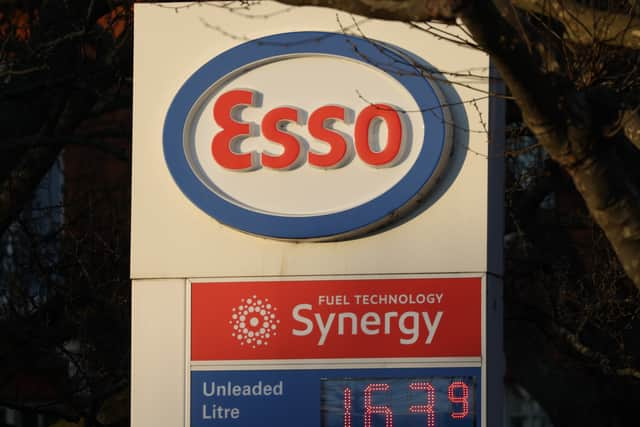 A spokesperson for Just Stop Oil added: "The law is failing us – the wrong people are being criminalised. We know that we're on course for catastrophic climate breakdown because of our continued burning of fossil fuels. And yet the government plans to issue over 100 new oil and gas licences – a plan that scientists warn will take the world over 1.5C, resulting in the collapse of ordered society, the loss of our rights and freedoms and the death of millions of people...
"Disruptive civil resistance is now inevitable and justified, and it will continue until the government changes course. Our families, communities, our country and civilisation are on the cliff edge of destruction, and we refuse to stand by. After decades of public debate, lobbying and petitioning, we have nowhere else to go. The government is doubling down on fossil fuels, indicating ever greater levels of criminality, so we have to stop them."
What did the judge say?
In the sentencing remarks the judge said that while the motivations of the protestors did not mean they could be found not guilty of the offence, it did act as substantial mitigation when deciding on the final punishment.
The judge said: "It is abundantly clear that you are all good people, intelligent and articulate and you have been a pleasure throughout to deal with.
"It is unarguable that manmade global warming is real and that we are facing a climate crisis. That is accepted and recognised by the scientific community and most governments (including our own).
"Your aims are to slow or even stop the advance of global warming and therefore to preserve the planet not just for generations to come but for existing generations.
"No-one can therefore criticise your motivations and indeed each of you has spoken individually about your own personal experiences, motivations and actions. Many of your explanations for your actions were deeply emotive and I am sure all listening were moved by them, I know I was."
The sentencing remarks were published by Crime Line, whch said on social media that it received them from the judge via the Judicial Office.
What has the government and the oil company said?
A spokesperson for Exxon Mobil said: "We welcome these convictions – this was an unlawful protest on private land that potentially endangered the safety of our staff, our customers at site, our neighbours, the emergency services and the protestors themselves.
"ExxonMobil is committed to helping meet the demand for affordable energy, while reducing emissions and managing the risks of climate change. This includes plans to invest $17 billion by the end of 2027 on initiatives to lower greenhouse gas emissions, such as carbon capture and storage, hydrogen and biofuels.
"ExxonMobil has never had any unique or superior knowledge about climate science, let alone any that was unavailable to policy makers or the public. In the 1970s and 1980s, governments, universities, research institutions, and hundreds of scientists all contributed to the existing body of climate science research. ExxonMobil's research efforts were modest in comparison and focused largely on monitoring and analyzing the research produced by the broader scientific community."
A government spokesperson said: "We remain fully committed to reaching net zero by 2050 and the UK is forging ahead of many other countries on net zero - with 40% of our power now coming from cleaner and cheaper renewable sources.
"But with Russia weaponising energy across Europe, we must do so in a way that protects our energy security and reduces our dependence on foreign imports. This includes increasing domestic oil and gas supply, which we've always been clear will have a role in our transition to net zero. But we will also continue to drive forward our commitments on nuclear and renewables.
"While we respect the right to protest, people's day-to-day lives should not be disrupted, and criminal activity will not be tolerated."