A retired vicar from Greater Manchester has been found guilty in court of public nuisance, after he took part in a roadblock in the City of London with the group Insulate Britain.
Rev Jonathan Coleman, who is also known as Mark, was one of four campaigners from the organisation who were on trial after they sat down in the road in Bishopsgate in October 2021.
The 63-year-old, from Rochdale, will be sentenced in March but speaking after the guilty verdict was reached by the jury, he slammed the Government for not rolling out a nationwide programme to insulate homes as Britain faced a cold winter and soaring heating and energy bills. The Government says it is investing billions of pounds to make homes more energy efficient.
Insulate Britain carried out a series of high-profile roadblock protests over several days in October 2021 to draw attention to the issue of insulating houses and tackling the climate crisis. Dozens of activists were arrested by police after they walked out onto roads and junctions and sat down with their banners, bringing traffic to a halt and causing disruption.
What happened to Rev Coleman and the other Insulate Britain activists in court?
Rev Coleman went on trial accused of public nuisance alongside three other supporters of Insulate Britain at Inner London Crown Court. The allegation related to a roadblock protest at a junction at Bishopsgate in the City of London on 25 October 2021.
After a five-day hearing all four were found guilty of the charge by the jury. They will return to court for sentencing on 24 March, although they have a 28-day period in which to appeal the verdict. The offence of public nuisance, which involves doing something which "obstructs the public in the exercise or enjoyment of rights common to all", carries the possibility of a jail sentence.
Rev Coleman was in the dock at the crown court alongside Daphne Jackson, 72, an osteopath and psychotherapist from Sedbergh, 65-year-old Beatrice Pooley, an English teacher from Kendal, and Stephanie Aylett, 28, a medical sales rep from St Albans. All four had denied the charge against them.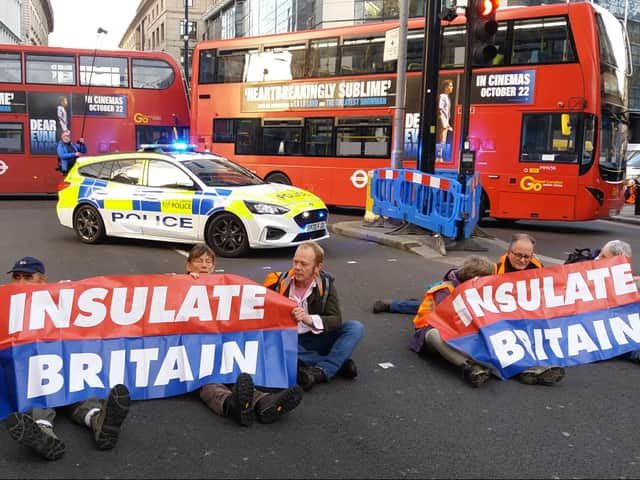 The process of bringing more than 100 Insulate Britain supporters who were arrested during the group's waves of direct peaceful action through the courts has not been straightforward. In total, 56 people have been summoned to court by the Crown Prosecution Service (CPS) to answer at least 201 charges of public nuisance, the group says. So far the legal proceedings which have gone forward have resulted in a mixture of guilty verdicts, acquittals and cases being deferred.
Insulate Britain also says that its defendants are not being permitted to refer to the climate crisis, insulation or fuel poverty during the trials, and that Rev Coleman and his three co-accuseds could not talk about their motivations for blocking the junction in their defence. The Judicial Office said it was unable to comment on any legal decisions taken by judges or magistrates in court about how trials should progress.
What did Rev Coleman say after being found guilty and did the Government respond?
Speaking after he was found guilty of public nuisance by the jury, Rev Coleman said: "I sat on Bishopsgate in the City of London with many other supporters of Insulate Britain as an act of peaceful, non-violent resistance to the murderous behaviour of our government. To leave people in cold, badly-insulated homes, especially older and vulnerable people, is immoral and cruel.
"British people care for their neighbours, and do not usually walk by 'on the other side', ignoring the suffering of others. Our families, friends and neighbours are suffering. It does not have to be like this.
"Insulating Britain and stopping these reckless plans for new gas and oil wells are common sense first steps away from disaster. I call on Rishi Sunak to do his duty as a minister of the crown: to serve the people."
A Government spokesperson said: "The fuel poverty target for England is to ensure that as many fuel poor homes as possible achieve a minimum energy efficiency rating of band C by 2030.
"Improving the energy efficiency of homes is the best long-term method of tackling fuel poverty, and that's why we've committed over £6.6 billion in this parliament, with a further £6 billion committed to 2028, to ensure all homes meet EPC band C by 2035."