Mancunians with a spare bike that they no longer ride can donate it to a good cause at a pop-up hub.
Ride-hailing app Bolt has joined forces with The Bike Project to ask people in the city to hand over any bicycles they do not want any more.
They can be dropped off on Thursday (9 June) at a pop-up hub and The Bike Project will then refurbish them and get the vehicles to refugees and asylum seekers.
Here's what you need to know.
When is the pop-up bike hub in Manchester and why is it happening?
The pop-up bike hub is being run by Bolt and The Bike Project for one day only, Thursday 9 June.
It is located at cycling cafe and repair specialists Popup Bikes in Arch 5 on Corporation Street.
Secondhand bikes can be donated between 10am and 4pm.
Anyone who brings a bike down will get £25 in riding credits from the ride-hailing app, which recently launched in Manchester and aims to compete with the likes of Uber, as a thank you.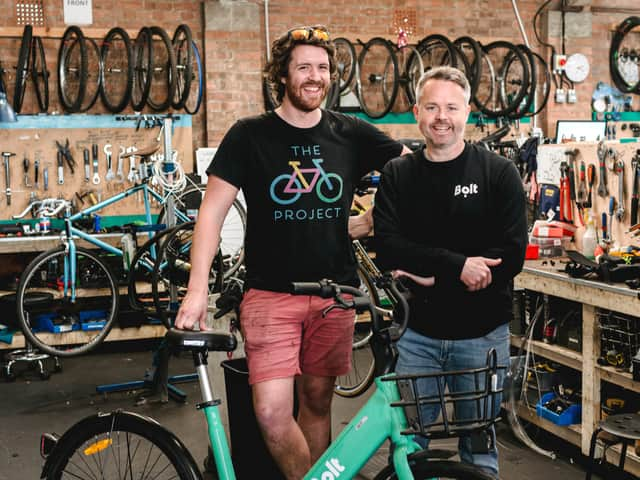 Bolt and the Bike Project recently signed a long-term partnership to get bicycles into the hands of the UK's growing refugee population and the mobility service's customers will also have opportunities to make donations to the charity through its app over the next 12 months.
Currently working mainly in London and Birmingham, The Bike Project has so far given out around 9,000 bicycles to refugees and also runs the Pedal Power scheme which improves their cycling confidence.
What has been said about the project?
Jem Stein, founder and CEO of the Bike Project, said: "Here at The Bike Project we've supported over 9000 refugees get access to bikes in the last 10 years. But we still have many more waiting for help.
"Our partnership with Bolt allows us to expand on our work in London and Birmingham, and take our organisation to more cities across the UK.
"We're so excited to work closely with Bolt and get more bikes to more refugees, starting with our Manchester launch."
Christian Berces, director for Europe at Bolt, said:"Bolt exists to provide 'on demand' transport when you need it; one part of our community that needs that more than anyone right now are refugees and asylum seekers.
"The Bike Project provides refugees with vital help as they get themselves established and we hope this partnership will help their drive to improve social and economic mobility in many exciting ways."