Hundreds of Hongkongers gathered in Manchester city centre for a large demonstration to protest against China's treatment of the region.
St Peter's Square was filled with demonstrators and flags at the protest on Saturday (1 October) which was organised to coincide with the national day in China.
There has been a mass exodus from Hong Kong in recent years following massive pro-democracy protests in the region and the subsequent introduction of a controversial national security law.
The event was organised by a group called the Hong Kong Indigenous Defence Force, which said it hoped to send a message about the ongoing struggle for the future of the region to those who have fled and the general public in Manchester.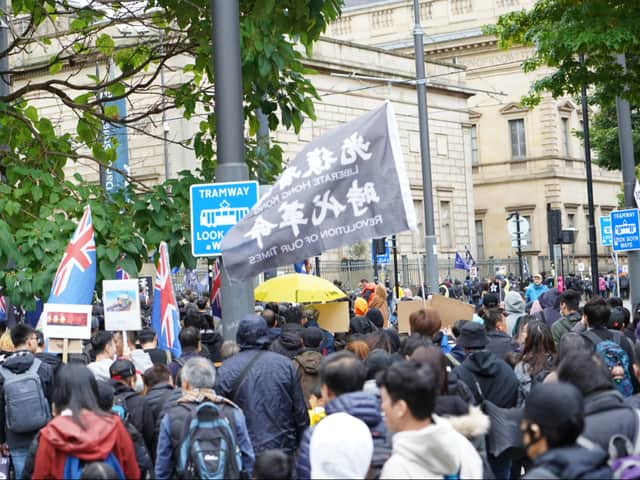 What was the protest for Hong Kong and why was it organised?
The protest took place in St Peter's Square in Manchester city centre on Saturday afternoon and attracted hundreds of supporters of Hong Kong.
Speakers at the event included Wayne Chan, a pro-democracy activist who convened an organisation called the Hong Kong Independence Union before fleeing to the UK.
The Manchester event also heard from Ka Lun To, a pro-democracy politician who quit his seat on the district council after refusing to swear allegiance to the region's new government.
There have been a number of events protesting the treatment of Hong Kong by Beijing in the city recently, including one by the group Manchester Stands With Hong Kong to commemorate the anniversary of an attack by police at a light railway station.
What did the protest organisers say?
The Hong Kong Indigenous Defence Force says it tries to bring together people who have left Hong Kong but continue to want to see a different future for it.
It also hopes to send a message to the British public about how they can support the region.
A spokesman for the group said: "Since 1997, when China took over Hong Kong, large numbers of people have fled away from Hong Kong and are now here in the UK.
"There's nothing much we can do in Hong Kong or in China now. We're trying to provide the people who arrive here with a platform to still protest with their voices against China.
"We still want everyone to remember the reasons why we are here. We try not to forget why we have fled away from our home country.
"One of the other reasons we have a protest is to remind the public to boycott China and stop buying things are that made in China, although we understand that is almost impossible."