Greater Manchester is something of a national hotspot for vehicle offences related to theft, research has suggested.
Car insurance firm GoShorty analysed Government figures to see how much vehicle-related crime police forces across the country were having to deal with.
The results give an overview of the issues Greater Manchester Police (GMP) are facing for offences involving cars.
And GMP came near the top of the table of police forces in a number of categories, especially those related to vehicles being spirited away from their owners' possession or valuables being pinched from inside them.
What did the data show for Greater Manchester?
The data looked at a range of motoring offences and breath-test statistics for 2020 as well as further crime figures from the 2020-21 financial year for England and Wales.
The analysis concluded that Greater Manchester had the second-biggest problem with the theft of items from a vehicle of any area of the country behind London.
There were 12,756 of these offences recorded in the city-region, giving a rate of 447.85 per 100,000 people.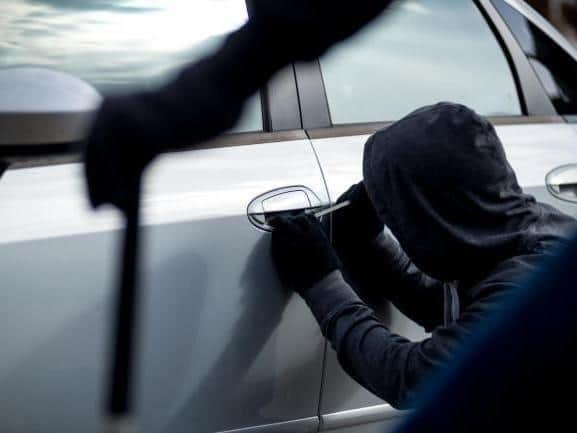 Vehicles themselves disappearing is also an issue in the city-region.
Greater Manchester had the third-highest rate of theft or unauthorised taking of a motor vehicle, at 217.18 per 100,000 people.
In total there were 6,186 of these offences recorded.
And it had the second-highest rate of aggravated vehicle taking with 400 offences (a rate of 14.04 per 100,000 people).
Concerningly the city-region also seems to be a dangerous driving hotspot, with the second-highest rate of any area behind West Yorkshire.
There were 626 offences recorded in the Government stats, giving Greater Manchester a rate of 21.98 per 100,000 residents.
Greater Manchester was also in the top 10 for causing death or serious injury while driving, using a hand-held mobile phone while driving and interfering with a motor vehicle.
What are England and Wales' most common car crimes, according to the data?
The analysis of the Government figures from 2020 and the 2020-21 financial year suggests that the top 10 car crimes in England and Wales are:
• Speeding offences (1,873,238 offences),
• Theft from vehicle (192,824 offences),
• Criminal damage to vehicle (150,041 offences),
• Theft or unauthorised taking of motor vehicle (89,016 offences),
• Vehicle insurance offences (75,871),
• Neglect of traffic directions (53,797),
• Interfering with a motor vehicle (49,946),
• Seat belt offences (48,170),
• Breath test: either positive or refused (43,074),
• Careless driving (excluding the use of a mobile phone) (30,167).
What has been said about the figures?
A spokesperson for GoShorty said: "Owning a car can also make you a target for opportunistic criminals, who could attempt to damage, steal or break into your vehicle.
"Thankfully there are many ways you can protect against this such as upgrading your car's security features or buying comprehensive car insurance.
"With so many crimes associated with vehicles, from the accidental to the downright nefarious, we wanted to explore which of these are the most common in the UK.
"We've trawled through the data to identify the top car crimes in the country, as well as where each individual crime is most prevalent.