Lisa Diaz, from Wigan, has not sent her daughter Helena to her primary school for almost two years and has been threatened with court action by Wigan Council over her lack of attendance.
Lisa is adamant she wants her daughter back in school and her son Alex has spent time back in the classroom at secondary school after being vaccinated.
Her story once again captured national headlines this week after she was interviewed on Good Morning Britain.
Wigan Council says it is following Government guidelines but Lisa said they are completely inadequate.
Why is Lisa being threatened with court action?
Lisa received a letter from Wigan Council in December advising her that due to Helena's lack of attendance in school, prosecution was a possibility.
She says she replied requesting a virtual meeting which could be recorded so it would be admissible in court and since then has heard nothing back.
She hit out at the local authority, saying she completely disagrees that the Government guidelines on Covid-19 in schools which it is working from are "robust".
She also slammed the lack of consistency, saying schools across the country and sometimes even within the same council area have reacted completely differently to parents keeping their children off over concerns about the inadequacy of Covid-19 mitigation.
Lisa said: "At the moment I am just waiting for them to respond. The ball is in their court.
"It's ridiculous. I was speaking to a family in Wiltshire and when they told their child's headteacher the facts about Covid he said he understood, authorised the absence and prepared work to be sent home.
"Everyone is doing what they want. My son's school has been incredibly supportive. How can I be getting threatened and not getting work sent home from one school in Wigan while being supported by another?
"Headteachers and authorities around the country are just doing their own thing.
"Wigan Council says it has got robust risk assessments but it's nonsense. They are following the Government guidelines which aren't worth the paper they are written on. We can see that in the transmission rates and how many children are getting Covid."
What does Lisa say about her children going into school?
Lisa stressed that she wants her children to be educated in school and does not want to have to teach them herself at home.
However, she criticised the current arrangements for dealing with Covid in schools.
She said: "I'm looking at Helena going in to do some outdoor activities, which is a positive. I'm happier with her being outdoors. If she's outside and wearing a mask it's a lot safer.
"Alex did go back in but I've brought him out again now because of Omicron.
"We need a multi-layered scientific approach in all schools. At the moment the only thing primary schools have is opening a window and some hygiene theatre. You can't clean an airborne virus by wiping down desks and using hand gel.
"In primary schools there is no vaccine, there's no isolation of close contacts, there's no contact tracing, there are no bubbles any more. My child could be sat next to someone whose mum, dad, brother or sister has got Covid at home.
"There's no air filtration, which in Germany was all set up ages ago.
"I want my children to be in school. It's a frightening situation because in any other country this would be mainstream, the need to protect our children."
What does Lisa say about the current approach to dealing with Covid?
She once again hit out this week and said there was a lack of willingness to accept how severe the consequences of catching Covid and getting Long Covid can be.
Lisa said: "There's a lot of British exceptionalism surrounding things like wearing masks. The World Health Organisation (WHO) has recommended children wear masks from the age of six. It's not a fashion statement or virtue signalling.
"Pfizer has said there's a greater risk of being hospitalised from Omicron than Delta."All I'm doing is stating facts that are on Independent Sage or the Government's website.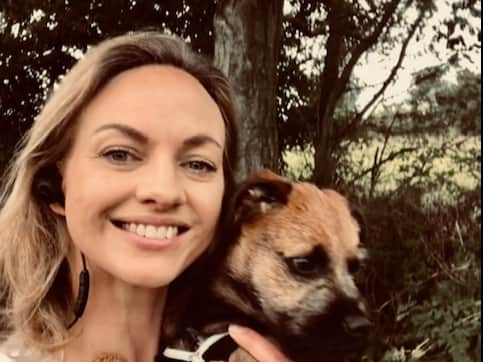 "There's no information about the risks of Covid to children. The Government seems keen to perpetuate the myth that it's somehow OK for children to be infected with a novel virus in a pandemic.
"A mum in Birmingham contacted me and said her daughter had no symptoms initially but six months on she's walking on crutches or wheelchair-bound. They've been told this is Long Covid.
"We don't know why some children are affected so severely and some are not, so we have to advocate for the precautionary principle to protect children."
What has Wigan Council said?
Colette Dutton, director of children's services at Wigan Council, said: "Wigan Council remains committed to working with all schools and families and has done throughout the pandemic to ensure that all children can return to school as safely as possible.
"We are unable to comment on individual cases, however, the council has advised and supported our schools in line with current Government guidance.
"For those children where there is clear advice from a medical practitioner that a child should not attend, alternatives are considered and put in place.
"Our headteachers have worked tirelessly to carry out robust risk assessments and have taken all of the safety measures and precautions available to them to ensure a safe return for their pupils."