Greater Manchester Mayor Andy Burnham is being urged by groups from across the city-region to support their call to end NHS charging for people whose immigration status is not settled.
Greater Manchester Patients Not Passports, which is made up of 19 local organisations including those working with refugees and asylum seekers and trade unions, visited the mayoral headquarters in the city on Tuesday (21 March) to deliver an open letter to Mr Burnham. They want Mr Burnham to make the same call that London Mayor Sadiq Khan has previously made that NHS treatment should be available for free to everyone regardless of their immigration status.
The coalition also shared the story of a man who is now disabled after he suffered a stroke but was then forced to pay £93,000 to the health service for his treatment. The issue has proved fatal for people in the past as one woman died after the Home Office ordered her cancer treatment in Manchester to be paused.
What does Greater Manchester Patients Not Passports want?
Government guidance says that to receive hospital treatment for free you must be 'ordinarily resident' in the UK, which for people coming into the country from outside Europe means they must have the immigration status of indefinite leave to remain at the time of the treatment and be 'properly settled' here. If these conditions are not met patients have to pay in advance and in full for treatment that isn't available universally for free, and even if clinicians deem it is urgently necessary these patients will be charged afterwards.
Greater Manchester Patients Not Passports says everyone living in the UK should be entitled to free NHS treatment regardless of their immigration status and delivered a letter to Mr Burnham's office in the middle of Manchester asking him to support them, following an announcement by the Mayor of London Sadiq Khan that he backed the move in June 2022.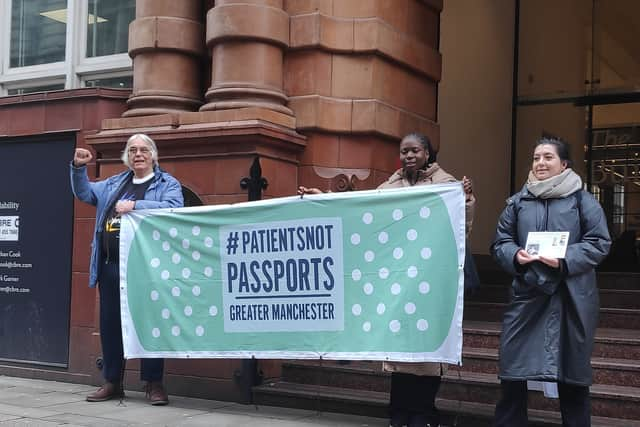 The letter has been signed by 19 organisations including groups who support refugees and asylum seekers, migrants' rights groups, trade unions and anti-austerity campaigns.
Greater Manchester Patients Not Passports also said it knows of cases where the Home Office has used people's need for hospital treatment as a factor when considering what their immigration status should be and adamantly opposes this. In January 2022 the coalition wrote another open letter to Greater Manchester's NHS hospital trusts, calling on them to prevent any sharing of health data for immigration enforcement purposes, oppose healthcare charging for migrants and provide a welcoming environment for all in the NHS irrespective of immigration status.
'The hostile environment has made me ill and left me disabled'
Campaigners have been sharing shocking stories of the human cost of people being charged for healthcare treatment. One person who spoke out as the letter was delivered was Simba, who suffered a stroke. However, because Simba did not meet the criteria for free treatment at the time, he was charged £93,000 for the life-saving treatment he needed and is now disabled.
Simba said: "The hostile environment made me ill and left me disabled, which has created a very complicated life for myself, for my partner and for my family. The Home Office trapped me in this system fighting for recognition as a refugee for 11 years, even when they know that most asylum cases are granted anyway on appeal.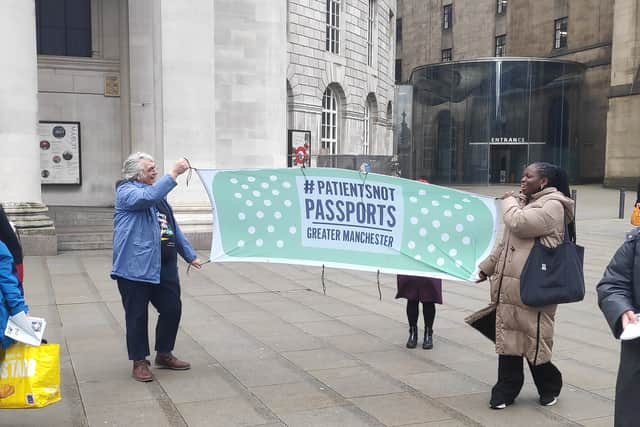 "If asylum seekers were permitted to work then it would help to solve so many of the discriminatory issues that I faced and would have stopped me wasting 11 years of my life, because I could have been contributing to society, but instead I was stuck in the hostile environment immigration system.
"Asylum seekers should be given the right to work, and the hostile environment must end - including in the NHS."
Jason Ioannou from Greater Manchester Patients Not Passports said: "We were directly involved in the campaign for Simba. He has had his debt written off and his immigration claim has been successful but he has been left as a young man in his early 30s with life-changing consequences. because of the delay in his treatment."
Another case which hit the headlines back in 2018 was that of Kelemua Mulat, an Ethiopian mum and asylum seeker with advanced breast cancer whose vital chemotherapy at The Christie in Manchester was held up for several weeks after the Home Office deemed her ineligible for it. She was only given treatment after doctors at the specialist cancer hospital said it was "immediately necessary" and died in 2019.
What has been said about the call for change by Greater Manchester Patients Not Passports?
Speaking about the delivery of the letter to Mr Burnham, Mr Ioannou said: "We feel Andy Burnham should be able to do the same as Sadiq Khan and make comments against the hostile environment.
"We know from organisations in Greater Manchester, some of whom have signed the letter, that the effects of these policies are being felt in terms of being charged for treatment on the NHS.
"They are being deterred from seeking medical treatment because of the fear of being charged. and there is also the problem of incurring a debt to the NHS which can theoretically be used by the Home Office. We know of cases where they have used outstanding debt to the NHS as an argument for denying somebody settled status.
"That's where the information sharing comes in. We feel there should be a firewall between the NHS and the Home Office so people don't feel that fear that treatment could count against them in terms of their immigration status. It also makes people very reluctant to come forward or go public in case it adversely affects their immigration claim."