A Manchester community project aims to tackle some of the problems people who move to the city from another country face by combining sharing food and cooking with practising English.
Heart and Parcel uses food-related activities to help people learn and then become confident in English while also building communities and bringing people together.
The project also runs a number of public events such as supper clubs and appearances sharing food and demonstrating recipes at farmers' markets and is in the process of bringing out its second cookbook.
ManchesterWorld spoke to one of the co-founders about why Heart and Parcel has developed and thrived, while a member of the team who initially joined classes as a service user described how the scheme had helped her and why she now helps others experience it too.
How did Heart and Parcel get started?
Heart and Parcel was founded in 2015 by Clare Courtney and Karolina Koscien after they met while working together at a restaurant. They started bonding over a shared love of food and Karolina admitted she still struggled to find opportunities to speak English years after moving to the UK.
Clare also cast her mind back to several years spent teaching English in China, when she had developed friendships by being invited to people's houses and making dumplings there, and she and Karolina came up with the idea of creating an informal environment for learning the language with a practical aspect to it.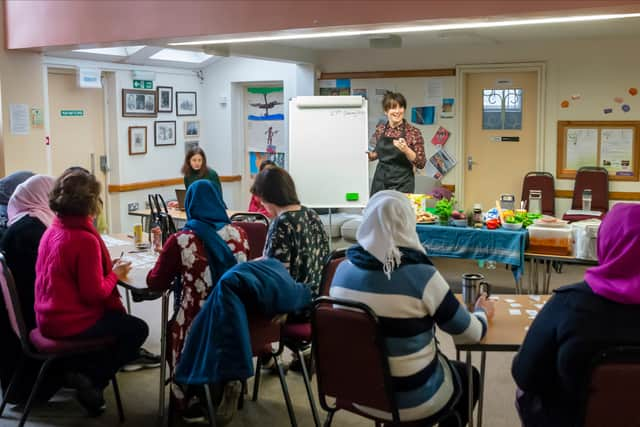 Clare said: "We both love dumplings, the whole idea for Heart and Parcel was anything with a filling inside. The process of making dumplings is very shared, one person filling, one person folding, one pleating, and all the while you are chatting and communicating with each other.
"It's also a good way to introduce people's culture and way of life as well as to make friends. There's also the political side of it that English classes are seriously under-funded. We wanted to provide a completely free space for learning English without having to pay or being restricted by visas or immigration status."
What does Heart and Parcel do?
Heart and Parcel's classes are a relaxed environment in which people learn and improve their English by cooking recipes, talking about food and then eating the creations together. The organisation is just coming to the end of a six-week stint in Longsight and is going to run sessions in Bury after it became aware there was a shortage of language projects there.
More than 1,100 people have now benefited from Heart and Parcel's services since it started and it has worked at 11 different locations across Greater Manchester. The sessions have attracted people ranging in age from 18 to their 60s and who are originally from places including Afghanistan, Syria, Iraq, Kurdistan, Pakistan, Bangladesh, Ethiopia, Eritrea, India as well as countries in Europe.
Heart and Parcel also has an online platform with English resources for people to practice their language skills further, a WhatsApp group for people to keep in touch and public outreach events such as supper clubs and appearances at farmers' markets teaching recipes. The organisation brought out its first cookbook of service users' recipes in 2019 and is currently working on a second one which will hit the shelves in spring.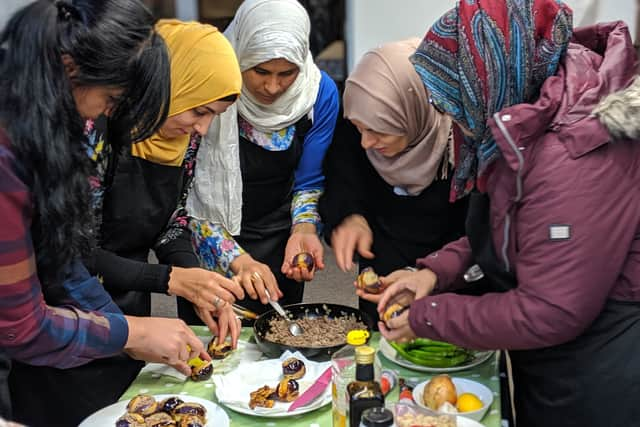 For those who want to develop their English further there are opportunities to write blogs sharing recipes or experiences that have happened in people's lives and a podcast project they can get involved with.
Clare explained the four aims of Heart and Parcel and the significance of the services it offers to people who have come to live in Manchester.
She said: "These kinds of spaces, informal but also quite structured, are really important. Learning English is mainly in classroom settings but with us they are able to express themselves, their identities and their experiences through connection and food.
"This is a space where they can practice the English they want to use in their lives and for many people it's a lifeline. Asylum seekers have no recourse to public funds and they are not able to access government-run English language classes so we get lots of them coming to our classes. It's the only place they have.
"Our aims are language, food, community and recognition. Community has social and wellbeing benefits and recognition is important because when people come to this country we often don't recognise them for their existing skills and what they bring with them. They get reduced to their level of English. They have far more than that to bring and we break down barriers and allow cultural exchange to happen."
How Heart and Parcel helped a service user who is now part of the team
One person with a multi-faceted understanding of what Heart and Parcel does for people is Hanane El Hadioui. Originally from Morocco, Hanane came to Heart and Parcel to join in with the classes after she moved to Manchester and she is now part of the team of English language tutors, staff and volunteers who run the project.
She is one of a number of people who started out at Heart and Parcel classes to improve their English and have since gone on to become part of the team sharing recipes and leading sessions.
Hanane said: "When I moved to Manchester in 2017 I couldn't speak English very well, although I knew Italian, Arabic and French. I didn't know anyone in Manchester. I found out about it at the community centre in Longsight and I started going to learn English.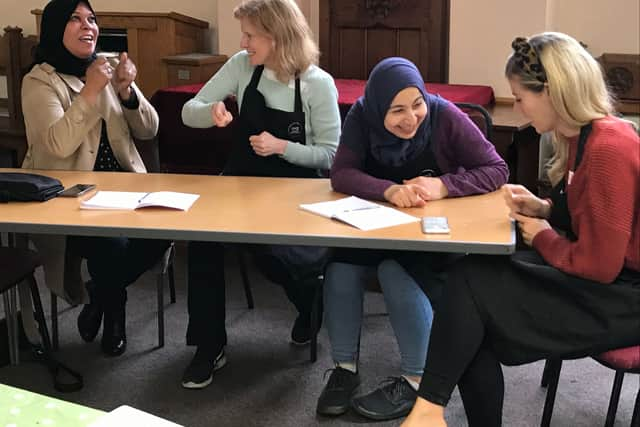 "It was the first informal space I found to learn English and I made friendships with many of the other students. I gained a lot from it. I then started working as a volunteer and now I'm support manager for the project.
"It was where I challenged myself to speak in English to people I didn't know. We are shy to speak because we don't know the language well, but it's a space where we are free to have a chat.
"It brought me into the community to see what was going on in my area and allowed me to meet many of the teachers and volunteers. I moved to another country and I want my abilities to count for something in this country."