Community groups across Greater Manchester were recognised for their work bringing people from diverse backgrounds together at an awards night and dinner.
We Stand Together handed out the cash affiliate awards at the prize-giving evening in Manchester.
The not-for-profit was founded in the wake of the Manchester Arena terror bombing in 2017 and seeks to promote cohesion between communities across Greater Manchester.
Organisations providing anti-discrimination training, arts groups, sports projects and food banks are among the concerns which took home accolades on the night.
Who won awards at the We Stand Together prize-giving and dinner?
We Stand Together handed out its latest affiliate awards to organisations across the city-region who are bringing people together and promoting cohesion.
The biggest prize of £2,500 was won by Wigan-based Happy Smiles Training CIC, which works to promote disability awareness and social inclusion.
They are also working with fellow Wigan borough groups Ekhaya CIC and Everything Human Rights, both of which work with ethnic minority communities and which were represented at the Manchester Communication Academy for the awards dinner.
Awards of £1,000 went to Communities for All, Women's Voices, the Bury Creative Case for Diversity Group which works in the performing arts sector and Socio Economic Regeneration CIC.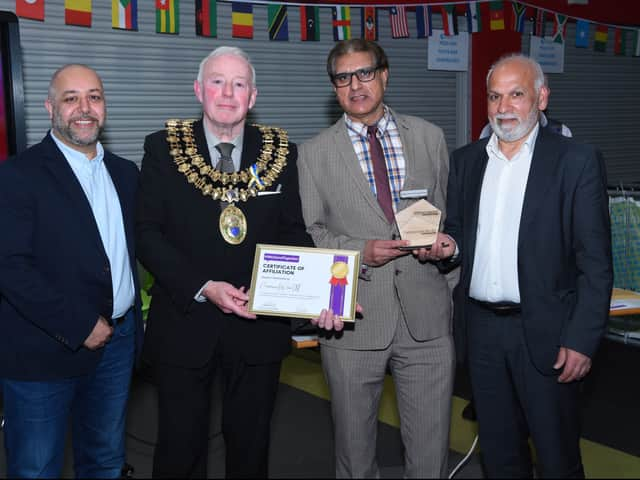 And awards of £500 were picked up by Be The Change Youth Project CIC, youth sports club RedStar FC, foodbanks Feed My City and Rainbow Surprise, community development concern Europia, wellbeing not-for-profit Feelgood Communities CIC and anti-discrimination group Chrisma.
Radequal, a community cohesion group, was given a non-monetary award.
Sir Peter Fahy, the founder of We Stand Together and former chief constable of Greater Manchester Police (GMP), was awarded a commemorative plaque for his leadership around cohesion.
What has been said about the awards and We Stand Together?
Jonny Wineberg, director of operations for We Stand Together, said: "This is the culmination of 18 months of work funded through GMP and the Asset Recovery Incentivisation Scheme where we have run over a dozen Difficult Dialogues; training for over 60 activists and sessions in over 30 schools, colleges, youth and community groups for over 5,000 people.
"The need for our cohesion work has never been greater and this event marked the start of even greater efforts to take our work into more neighbourhoods."
What else was discussed on the night?
Around 120 people attended the awards dinners, including mayors from the Greater Manchester boroughs, educators and university representatives alongside the charities and community groups.
Chair of trustees Dr Erinma Bell told the event that there was a difference between cohesion and tolerance, with tolerance suggesting a rather grudging acceptance and communities needing to be built from genuine love and understanding.
Keynote speaker Barbara Rosenthal, a therapist and trainer for Cruse Bereavement Support, spoke about the impact of the terrorist attack in Manchester that led to We Stand Together being formed and how grief affected the lives of all those caught up in the bombing.
Other speakers included Qaisra Shahraz, co-chair of We Stand Together's steering group and founder of Islamic arts and culture festival Macfest, and the Dean of Manchester and organisation trustee Rogers Govender.
There were also discussions about how projects and groups can foster cohesion and what the role of councils, police and organisations like We Stand Together is.
Those attending expressed an urgent need for the Greater Manchester Combined Authority (GMCA) to get more involved in community cohesion, for emergency services such as the police to have anti-discriminatory attitudes and for council workforces to be more diverse.
It was also suggested that community groups have an important role to play in giving a platform to the fact that all 10 Greater Manchester boroughs have diversity within them, and that local authorities could do more to bring these organisations together to work in partnership and help them access funding to expand.