Dozens of Greater Manchester rape suspects were actually charged with other offences, data shows
Dozens of people in Greater Manchester who were recorded as being charged in relation to reported rapes actually ended up being accused of other offences, data shows.
Watch more of our videos on Shots!
and live on Freeview channel 276
Visit Shots! now
Dozens of Greater Manchester rape suspects who were charged by police actually ended up being accused of other offences, shock data shows.
The Home Office records how many people were charged when it is listing the different outcomes for crimes. However, its figures do not necessarily say that people who were charged for a recorded crime were actually charged with that offence.
And now a Freedom of Information (FOI) request by the data unit at NationalWorld has revealed that in some cases suspects accused of rape were actually charged with alternative offences rather than rape.
Opposition politicians and campaigners working to tackle sexual violence say the findings are deeply concerning. Greater Manchester Police (GMP), meanwhile, has acknowledged it still has more work to do until people who have been victims of sexual crimes feel confident something will be done if they come forward and report their ordeals to officers.
What does the data show for Greater Manchester?
The FOI request by NationalWorld's data team asked the Home Office how many rape suspects who were listed in official figures as being charged when a crime of rape was recorded were actually not charged with rape at all but something else.
The results show that between October 2017 and September 2022 GMP charged 94 rape suspects with an alternative offences rather than rape. This means just over one in 10 of the 821 rape suspects charged in that period (11.4% to be exact) were not charged with rape at all.
The revelations put further pressure on police forces over their rape charging rates, which have regularly been criticised for being far too low in recent years and which have led to some campaigners saying rape had effectively been decriminalised.
GMP's charging rate for the period between October 2017 and September 2022 was officially listed as 5.3%, with 821 charges or summonses from 15,611. However, if those suspects charged with alternative offences are removed from the list, the 'actual' charge rate for rape for GMP was 4.7%.
The individual figures for each year throw up some shocking statistics as well. In the year ending September 2020, almost one in three rape suspects charged by GMP was actually charged in relation to another offence.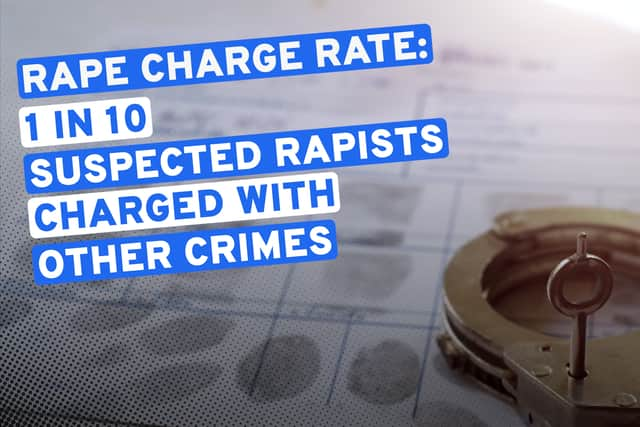 It is not known what offences the suspects were charged with instead, although the Home Office said that "the facts and evidence" must be extremely similar for forces to claim they have been charged for alternative offences. One police force suggested some will have been historic offenders, charged with crimes that pre-date current rape laws, but it is not possible to determine how many such cases there are nationally.
The Home Office also did not tell NationalWorld why, more than five years after it became mandatory for police forces to record when suspects were charged with alternative offences, its own data still lumped them all together into one outcomes figure.
What has been said about the data?
The End Violence Against Women Coalition (EVAW) condemned the figures and said it was evidence the criminal justice system's record "of seldom delivering justice" for rape victims may be even worse than already feared. Concern about the figures has also been raised by the shadow cabinet.
Janaya Walker, public affairs manager for EVAW, said. "Two years after the rape review, it is exhausting and frankly unacceptable that we are still battling these same failings and discovering new issues with data collection and transparency."
Shadow attorney general Emily Thornberry added: "These figures appear hugely alarming, and all the more so because of the background to this issue. Charge rates in rape cases have already fallen to unacceptably low levels under this government, and if it is the case – as this analysis suggests – that many of the suspects counted in the charge figures have not in fact been charged with rape, then the situation is even worse than we think.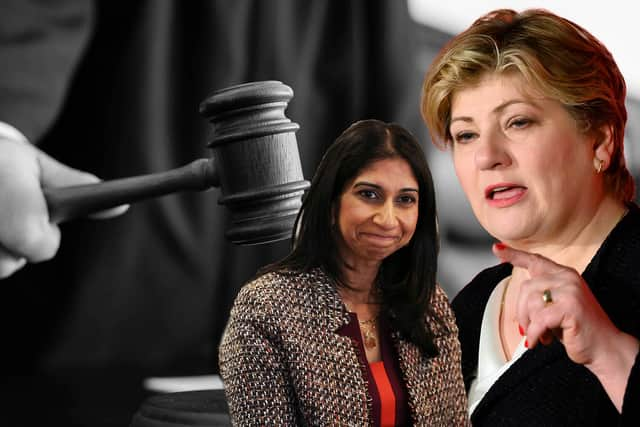 "We urgently need to see both full transparency from the government about the reality on rape charge rates, and then a serious plan to reverse the collapse in those rates. Action on both is essential, and for the government to continue without action on either is completely unacceptable."
A Home Office spokesperson said: "Sexual offences can have a devastating impact on victims. We are committed to ensuring that the perpetrators of these abhorrent crimes are brought to justice.
"For a force to claim that they have charged an alternative offence, the facts and evidence must be extremely similar, and must relate to the victim and circumstances."
What has Greater Manchester Police said about this issue?
A GMP spokesperson said: "We recognise that much more needs to be done to improve the way in which we approach rape investigations, better support victims, tighten our grip on offenders and address falling conviction rates. GMP is working tirelessly to both reduce offending and to close the gap between reports, charges and convictions.
"We are working closely with our partners in the Crown Prosecution Service (CPS), the Greater Manchester Combined Authority (GMCA) and others on a Joint Action Plan which will improve our response and performance under Operation Soteria Bluestone.
"GMP is one of 14 expansion forces to take part in the Operation Soteria Bluestone programme - a Home Office research and change programme aimed at transforming the policing response to rape and serious sexual assault (RASSO) nationally.
"This work will ultimately result in a new National Operating Model that will bring about demonstrable change in the way we police these traumatic offences. GMP will also continue working closely with the CPS in the early stages of investigation to help build stronger cases that will lead to better charging outcomes.
"In addition to this, every district across GMP has specially appointed RASSO leads to oversee sexual offence cases and ensure that best practice is being followed and the highest level of service is being delivered to the public.
"We would encourage victims to continue reporting to us, and we can assure you that our officers will treat your information with the strictest confidence. You will be taken seriously and you will receive the support you deserve."
Victims are encouraged to report crimes to GMP by calling 101 (999 in an emergency) or using the LiveChat function on GMP's website.