Manchester city council is asking for the public to help shape the future of Deansgate in a new consultation to come up with a permanent road layout.
Previous consultations have already been held to alter some arrangements, including as part of the 'active travel' scheme to encourage more walking and cycling, over the past few years. However the council has now apppointed a design team and is seeking input from the public and local businesses on the 'transformation of Deansgate from a traffic dominated environment to one that puts those using sustainable transport modes first.'
They say they also want to make the Deansgate area safer at nights, and improve air quality by cutting vehicle usage. The project will cover Deansgate from Victoria Bridge Street to Liverpool Street, with the public being invited to comment on four separate sections along the route - see the map below.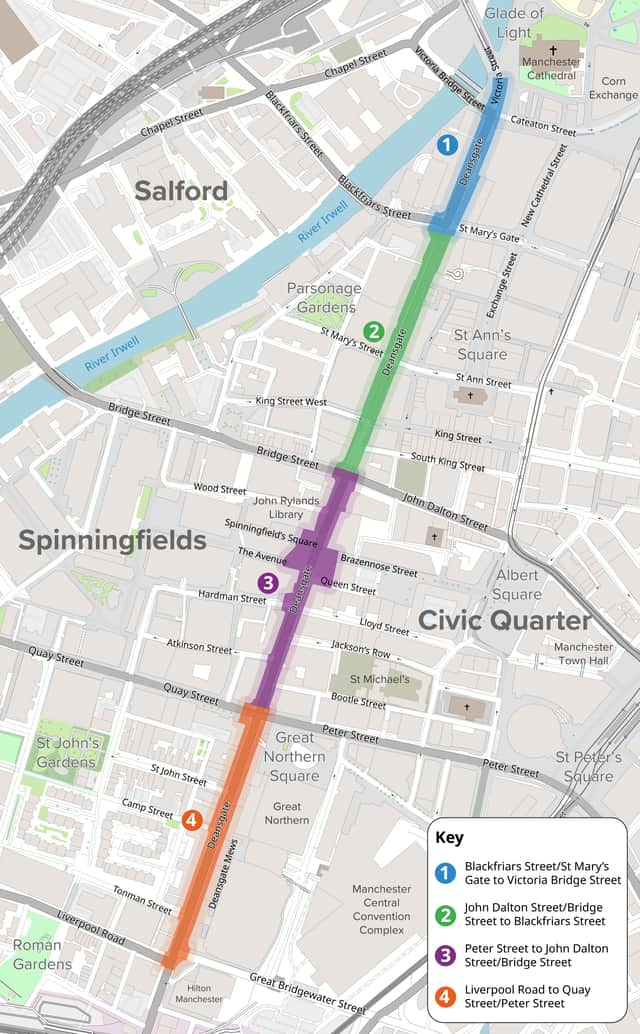 People will be asked what they associate the area with, how they prefer to travel there and which parts of Deansgate need most improvement.
The consultation will run from Monday 27 Februrary until Sunday 26 March at the council website. As well as the online consultation,there are plans for more public engagement as the scheme progresses.
Coun Tracey Rawlins, executive member for environment and transport, said: "Deansgate is a hugely important Manchester landmark. It's not only a hub for business and the night-time economy, but it is a vital link that connects our city's neighbourhoods.
"Through previous consultations and engagement with the public we know that Deansgate can be improved. The steps we have taken so far to move the area away from being dominated by cars, to an environment where sustainable transport is favoured have been met with broad support. We think there are incredibly strong foundations to transform Deansgate into something even better.
"As well as improving a vital part of Manchester we also believe this shift to more sustainable travel will play an important role in our ambition to become a zero-carbon city by 2038."
Earlier this month, the city council launched an ambitious active travel strategy, designed to encourage walking for short trips, reduce city centre speed limits and double the number of cycle journeys by 2028.