Confusion over 'impossible' abandoned road junction plans in Manchester
An active travel group reckons the episode raises questions about the local authority's ongoing consultation exercises about the future of walking, cycling and wheeling in Manchester.
Watch more of our videos on Shots!
and live on Freeview channel 276
Visit Shots! now
Confusion reigns over an active travel scheme in Manchester after the council claimed a junction which segregates cyclists from general traffic can't be built - even though it was previously put to the public in a consultation.
Active travel campaigners in Burnage are baffled after the latest phase of the plans to promote getting about without a car in the area removed a Cyclops junction from where Mosely Road and Slade Lane meet. And the mystery only deepened when local resident Paul Bower was told initially that this was due to "feedback", only for a Freedom of Information (FOI) request to reveal that when the public had been asked for their say the majority of respondents felt positively about the inclusion of the Cyclops junction.
Now, Manchester City Council has admitted that after discussion with Transport for Greater Manchester (TfGM) it has concluded it is not possible to put a Cyclops junction at that location - even though it had previously asked residents for their views on it. The local authority says it is taking on board lessons from this episode.
Active travel group Streets for People - Levenshulme and Burnage says the train of events raises major questions over the public engaging with the council's ongoing consultation about the future of walking, cycling and wheeling in neighbourhoods across the city.
What have those in favour of active travel measures said about the Cyclops junction?
Mr Bower said: "I don't think that junction has had anything done to it in the 13 years we've lived here, so it's long overdue. We were very hopeful when we saw the original plans last year, but it would now appear that somehow the original scheme doesn't fit the junction.
"We're pulling our hair out, we don't really know where we stand. They appear to be blaming themselves for this situation. Goodwill is rapidly running out, if it hasn't already run out.
"It's incredibly frustrating. The bottom line is we are still very supportive of what the council is trying to do. It just feels like we are not entirely clear on where they are heading with this. We want safer roads and the ability to walk or cycle without being endangered. That was what we were promised five years ago and we're still nowhere particularly close in Burnage, we've had nothing. All that has happened is consultations that have raised residents' expectations and then nothing has been delivered on them.
"It's a real disappointment they went to public consultation on a scheme that they are now saying isn't viable in some shape or form. It's just a mess."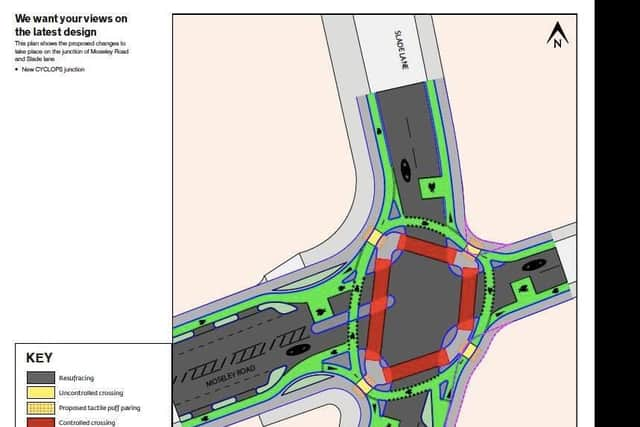 Mr Bower also called on local politicians and civil servants at Manchester City Council to be more open in communication with residents in Burnage about developments on the scheme.
The spokesperson said: "The council has put the consultation process into disarray. How can residents now give consultation feedback in good faith? And why on earth did Manchester City Council highways consult on something they claim can't be built?
"The council is capable of delivering ambitious infrastructure like the Chorlton Cycleway, which has lots of Cyclops junctions and had lots of pushback, but for some reason when it comes to an active travel neighbourhood they can't.
"Policy documents in Greater Manchester make it clear that it's not a question of if we are doing this with active travel. This is happening. The consultation process should be about the final details, asking residents if there are things that need tweaking or moving. The council has to stop treating consultation as a referendum on strategy and policy which has already been decided and agreed."
What has Manchester City Council said?
A Manchester City Council spokesperson said: "It is not uncommon for infrastructure projects to change throughout the course of their development. Cyclops-style junctions were proposed at the feasibility stage and were taken forward and looked at in detail. Unfortunately, this further work identified that there was insufficient available highway space to deliver Cyclops-style junctions meeting design standards at this location. Following a joint design review, it was agreed that a scheme to deliver pedestrian crossing improvements should be progressed at this location.
"The current design is a puffin crossing with full pedestrian phased crossings. This will be an improvement for both pedestrians and cyclists together that incorporates improved kerbing, widened footways, additional road markings, and a potential pocket park and seating area. The consultation for both junctions identified that pedestrian crossings were the most important improvement required.
"The council recognises that there was strong public support as well as local member support for the initial proposal for Cyclops junctions. However, other input has to be taken on board with any project the council develops. As set out above, in this case the council made an initial design and submitted it to TfGM. However, following their feedback it was not taken forwards due to a lack of space in the proposed area.
"The council has taken on board the lessons of how this has been communicated to stakeholders and the public and is committed to improving how this is done in the future. A city-wide active travel consultation is currently under way and the council remains invested in the opinions of the public and wants their views to shape the future of active travel."