A masterplan for 350 'green' homes near 'Millionaire's Row' in Salford has been released by developers. Peel L&P have described their plan for Worsley as 'trailblazing' as they look to create energy efficient homes off Leigh Road on a site named 'Alder Carr'.
Leigh Road is known locally as 'Millionaire's Row' due to the number of high-value homes all lined up opposite the RHS Garden Bridgewater – just next to where this new development would be built - and the village has been home to various Manchester United players over the years including David Beckham. The site lies within a green belt area of Boothstown, which sits on Salford's side of the border with Wigan.
The developer wants Alder Carr to 'set a new standard for sustainable and environmentally conscious new homes' as they officially launch their consultation for residents. The consultation includes providing around 50 % affordable housing overall, with 20 per cent available at the East of Boothstown site and 30 per cent off-site through a proposed contribution towards more affordable homes across Salford. Improvements to local junctions are also intended to be made to ease traffic in the area and there will be a new pedestrian crossing over Leigh Road.
According to Richard O'Brien, design director for Northstone – who plan to construct the site – the homes will have the capability of being 90 to 95% energy efficient, meaning a severely reduced electricity bill for these gasless homes. This will be done using improved air tightening and insulation as well as the input of solar panels that will generate electricity to use at peak times.
An articial intelligence programme named Wondrwall – that uses motion detectors and sensors to help reduce energy consumption by tracking movement patterns – will be installed in all homes. This green vision would mean the cost of homes would be higher as it is £7,000 -£12,000 more expensive to add in these feature – but Richard believes the buyer would save money in the long run.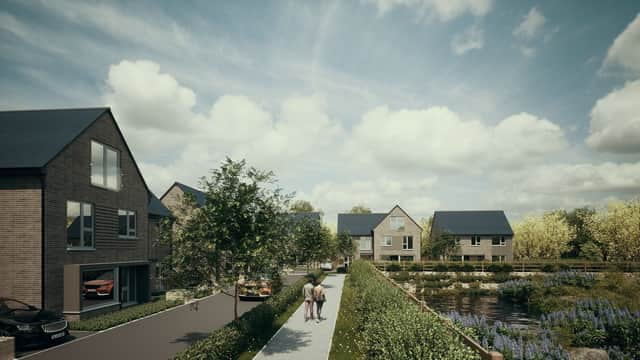 The developer has also suggested that the neighbourhood will also benefit from 'a network of open spaces and footpaths rich in biodiversity with tree-lined streets' as well as community green spaces, children's play parks, ponds, and fitness trails. A new scenic wetland route will be created along Shaw Brook has also been promised.
Annabel Baker, Peel L&P's Associate Director of Development Planning, said: "The site has been identified in the Places for Everyone plan for some time and as these plans move forward, we have developed ideas for what would be delivered at this special site close to RHS Garden Bridgewater. There is strong demand for all types of housing in Salford so these plans include one to four-bed affordable homes, family houses for sale and Northstone's newly adapted home for families with dependent relatives.
"By providing 50 % affordable housing overall, we can make a significant contribution to meeting the urgent need for affordable homes in the city. Future homes also need to be cleaner, greener and warmer and our homes would be significantly more energy efficient than those built today's standard.
"We know that peak hour traffic and congestion is an issue locally so we are carrying out a full assessment and working with various transport bodies to provide the necessary improvements to the network. We look forward to working with the community to help shape these plans further to meet local needs and complement the surrounding landscape."
Peel L&P are also working towards another neighbourhood development just down the road from this site in Mosley Common – which has proved to be controversial with many residents objecting to construction on the green belt. This Boothstown plan is separate to the 1,100 home community which is also earmarked for Greater Manchester's 'Places for Everyone' plan.
This sets out how each borough should be developed to meet local need for new homes, jobs and sustainable growth. Northstone, a subsidiary of Peel L&P, would be responsible for construction on this site and could build as many as 70 homes in phase one of development.
This proposal would be subject to a planning application that Peel L&P expect to submit in the next few months. You can find out more about the proposals and have your say on the plans here.