Bowel cancer patients in Greater Manchester face long waits for diagnostic tests and treatment, data shows
Some trusts are significantly below the England average and Covid-19 has seemingly had a major impact, with considerably fewer patients getting seen within the target time than pre-pandemic.
Watch more of our videos on Shots! 
and live on Freeview channel 276
Visit Shots! now
Bowel cancer patients in Greater Manchester face long waiting times for diagnosis and treatment to start and thousands of people across the city-region are awaiting tests, data shows.
Our sister title NationalWorld carried out detailed analysis of NHS England statistics running up to the end of March 2022 for lower gastrointestinal cancer as the spotlight falls on the disease due to the efforts of podcaster Dame Deborah James, who has become known as Bowel Babe.
The analysis looks at how many people across Greater Manchester are waiting for tests and how hospital trusts are faring compared to the national targets they have to meet on timely actions being taken after GP referrals and treatment getting started.
It is clear that significantly fewer people are being seen by hospitals for bowel cancer within the target times than before the Covid-19 pandemic hit.
What does the data show on people waiting for tests?
The analysis looked at how many people were waiting for some of the key tests for cancer and how long they had been waiting.
At Stockport NHS Foundation Trust, more than 1,100 people alone were waiting for a colonoscopy at the end of March 2022, with a total of 1,484 patients on the waiting lists for three key tests (colonoscopy, barium enema and flexi sigmoidoscopy).
Of those 49% had been waiting for 13 or more weeks.
At the end of March 2022 the number of people waiting that long was almost half that, at just over one in four on the waiting list.
The list itself had also been considerably smaller then, with 904 people on it.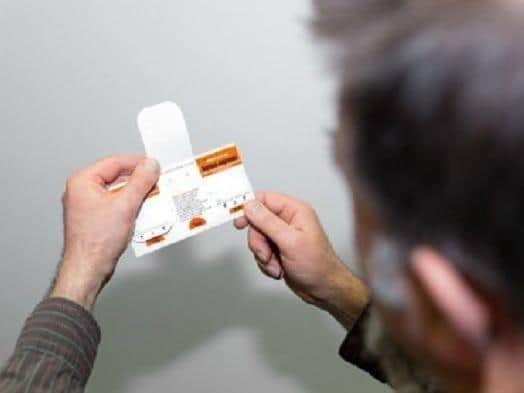 Manchester University NHS Foundation had 1,630 people on the waiting list for the three key cancer tests at the end of March 2022, although only 19.9% of them had been waiting 13 weeks or less.
And the Northern Care Alliance NHS Foundation Trust, which covers care in Salford, Bury, Rochdale and Oldham, had 1,674 people on the waiting list at the end of March this year, with 1,220 of those waiting for a colonoscopy.
Of those, 27.3% had been facing the longest waits of 13 weeks or more.
It should be pointed out that these three tests are not solely used for bowel cancer and there are other tests such as MRI scans of the gastrointestinal area which could be used to detect cancer which do not have data available.
What does the data show on waiting times?
NHS hospital trusts have a couple of targets to meet when it comes to ensuring cancer patients get their treatment under way quickly to give patients the best chance of recovery.
Patients should be given the all-clear or a cancer diagnosis within 28 days of an urgent referral with suspected cancer from a GP, and this should be done for at least 75% of patients.
In addition trusts should get at least 85% of their confirmed cancer patients started on their first treatment within 62 days of an urgent referral.
It is clear from the data that these targets are being missed across Greater Manchester.
At Manchester University NHS Foundation Trust, the figures showed that 40.8% of patients had an all-clear or diagnosis within 28 days, and fewer than a quarter (24.4% to be exact) of people confirmed to have cancer started treatment within 62 days of their urgent referral to hospital.
Two years previously, at the start of the Covid-19 pandemic, 72.3% of patients had their treatment started within the 62-day target window.
At the Northern Care Alliance NHS Foundation Trust just over half of patients had an answer on all-clear or diagnosis within 28 days and 43.8% of people known to have cancer started treatment within 62 days of the urgent referral.
Again there has been a significant drop during the two years of the Covid-19 pandemic, with the trust down to 43.8% from 73.8% in March 2020 for the 62-day treatment target.
At Stockport NHS Foundation Trust 60.7% of patients received a diagnosis or the all-clear within 28 days and 72.4% of cancer patients got treatment under way in 62 days.
It is not possible to compare trust performances pre-pandemic for the 28-day target as that was only introduced in April 2021.
What has been said about the data?
The situation in Greater Manchester is largely mirrored across the country, with NationalWorld finding the majority of trusts missing their cancer targets and only a comparatively small number hitting them.
Cancer Research UK warned against ascribing the issues solely to Covid-19, saying the pandemic had only "exacerbated" issues in the health service and saying that there had been "far too many people facing unacceptable waits before the pandemic".
However, Bowel Research UK said Covid lockdowns had seriously interrupted work treating cancers, with screenings paused and diagnostic services postponed while the health service pivoted to supporting the emergency pandemic response.
Although attempts are being made by the NHS to clear the backlog of tests which has built up, the organisation warned this work was far from done.
Bowel Cancer UK said it was vital people were able to get diagnosed early as nearly everyone who gets bowel cancer identified at the earliest possible stage will survive it, but the likelihood of the disease not proving fatal drops significantly as it develops.