A new report analysing cycling, walking and wheeling in Greater Manchester has revealed major concerns about safety and support for low traffic neighbourhoods (LTN).
The latest edition of Sustrans' bi-annual Walking and Cycling Index shows how the Covid-19 pandemic has affected travelling across the city-region and suggests there are still many opportunities to get more people out on two wheels.
Other measures which proved popular in the report include banning pavement parking, making local areas and green spaces more attractive and putting more crossings on roads.
The authorities say that while it is positive that more people use active travel and the car there is still more to do.
What does the Sustrans report say about active travel in Greater Manchester?
The latest 2021 report shows that 47% of residents walk or wheel at least five or more days each week, compared to 43% who use a car and 11% who use public transport.
Only 3% of people cycle at least five days a week, but more promisingly more than a third (35%) of people say they don't currently cycle but would like to do so.
This rises to 56% of ethnic minority groups, 38% of women and 31% of disabled people.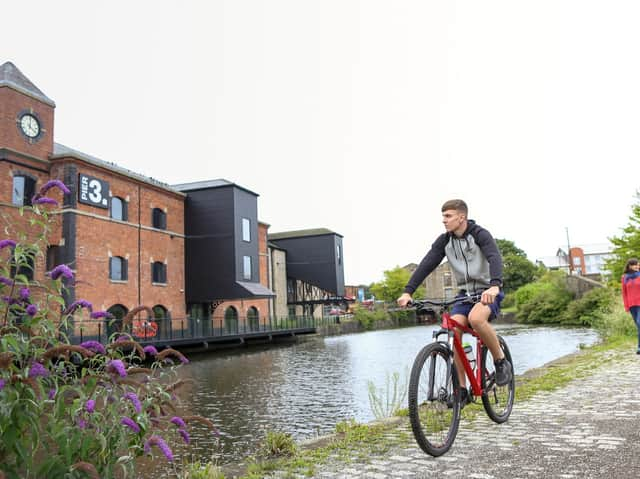 However, the report also shows that active travel numbers have plateaued somewhat since the previous index was compiled in 2019.
Indeed, walking the only form of transport which didn't decline over the two-year period, which includes the Covid-19 pandemic.
Sustrans said it is clear from the results that there is the potential for far more Greater Mancunians to use active travel regularly than currently do so.
And the report says the city-region is missing out on huge green benefits, with 490.6 million journeys up to three miles being driven in Greater Manchester each year.
If 80% of these journeys were walked or cycled it could save approximately 160,000 tonnes of greenhouse gas emissions, Sustrans says, assuming that each journey is around 1.5 miles in length.
What are the barriers to active travel explored in the report?
The report says that safety is a major issue stopping more people walking, cycling and wheeling across Greater Manchester.
Just 34% of people in Greater Manchester quizzed for the index thought the level of cycling safety was good in their local area.
Only 26% thought children could cycle safely, and only half thought it was safe for young people to walk.
In addition, only 48% of LGBTQ+ people felt welcome and comfortable walking, wheeling or spending time on the streets of their neighbourhood, compared to 61% of all residents surveyed.
Men are currently more likely to cycle in Greater Manchester than women (19% getting in the saddle once a week compared to 8%), and women were more concerned about cycling safety, with 32% thinking cycling safety in their local area was good compared to 36% of men.
Only around one in five households in Greater Manchester are within 125m of a safer cycling facility, such as a protected cycle track or traffic-free cycling route.
What else did people want to see and support in the report?
The survey revealed a high level of support among those questioned for low traffic neighbourhoods (LTNs), which have proven controversial when they have been implemented in some parts of Greater Manchester.
In total 68% thought there should be more LTNs created in the city-region.
An overwhelming 79% of people supported the creation of more 20-minute neighbourhoods, where shops and services are within a 20-minute return walk or wheel of residential areas.
Only half of respondents (51%) agreed they could easily get to many places they needed to visit without having to drive.
Other popular measures include banning pavement parking, with 72% of respondents saying this would help them walk or wheel more.
In addition 73% said wider pavements would help boost active travel, while 75% said they would walk or wheel more if there were more pedestrian crossings with shorter wait times.
And 85% of people said more parks and green spaces near to their homes would help them walk or wheel more, while 79% thought nicer places along streets to stop and rest, such as areas with benches, trees and shelters, would be beneficial.
What has been said in response to the survey?
Rosslyn Colderley, director of Sustrans for the North of England, said: "The evidence is clear – walking and wheeling are the most popular forms of urban transport in Greater Manchester, but many more groups of people could benefit if conditions were improved.
"Walking and wheeling have significant benefits for our health and economy and there is huge untapped potential to help more residents choose these healthier, more environmentally-friendly forms of transport.
"Residents overwhelmingly support measures like low traffic neighbourhoods and 20-minute neighbourhoods that help more people walk, wheel or cycle their journeys.
"They welcome developments in active travel throughout the region and are keen to invest more public funds to make it more widely accessible for everyone.
"People want to see safer streets with less traffic. They don't want outdated and unmaintained pavements, crossing points that make walking and wheeling unsafe or inaccessible, and vehicles parked on pavements getting in their way."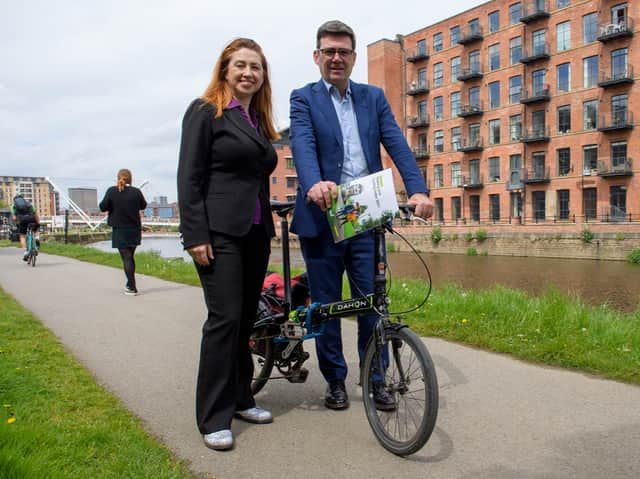 The city-region's authorities said the report made it clear that there was a lot of work still to do to meet targets and visions which have been set down for making Greater Manchester a more active, greener place but insisted money is being ploughed in to make it happen.
Andy Burnham, Mayor of Greater Manchester, said: "Our ambition in GM is to make active travel the natural choice for everyday trips so it's very encouraging to read the City Life Index and see that more people are choosing active travel instead of using the car.
"We know the job is far from finished, which is why we are investing £1.5 billion over 10 years to create 1,800 miles of routes and 2,400 new crossings connecting every neighbourhood, school, high street and public transport hub in the city-region.
"In 2021 alone we enabled over 88km (55 miles) of cycling and walking network, with much more to be delivered over the coming years.
"We also offer a range of support, including community grants and cycle training, to enable more people to take up active travel.
"Additionally, our cycle hire scheme - which is due to expand to 1,500 bikes later this year - will help to cut air pollution, reduce congestion and give more people affordable access to bikes."
What did people from Greater Manchester say in the report?
Dean Bryan, from Stretford, spoke about the effect an LTN had had on journeys with his young son Deontay.
He said: "The park is about 10 minutes away. We come here about two or three times a week to walk or cycle, to visit the playground and look at the animals.
"It's 10 times easier since they put in the low-traffic neighbourhood. Before they restricted the traffic, there was always a lot of cars and motorbikes. It wasn't safe for Deontay. We had him in the buggy all the time.
"Now I'm not looking out for cars constantly. I feel confident to let him walk beside me."
Carol Hutchinson, who learned to ride a bike in her 50s during lockdown, said: "You'd definitely get more people cycling if there was a physical barrier between the traffic and the person on a bike. It comes down to whether or not people feel safe."
Siegrun Brunt, 81, gave a gloomier assessment of riding on Greater Manchester's roads and the problems cyclists face sharing space with motorists, contrasting how
She said: "I've cycled all my life but now the roads feel too dangerous for me.
"I don't think I would go to town on the bike any more. I don't feel safe enough. Cars come so close sometimes. It's like they want to scare you off the road.
"People get close and sometimes they shout at you. In Germany cars give you right of way. I was amazed when I went back there to visit. Cars stopped for me and let me go.
"I mainly cycle on the road but I do enjoy off-road paths like the Fallowfield Loop. If I go to Trafford, Talbot Road has a segregated route. The new Oxford Road cycleway also works really well.
"But these routes are not connected to everything else. The temporary cycle route was down the main road so I didn't really use it."
Nevertheless, Siegrun said it was "great that more and more people are taking to bikes".