Where to go for a winter walk followed by a perfect pint in Greater Manchester
A crisp, cold walk through beautiful scenery followed by a good beer is an excellent way to spend a winter's day.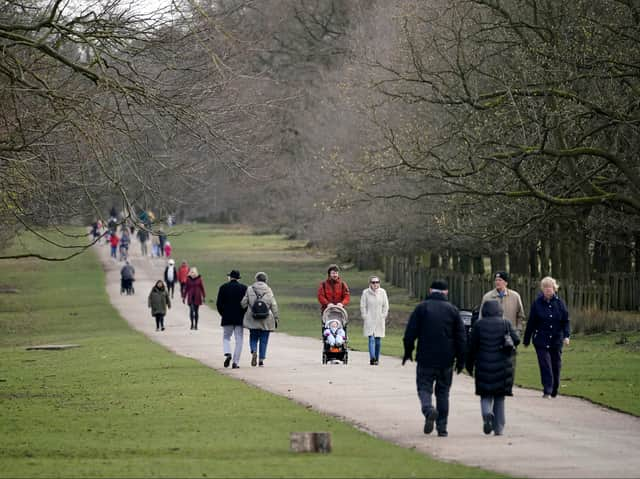 People going for a walk at Dunham Massey. Photo: Christopher Furlong/Getty Images
There is little better in the depths of winter than getting wrapped up and heading out into the countryside for a walk through a crisp, cold wonderland.
And a good way to follow that is by heading to a traditional pub and thawing out in the warmth with a good glass of real ale.
Fortunately, there are a number of places in Greater Manchester when you can combine both these pleasures in the same day.

Most Popular
Here are five of our tips if you fancy going walking in a winter wonderland somewhere in our city-region.
Chorlton Ees and the River Mersey
Chorlton Ees, which takes its name from an Old English word, is an ideal place to enjoy some beautiful greenery without having to head too far out of the city centre.
Paths make their way along the banks of the River Mersey and connect the walker to a number of green spaces in the area including Ivy Green.
Chorlton Ees itself has an array of tree-lined paths leading through woodland and meadows.
And in the middle of all these sites, perched right on the riverside, is the cosy Jackson's Boat in Sale, which offers cycle hire for those looking to get out and about on two wheels.
Burrs Country Park
Just north of Bury, and accessible from the East Lancashire Railway, lies Burrs Country Park, 36 hectares of varied habitats alongside the River Irwell.
The park includes woodlands, wetlands and ponds and is a great place to relax or spot wildlife.
One initiative that the Chancellor did announce in the Autumn Budget was the introduction of a reduced rate for draught product sold in large containers.
And after those exertions, it's time to drop into the homely country inn The Brown Cow, situated right in the park itself, which serves up a selection of good pints and some hearty pub grub.
Little Bollington and Dunham Massey
People with a passion for both a good stroll and a beer should head for The Swan With Two Nicks, just outside Altrincham.
Deer at Dunham Massey. Photo: Christopher Furlong/Getty Images
The Bollin Valley Way, which stretches from the Manchester Ship Canal right through to Macclesfield, runs right past the pub.
And nearby there is the beautiful National Trust property of Dunham Massey to explore as well as the possibility of following the bridleways alongside the Bridgewater Canal.
Haigh Hall and Country Park
Just to the north of Wigan lies the big green expanse of Haigh Country Park with its 19th century hall sitting at the heart of the site commanding a panoramic view of the area.
The place has been a magnet for families for generation and has activities for all ages to do, but walkers will find an array of quieter paths heading off through the plantations and out into the fields and woods that lie beyond as well as along the canal towpath.
It's quite possible to create a route of a good few miles here, and when you get back to the Kitchen Courtyard you can enjoy a pint courtesy of the Two Left Feet Brewery and Tap, which has its own beer along with some guest choices.
Belmont and Rivington
Intrepid walkers head out into the hills in numbers on dry winter days, and there are fewer better places to do that in Greater Manchester than this spectacular moorland just north of Bolton.
Options for the walker here include the popular ascent of Rivington Pike, the spectacular Terraced Gardens or the climb to the summit of Winter Hill which can be seen from across the region with its array of masts on the summit.
If the weather is really favourable and the skies are clear, it is possible to put together a few of these routes and create a truly memorable hike of up to eight miles or so across this gem of a North West landscape.
After all that some refreshments will clearly be called for, and the popular Joseph Holt pub The Black Dog will welcome weary walkers through its doors in the heart of the lovely little village of Belmont for a reviving pint and some food.