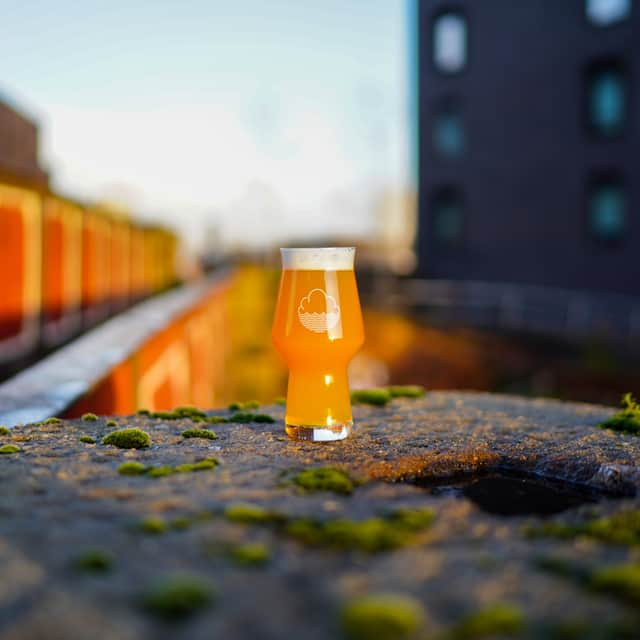 Real ale and craft beer have undergone a major resurgence in the last decade or so, with hundreds of breweries springing up the length and breadth of Britain. And Manchester has been no exception, fully playing its part in an explosion of hops-based creativity.
The city has a very long association with brewing, whether it's the traditional pints of Joseph Holt, which started brewing in the mid 19th century, or Boddingtons which will be remembered by readers of a certain age for its advertising campaign proudly labelling it "The Cream of Manchester".
Alongside those perfecting the time-honoured styles, though, are a raft of newer breweries dedicated to more exploratory adventures in beer.
New styles have joined increasingly-crowded bars and bottle fridges, while brewers have gained inspiration from the drinking scenes of areas including Belgium, Germany, the United States and more.
Here are nine breweries from Manchester which help to ensure the city is a brilliant place to raise a glass or two:
Cloudwater has made a massive impact on the craft beer scene since it came to notice a few years back.
It is known for its dazzlingly long list of creations and particularly specialises in slightly sour, cloudy and intensely fruity American-style beers.
It has become well known for its DIPAs (double IPAs) and TIPAs (triple IPAs) and continually varies the hops it uses for slightly different flavours.
Cloudwater is now served in craft beer bars around the country but it has its own brewery tap on the Piccadilly Trading Estate, a short walk from the train station.
Yes, the name of this Salford-based concern really does reflect that it is run by seven siblings - the McAvoy clan.
Seven Bro7hers produce an array of ales from IPAs and session sippers to dark stouts and has also unveiled its Seven Series, marking seven years in the business and giving each brother the chance to unleash the creative shackles and create their dream brew.
The brewery has grown rapidly and now has a taproom in Salford and a smart, contemporary beerhouse in Ancoats.
It is also reaching for the skies after launching its Amber Alehouse in Terminal Two at Manchester Airport, has signed its first deal with a national retailer and has plans to create bars across the country.
This brewery has been dishing out its ales since 2012 and is now based in the city's Green Quarter.
It brews a wide range of drinks, from American styles such as East Coast Pale Ale and West Coast IPA to European-influenced brews such as pilsners and helles beers drawing on the beer traditions of Czechia and Germany respectively.
It has a brewtap under the railway arches on Irk Street but is currently working on the space.
Brewing good craft beer is as easy as ABC for this team based on North Western Street.
Since 2014 its hoppy, fruity creations have seen it jostling for a position at the forefront of the craft beer pack.
Its core range includes session and tropical IPAs and American-style pales, while its massive list of one-off beers range from sours and powerful imperial stouts to brown ales and barley wines.
Its taproom, located at the brewery site, has up to 10 lines of beers available along with a fridge full of cans to sample.
Marble is now one of the most established names on the Manchester brewing scene, having poured its first pints in 1997.
Its session beers, such as Manchester Bitter and the aptly-named Pint, have proved a huge hit with pubs all over the place, while its other creations include the unique peppermint flavours of its Earl Grey IPA and deliciously fruit imperial stouts and porters.
It has also proved something of a training ground for top beer brewers, with a number of ale creators learning their trade at Marble and then going on to other concerns both in the city and across the country.
Its main pub The Marble Arch is an extremely popular place to eat and drink and it also has a taproom in Salford.
Based on Dantzic Street, Runaway aims to combine the traditions of brewing with the sense of fun and exploration that marks out the modern craft beer scene.
Its core range is made up of an IPA, a pale ale and an extra strong bitter (ESB), while its seasonal offerings range from summery saisons and sours to heartier glasses of smoked porter and gingerbread stout.
And its list of specialities and collaborations sees the brewery truly head off-piste, with beers containing yuzu, mango, cardamom and even scotch bonnet chillis.
It regularly teams up with other organisations, exchanging ideas with everyone from fellow brewers to street food organisations.
Track has a fantastic creation story, as its founder discovered a love of craft beer while he was pedalling coast-to-coast across America during a round-the-world cycling odyssey.
Back at home the brewery took shape under a railway arch and Track was born.
Unsurprisingly, given the Stateside inspiration for the firm, the brewery leans heavily towards the American brewing scene in its line-up.
There are IPAs and DIPAs as well as a number of sours, in line with one of the major beer trends of the moment, including a blend of two fruit beers made with damson and plum aged in Pinot Noir wine barrels.
Shindigger started out in life as two students at university brewing beer for house parties.
Now somewhat more established, Shindigger is an example of a phantom brewery, which involves recipes being created at an HQ before the producers team up with partner concerns with premises to make the beers at their facilities using spare capacity.
The brewery says it creates beers which are enjoyable to drink in a session and leans towards the American style of ales, with East Coast flavoured products as well as the "fruity bois", which are opaque and full of intense flavours such as mango and citrus.
Beatnikz Republic is one of the newer names on the Manchester beer scene, launching in 2017.
Based in Cheetham Hill, it has a brewery taproom and a bar on Dale Street in the heart of the Northern Quarter.
Its line-up of beers is a journey for the tastebuds, whether it's the brewery's array of sours, its pales and IPAs or creations such as the fearsome 11.4% barrel aged imperial stout Oblivion Now.
Its colourful cans are sure to draw the eye of the drinker wondering what to try next.