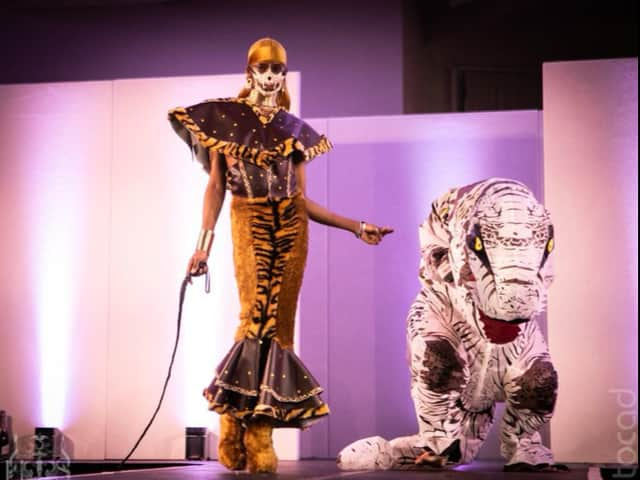 Participants on the runway at a Vogue Ball
A spectacular celebration of LGBTQ+ people and culture is back in Manchester and organisers are promising a truly unforgettable night.
The Vogue Ball is returning for its seventh year in the city and takes place at Manchester Academy on Friday 18 February.
The event, based on the ballroom culture created by America's marginalised LGBTQ+ communities, was first held in the city in 2014 and has quickly grown in popularity.
Here's what you need to know about the Vogue Ball.
What is ballroom culture?
The Vogue Ball is based on the ballroom culture that developed on the other side of the Atlantic Ocean in the USA.
The early participants were mainly African-American and Latin-American and involve a mixture of lip-syncing, performance and modelling.
The scene takes a lot of its cues from the world of fashion, with the participants strutting their stuff on a large runway like a catwalk and donning spectacular costumes and outfits.
The performers also banded together into houses, which would often literally form substitute families after they had been excluded from their birth families, and some of the most famous ones in America take their names from high fashion.
Participants at balls walk, dance, pose and do a stylised modern house dance which is called voguing, with the whole thing intended to satirise, overturn and challenge societal norms while providing a sense of community and togetherness for the often-excluded performers.
Ballroom culture became known to a much-larger audience following the release of the 1990 film Paris is Burning, which featured some of the biggest New York houses.
What is the Manchester Vogue Ball?
Manchester's Vogue Ball is the brainchild of Darren Suarez, a dancer, lecturer and freelance choreographer and producer.
He founded the House of Suarez and created a Liverpool ball in 2008 before bringing the concept to Manchester in 2014.
Originally setting up the ball at Oxford Road's Contact Theatre (and still held in February as part of Queer Contact which marks LGBT History Month), the event passed through a number of bigger venues as it grew and will this year be in Manchester Academy.
The House of Suarez events have attracted celebrities, artists and participants from across the UK and abroad and pay homage to ballroom culture while ramping up the theatrical element.
Each year's balls have a different theme and this year's is Night At the Poseum, with performances inspired by the treasures stored in various museums around the North West.
Around a dozen houses are expected to compete at the 2022 Manchester ball in categories including Fantasy, Solo, Lip Synch, Sex Siren and Choreography.
The houses will showcase their flamboyance and brilliance to a packed audience and a panel of celebrity judges.
Even Covid-19 has not done too much to slow down the increasing success of the Vogue Ball, with Darren and his team managing to organise a summer outdoor event in 2021.
What do the organisers say about the event?
The organisers spoke passionately about the subversive and empowering aims of ballroom culture and what that can do for people who have often suffered exclusion, prejudice and marginalisation in their lives.
They also spoke delightedly about the enthusiasm of Manchester audiences for the concept.
Rikki Beadle-Blair, who hosts the balls, said: "It's hard to explain to people but everyone who I've invited tells me afterwards it is the best night of their lives.
"As host I feel a bit like a ringmaster, but instead of taming the animals I'm setting them free.
"Some of the categories are about showing off bodies perfectly, some things are about style and how you carry yourself. Realness is about how convincing you are being somebody you might not be in real life.
"All the things you were bullied for or ostracised for become winning attributes.
Rikki Beadle-Blair on the runway at a Vogue Ball
"It's a very exciting thing to watch somebody really own that walk. I also love inviting people from the audience to walk. Sometimes they might be on crutches or use a mobility vehicle but they get that moment where they are the centre of attention and somebody people are inspired by.
"It's an incredible rush when that happens. It's an incredible journey and I experience a transcendental moment every time I host a ball.
"It's great to see people fill a space and feel there's nothing wrong with them. They are beautiful and everything that everyone has ever told them is wrong with them is what is best about them.
"People don't often get permission to indulge and luxuriate in who they are and it's really wonderful to see that happen collectively. There's nothing like it.
"You also can't go wrong with a Manchester audience. They know how to have a good time. There's Manchester and then there's Manchester on a glitter high, and we take them to that level."
Darren said: "A lot of the categories are escapism. Half of them were created because people were unable to achieve those goals because they weren't welcome in that world, so they created their own with alter egos to portray them.
"We celebrate culture and create as much diversity from all walks of life in a safe space as we can.
"We create opportunities for deaf and disabled artists and sometimes the houses become confident in setting things up and they create their own legacies and journeys.
A participant on the runway at a Vogue Ball
"The choreography is the biggest category, it's the moment in the show when the houses want to look like an army on that runway. They usually bring half a postcode with them.
"Then you've got amazing solo categories where performers have to fill the stage themselves.
"Rikki is the perfect host. Everyone comes from a different societal background, different levels of body security. Some have done it for years, some are new..
"Backstage I tell everyone we're all one family and to support each other, and Rikki tells the audience that too. Within five minutes he's educating people on what they are about to experience, which in some cases includes people's vulnerabilities. He gets the audience to understand compassion."
A family event
A performer from each of the four competing houses will catwalk, dance and lip-sync to be crowned by the audience.
Audience members are also encouraged to show off their own magnificence by dressing up and maybe even taking to the floor and trying out a few poses.
The organisers said a family ball is "a vital space for gay, trans, non-conforming and questioning young people to see positive, celebratory representations".