The 2022 edition of Tramlines Festival is just days away, and a top lineup is set to descend on Hillsborough Park in Sheffield.
Tickets for the festival have sold out, but if you are heading to South Yorkshire from Manchester there's plenty you need to know.
Here's the information you need to know ahead of the festival, including who is performing at the festival and how you can get there from Manchester.
When is Tramlines Festival?
Tramlines 2022 take place from Friday, 22 July to Sunday 24 July at Hillsborough Park in Sheffield.
Who is performing at the festival?
The three days of the festival are jam packed, with some huge names on the 2022 setlist.
Your Tramlines 2022 festival headliners are Sam Fender (Friday), Kasabian (Saturday), and Madness on Sunday.
Other stand out performers at the festival include The Vaccines, The Wombats, and Sam Ryder who led the UK to second place at the 2022 Eurovision Song Contest.
The full line-up is on the poster below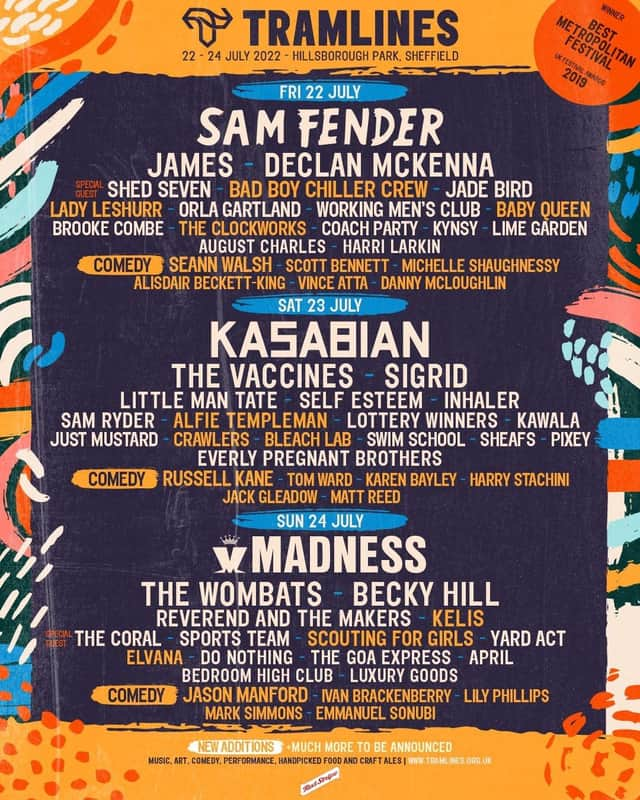 How can I get to the festival from Manchester?
Sheffield isn't too far away from Greater Manchester, and reaching Tramlines by train or car is easily doable.
Here is the information on how you can get to the festival.
There are two entrances to Tramlines, these are:
Penistone Rd Entrance Hillsborough Park, Penistone Rd, Sheffield, S6 2AN
Middlewood Rd Entrance, Hillsborough Park, Middlewood Rd, Sheffield, S6 4HA
Services from Manchester Piccadilly to Sheffield run on a regular basis, with some journey times taking less than 50 minutes.
Tramlines is a metropolitan festival and the festival aims to try to reduce the environmental impact of the event.
The festival encourages visitors to use public transport and not travel by car where possible.
If this is not possible please note the following:
You can purchase an official car parking ticket via the car parking page here.
There is no specific pick-up and drop off area for the event
All surrounding residential roads will not permit parking. If you park here you are subject to fine or towing.
There are also no free places to park your car within one mile of the event proximity
If you look to park close to the event you are likely to get caught in post-event traffic and delayed heavily by those leaving on foot and public transport.
If you are driving, the festival also reminds visitors that there is no need to rush home.
A spokesperson said: "Please remember you don't have to rush home – To avoid congestion we're extending festival-closing times so you can stay within the festival site until 10.30pm on Friday and Saturday while on Sunday you can stay till 9.30pm, the bars and food stalls will still be serving till this time!"
Which items are prohibited at the festival?
A selection of items, including bikes and glass, cannot be taken into the festival. The full list of prohibited items is below.
Controlled substances (including psychoactive substances)
Glass / aerosols / gas canisters / BBQs / weapons / sharp objects
Pyrotechnics / flares / fireworks / lasers / laser pens
Food / alcohol
Golf umbrellas / flags / chairs / camping equipment
Animals (with the exception of assistance dogs)
Large bags (no bags bigger than an A4 piece of paper)
Professional camera or video recording equipment (including SLRs and anything with a detachable lens)
No bikes / skateboards / scooters.
No megaphones / large amplification equipment / klaxons / air horns