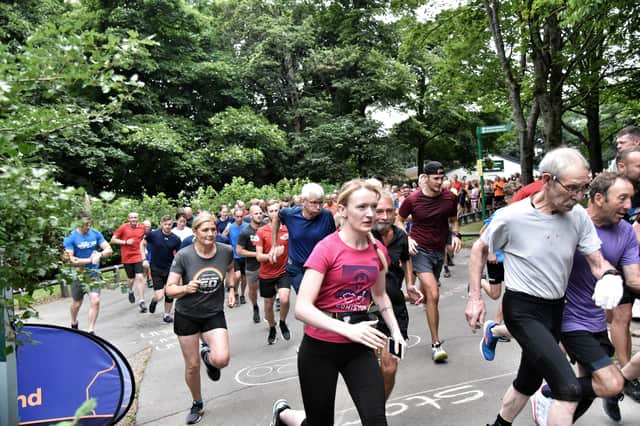 Haigh Woodland Parkrun, Wigan
Parkrun attracts runners of all ages and abilities to some of Manchester's favourite green spaces each weekend.
The 5K routes can be run, jogged or walked, meaning they are suitable for everyone from club athletes to people who have never tried running before. There is a friendly atmosphere and no pressure to complete the route in a certain time.
Parkruns are free to enter but you need to register before you do your first run and bring along the barcode you'll receive if you want to get a finish time for your race. You can also get involved as a volunteer to help set up on the day and marshal the run.

Most Popular
Volunteers are needed to help with local Parkuns
Parkruns usually take place at 9am every Saturday, however some will not be running on Christmas Day or New Year's Day; check the Parkrun official website here before setting off and find out how to register for your first run.
Here, we take a look at just some of the varied events you can join in in Greater Manchester for some inspiration - on your marks, get set, go!
South Manchester Parkrun
Where: Platts Fields Park, Fallowfield, Manchester M14 6LA. The route starts at the tree-lined avenue near Platt Lane.
Extra info: There is a free car park off Mabfield Road or you can get there by bus. Runners are invited to join in with a coffee at Haus cafe afterwards.
Haigh Woodland Parkrun
Where: Haigh Country Park, Haigh, Wigan, WN2 1PE. The route starts near the children's play area and goes onto woodland paths.
Extra info: There is a car park on site (charges apply) or you can get a bus to Wigan Road and walk the rest of the way. Runners are invited to meet at Haigh Woodland Park café afterwards.
Haigh Woodland Parkrun, Wigan
Wythenshawe Parkrun
Where: Wythenshawe Park, Wythenshawe Road, Wythenshawe, M23 0AB. The route starts outside Wythenshawe Hall near the Oliver Cromwell statue, and covers a mix of asphalt, trail and grass surfaces.
Extra info: Runners are warned the car park often fills up but there may be some road-side parking on the day, or you can take a bus or the tram to the Wythenshawe Park stop, a 10-minute walk away. Runners are invited to the Courtyard Tea Room in the park after.
Stretford Park Run
Where: Longford Park, Longford Park Stadium, Ryebank Rd, Stretford, Manchester, M21 9TA. The route starts on the start line of the running track.
Extra info: There is only limited parking at the park but you can get a tram to the Stretford stop and walk five minutes there. Runners can grab a brew afterwards at the Longfords cafe.
Heaton Parkrun
Where: Heaton Park, Sheepfoot Lane, Manchester M25 0DL . The route starts by the pavilion cafe.
Extra info: The nearest pay and display car park is the Lake Car Park but you can get there by bus or by tram to the Heaton Park stop. Runners can get a coffee from the Pavilion cafe afterwards.
Heaton Park Credit: Shutterstock
Bolton Parkrun
Where: Leverhulme Park, Bolton. The start point is at the crossroad of paths close to the car park and it is on a mix of paths and running track, with a short off-road section.
Extra info: There is parking at Leverhulme Park Community Leisure Centre, or you can get on the 95 bus to get there.