Hundreds of fans of Morrissey will descend on the singer's home city for a festival raising money for an historic Manchester pub.
The 10th annual Mozarmy event takes place in April and has been described as one of the biggest music fan gatherings in the world, with people planning to make the trip from as far afield as Indonesia, Japan and the UK.
The event will raise money for the Star and Garter, located near Piccadilly station, which has been holding discos dedicated to the music of Morrissey and The Smiths for almost three decades. The convention will provide an opportunity for fans to get an inside track on what it is like to work with the man himself with top music industry figures heading to Manchester to answer questions.
What is the Mozarmy festival in Manchester and when is it?
The Mozarmy festival is a weekender dedicated to all things Morrissey and The Smiths and draws hundreds of devoted fans of the singer to Manchester. Organisers say that in 2023 fans are planning to make the trip from Indonesia, Japan and Texas.
This year's event, the 10th to be run, kicks off on Friday 28 April at the Star and Garter in Fairfield Street, with half of the proceeds going towards the upkeep of the storied watering hole and the other half helping a staff member who has fallen ill.
The opening night will include a Q&A with producer and songwriter Stephen Street plus BBC writer and former Morrissey drummer Andrew Paresi. On Saturday (29 April) ex-Morrissey bassist Jonny Bridgwood and Louder Than War editor-in-chief John Robb, who invented the term Britpop, will answer questions.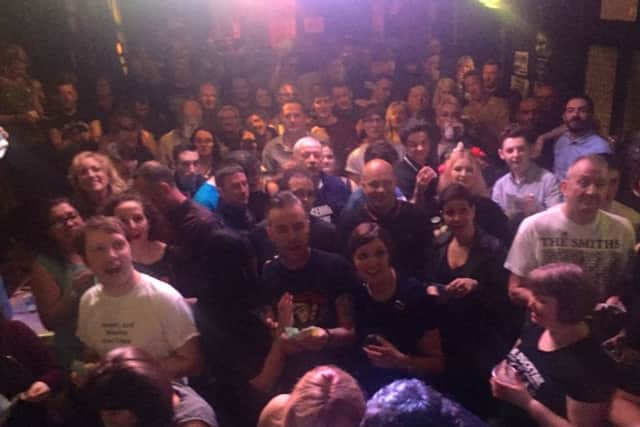 Music will be provided across the Friday and Saturday nights by the Mexican Morrissey, The Salford Lads and The Roberts Family Band, which features dad on vocals, mum on drums and their daughters on keyboards and bass. On both evenings the live sets will be followed by a disco going on until 3am, with the likes of ex-Hacienda DJ Billy Idle spinning the decks.
There will also be a daytime Manchester Music Tours trip on the Saturday to visit the local spots that inspired Urmston-born Morrissey, whose solo career has produced more than 30 top 40 singles and three chart-topping albums. On the Sunday (30 April), hoards of fans armed with vegan cheese sandwiches and Bluetooth speakers will meet up for a Morrissey T-shirt picnic in Mayfield Park.
Weekend passes for the Mozarmy Meet 2023 are available for £35. Individual tickets for Friday and Saturday are priced at £20 each. Tickets for the Event, which this year has been dubbed Viva Mate in celebration of the 35th anniversary years of Morrissey's debut solo album Viva Hate, are available now via WeGotTickets.
What has been said about the Mozarmy event in 2023?
Organisers say the 10th anniversary of the Mozarmy Meet will be an opportunity for die-hard fans of Morrissey's honest lyrical takes on loneliness, loss and rejection to celebrate the friendships that have been cemented through the event's first decade, with the dates, marriages and even babies coming about thanks to the convention.
Mozarmy founder Julie Hamill, who is also an author and the host of the weekend, said: "There are people thousands of miles from each other who have become the best of friends. We have mums and dads, and sons, step-kids, grandchildren...every generation.
"Every year there is someone who is anxious about coming to the meet, because they are attending alone. Then they realise, most of us attend alone. That person may have gone through life not feeling any sense of belonging anywhere, or to anyone. When I see them smiling and talking with others, dancing and singing, I know what we started can't finish."
Mexican Morrissey Jose Maldonaldo said: "I've been coming every year since 2015 and it's always a joy to see people from faraway places experience Manchester for the first time.
"There's lots of fun to be had and it's a great way to see friends that you've only met online. The Mozarmy Meet is the perfect event for Morrissey and Smiths fans to meet up - in the city where it all began."