Manchester Marathon 2023: Results from Men's, Women's and Wheelchair races
The 2023 Manchester Marathon attracted thousands of competitors - here are the results.
Watch more of our videos on Shots!
and live on Freeview channel 276
Visit Shots! now
The 2023 Manchester Marathon took over the streets of the city and parts of Greater Manchester as 28,000 runners took part.
The route passed a number of famous Manchester landmarks including the Old Trafford football ground as it worked its way through Chorlton, Hulme, Old Trafford, Stretford, Sale, Timperley, Altrincham, Urmston, Salford, and Manchester city centre before finishing up at Old Trafford cricket ground.
What is billed as the UK's "fastest, flattest and friendliest major marathon" offered prizes ranging from £750 for the male and female finishing first through to a £100 gift to those making it into 10th place. The end goal of many runners was to beat a previous record time, or maybe hoping to just make it round at a half decent speed. Attention soon turns to results once they cross the finish line.
Whether you were taking part, spectating from the sidelines or unable to catch the live stream on Manchester Marathon's YouTube channel for any other reason, we have here brought you the key results from the 2023 race below.
Full results from 2023 Manchester Marathon
Wheelchair Marathon
In the Wheelchair Marathon, Bret Crossley finished first in 01:49:39. He was followed by Tiaan Bosch in 01:56:51 and Matthew Clarke in 01:59:13.
Marathon - Men
Ignas Brasevicius- 02:16:27
Kieran Walker- 02:17:30
Ollie Lockley- 02:20:47
Lewis Gamble-Thompson- 02:23:59
John Birch- 02:24:33
Jack Nixon- 02:25:12
Jack Bancroft- 02:25:30
Nigel Hockin- 02:25:55
Jay Ferns- 02:26:42
William Mackay- 02:27:11
Marathon - Women
Naomi Mitchell - 02:31:27
Malin Starfelt - 02:36:44
Georgie Bruinvels - 02:38:22
Angie Fisher - 02:42:40
Lauren Reed - 02:44:04
Fionnuala Ross - 02:44:52
Sarah Hunter - 02:45:12
Gemma Aston - 02:48:35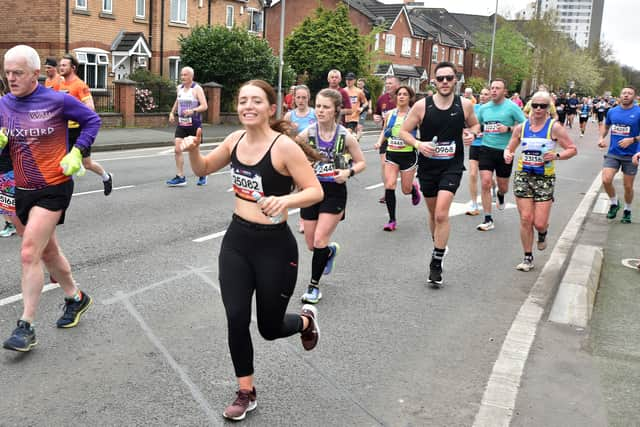 Two leg relay
Tank Tastic- 02:12:43
Green Team- 02:43:13
Almost Matthletes- 02:47:17
Fenwick Striders A- 02:53:35
Matchy Matchy- 02:57:56
Salt n' Peps- 02:58:28
the Timperley Two- 03:09:14
Liz and Diego- 03:09:20
Runner Beans- 03:17:14
Harri met Ally- 03:17:53
Four leg relay
Road Warriors- 02:37:55
ITFs- 02:39:12
Trucking Along- 02:47:00
Lymm Runners- 02:57:07
Simon Foulkes- 03:02:23
Camberwell Running Club- 03:05:38
4 Legs VERY Good- 03:08:23
Ninja Cows- 03:09:19
Radcliffe AC A Team- 03:11:26
2fat2furious- 03:13:53
Adidas Individual
Max Dillon- 02:31:23
Jason Kelly- 02:35: 34
Jon Regan- 02:40:00
Finlay McAndrew- 02:41:56
Kieran Reay- 02:44:37
Sergio Turull Serratossa- 02:44:49
Alexander Dinsmore- 02:48:09
Joseph Marley- 02:53:13
Richard Lawrence- 02:53:28
Rikki De Louche- 02:54:43
Adidas two leg relay
SSL x adidas- 12:42:39
Sutton Runner- 13:13:24
Adidas four leg relay
Adidas Nordics- 11:43:43
Adidas Marketing- 12:40:40
Ads Finance 1- 13:02:02
Ads Finance 2- 13:06:29
Adidas Benelux- 03:28:09
Half British Half Dutch- 03:45:20