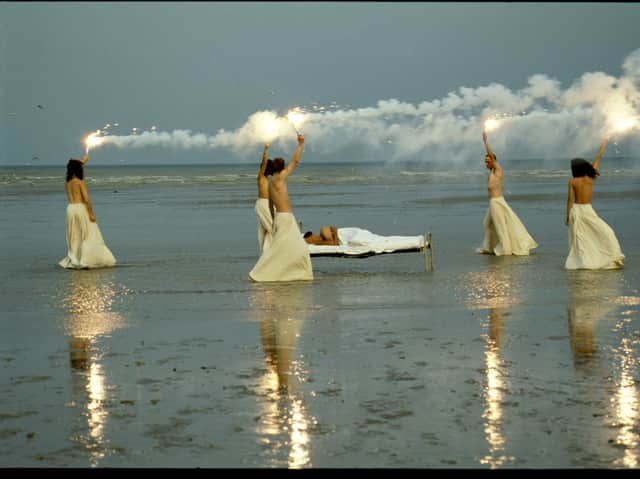 An image from Derek Jarman's film The Garden. Photo: Liam Daniel courtesy of Basilisk Communications
Manchester Art Gallery has unveiled a major exhibition of the works of unique British artist and film-maker Derek Jarman.
PROTEST! opens to the public on Thursday 2 December and is remaining at the city centre culture venue until April 2022.
The exhibition is a wide-ranging exploration of the artistic achievements of a singular and iconoclastic talent.
What is PROTEST! at Manchester Art Gallery?
The exhibition focuses on the multiple talents of Jarman, who was born in 1942 and was a painter, writer, film-maker, set-designer, gardener and political activist.
Organisers say this is the most wide-ranging look at Jarman's career to be staged in more than 20 years.
Derek Jarman in Manchester. Photo: Howard Sooley
The exhibition ranges from the 1960s to the 1990s, and many of the pieces have not been seen in public before.
PROTEST! looks at Jarman's engagement with both art and society, particularly with political protest and issues which arose around the AIDS crisis.
The exhibition contains a wide variety of his film work too, from early Super 8 pieces to his 1993 film Blue.
The celebration of Jarman's achievements in the world of moving images continues in Manchester next year as HOME is planning a major retrospective of his cinematic output.
As well as seeing Jarman's work audiences will be able to understand how he continues to influence artists and creatives today.
Part of the artwork I.N.R.I. Photo courtesy of the Amanda Wilkinson Gallery
Contemporary artist Jez Dolan, whose studio is in Salford, has been named artist in residence for the exhibition and will be in the gallery each Thursday afternoon working on new pieces and curating and delivering a series of public performances and participatory events.
This will include commissioning projects with emerging LGBT+ artists, performances, discussions and workshops to help people understand how important Jarman's legacy remains today.
Who was Derek Jarman?
Derek Jarman studied at the Slade School of Art in London in the early 1960s and was part of a group of young painters, including Patrick Procktor and David Hockney, who embodied a changing mood in British art.
His early career consisted entirely of painting before he moved into designing sets for opera and ballet productions.
He then began making films in the 1970s.
Landscape by Derek Jarman. Courtesy of Jen - Huei Chang Collection, London UK
His varied artistic interests included punk, the paintings of Renaissance master Caravaggio, the lives and histories of LGBTQ+ people and politics, with many of his works taking aim at the values of Margaret Thatcher's Britain and the country's social conservatism.
He was diagnosed as HIV positive in 1986 and he became an outspoken campaigner and activist raising awareness of the disease.
He also moved at around that time to Prospect Cottage in Dungeness, Kent, which has just been saved for the future thanks to a massive public fund-raising campaign.
Some of his most significant works included films such as Sebastiane, a queer telling of the story of the martyrdom of St Sebastian, the apocalyptic The Last of England and the beautiful The Garden, which was inspired by and filmed at Dungeness.
An image from Derek Jarman's film The Garden. Photo: Liam Daniel courtesy of Basilisk Communications
Paintings such as Margaret Thatcher's Lunch showed his caustic reactions to contemporary events, while his slogan paintings such as Queer reflected on tabloid hysteria and public fear around the AIDS crisis.
He was also notable for developing young talent, giving opportunities to the likes of Tilda Swinton and Sean Bean and collaborating with musicians including The Pet Shop Boys and The Smiths.
How can I see the exhibition?
PROTEST! at Manchester Art Gallery opens on Thursday 2 December and runs until 10 April 2022.