A children's show which has helped to spark young girls' interest in science and technology is coming to a Manchester theatre.
The show was created on Zoom during the first Covid-19 lockdown in 2020 and has been such a success that it has now been changed into a live, in-person event.
The team behind it says it has helped encourage youngsters, particularly girls, to see themselves studying and possibly embarking on careers in subjects such as engineering.
What is Curious Investigators and when is it in Manchester?
Curious Investigators is a feelgood show aimed at children aged between three and seven based around two female scientists, Scribble and Clipboard.
They are working in a very unusual recycling plant when they find an egg containing an unborn chick. The pair ask the audience to help them protect the egg from smashing, using children's creative engineering ideas to save the tiny bird.
The show is produced by Rafia Hussain, who has a background in biomedical science, and was put together in collaboration with engineering experts Dr Irene Wise and Dr Jenny Roberts from Lancaster University.
It was originally conceived on Zoom during the first coronavirus lockdown in 2020 and has now been completely reworked so that it will work in a theatre in front of a live audience.
The two performances at Z-arts in Hulme are on Saturday 26 February at 11am and 2pm.
Each consists of a 40-minute performance followed by a stay-and-play session lasting 20 minutes.
What has been said about the show?
Rafia said Curious Investigators is intended to explode myths and expectations around science and engineering with a family-oriented show that is lively and fun.
And research suggests it did have an impact on impressionable young minds in its Zoom format.
Research carried out by One Tenth Human, the award-winning theatre company behind the show, found that prior to experiencing Curious Investigators, 66% of the children answered 'no' when asked whether they would like to become engineers. Afterwards, 96% said either 'yes' or 'maybe', with girls even more likely to feel positively than boys.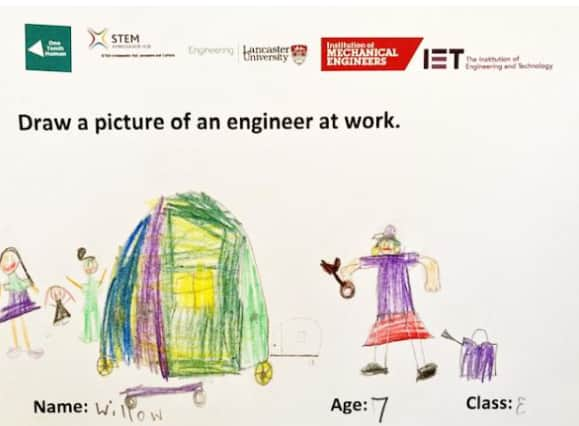 And when primary school aged children were asked to draw pictures of engineers at work after watching the production, many produced sketches of people wearing skirts and dresses with typically female hairstyles.
By way of comparison, a 2019 Department for Education report found that female pupils were less likely to rate a science, technology, engineering and maths (STEM) subject as their favourite (32% compared to 59% of males), and were less likely to consider a STEM subject their strongest (33% compared to 60% of males).
The same report showed that only 8% of female pupils were considering taking a Physics A Level, compared to 30% of male pupils.
At a higher education level, only 19% of current computer science and engineering students are female, although according to the group STEM Women there has been a small increase each year since 2015.
Rafia said: "STEM subjects, namely, science, technology, engineering and maths, come with powerful and dangerous cultural baggage.
"Many children from lots of different backgrounds, and especially girls, reach adulthood believing these subjects are not for 'people like them'.
"One Tenth Human is on a mission to empower children with better stories about their own potential. We believe that theatre can break down barriers to accessing STEM education and careers."