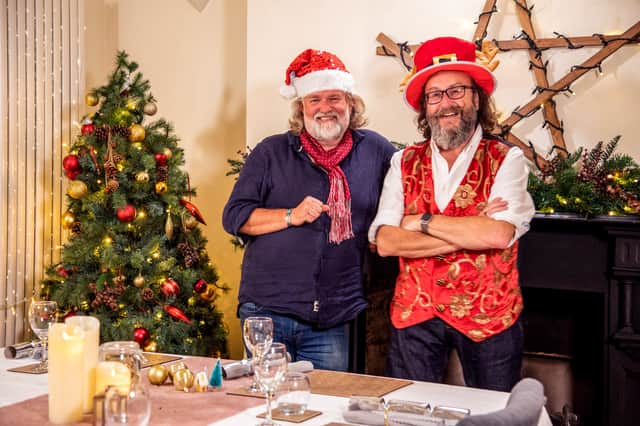 The Hairy Bikers Go North for Christmas Credit: BBC/South Shore Productions/Jon Boast
The Hairy Bikers have set their sights on dishing up the ultimate Christmas dinner, inspired by Northern producers who are revolutionising the British food scene.
From Turkey doner kebab starters and gourmet marshmallows to award-winning Christmas puddings and frangipane mince pies, Dave Myers and Si King put together their top choices while visiting northern food producers, as part of a Christmas episode to be screened next week on BBC Two.
Basing themselves just outside Bolton, the episode shows them treating three generations of both the King and Myers families to the 'best Northern Christmas ever' with locally-sourced food.
Turkey Donner kebab Credit: BBC
Si says: "There is something lovely about taking the time to cook for your nearest and dearest at Christmas, but this time we were looking for surprising alternatives to the typical festive menu.
"This very special Christmas dinner is a celebration of our love of the best food produce in the north of England, and of our shared friendship."
The Hairy Bikers Go North for Christmas is due to air on Wednesday 22 December at 8pm on BBC Two.