Pub goers in Manchester can get a tasty afterwork offer today as one pub chain is offering free pints.
The move kicks off the Jubilee week, which will end in a four day long weekend in honour of Queen Elizabeth II.
Here's what you need to know about the offer, including which pubs in the Greater Manchester area you can visit for the pint and why the chain has chosen to charge nothing for the Jubilee pints.
What is the offer?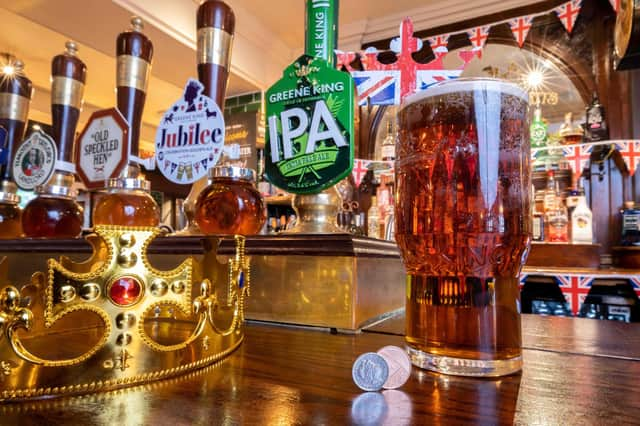 The offer from Greene King is in place for one day only, and allows pub goers to pick up a pint for free.
How can I claim a pint?
To claim a pint, visit a Greene King pub and say the secret code of '1952' behind the bar.
Why was the offer changed from six pence pints?
he pub chain was to offer pints for six pence the UK, choosing this amount because this was the average price of a pint in 1952 - the year Queen Elizabeth II ascended to the throne.
Yet issues with charging this amount under licensing laws made the chain change the offer to free pints instead.
This is a one time offer, so be sure to be quick and not to miss out!
Which pubs in and around Manchester are taking part?
Below is a range of Greene King pubs in the Greater Manchester area, along with comments from the pub about what they have to offer.
Royal Oak
440 Barlow Moor Road, Chorlton-Cum-Hardy, Greater Manchester, M21 0BQ
The Royal Oak is situated in the very centre of Chorlton-Cum-Hardy. Although on a busy high street it is still very much a locals pub, which draws customers from every section of the Chorlton community. We have a wide range of drinks & food offers that run 7 days a week.
Monday opening hours: 11am-11pm
Ye Olde Cock
848 Wilmslow Road, Didsbury, Greater Manchester, M20 2RN
A place to Wine, Dine and have a great time. Whether family or friends, a quiet drink or a wild party, a lunchtime snack or a three course feast, the Olde Cock is the place to be.
Monday opening hours: 12pm-11pm
Kings Ransom
Britannia Road, Sale, Greater Manchester, M33 2AA
"At the Kings Ransom we pride ourselves in sharing the Great British pub experience. Our menu offers traditional British pub food made from quality ingredients."
Monday opening hours: 12pm-11am
Bent Brook
161Broadway, Urmston, Greater Manchester, M41 7NW
"You'll find us not far from Manchester, in between A57 and M60. Great for families, The Bent Brook is comfy, casual and lively. Got a big appetite? You're in the right place!"
Monday opening hours: 12pm-11pm
Romiley Arms
Compstall Road, Romiley, Greater Manchester SK6 4BN
"The Romiley Arms is a good all round pub in Romiley, Stockport. We serve food every day from our delicious menu along with a range of refreshing drinks for you to enjoy.
"If you are looking for somewhere to watch the live sporting action, we have Sky Sports & BT sport on screens throughout the week."
Monday opening hours: 12pm-11pm