Góbéfest 2023: Manchester city centre celebration of Eastern European culture returns - what's on and when
Góbéfest will take over Cathedral Gardens in Manchester in June for three days of Eastern European music, dance, food and drink.
Watch more of our videos on Shots! 
and live on Freeview channel 276
Visit Shots! now
Eastern European culture and cuisine will once again be celebrated in Manchester city centre this summer as Góbéfest returns to take over Cathedral Gardens and transport people to the Carpathian Basin.
The music, dance, food and drink of countries including Hungary, Romania and Poland will take centre stage in June for three days of festivities. Góbéfest was founded in 2017 to celebrate the folklore and culture of the Székler people, a group of ethnic Hungarians living in Transylvania in Romania, and has since expanded into a showcase of arts and cuisine from across the entire Eastern European region. Here's when the 2023 edition of the festival takes place in Manchester and what is on the packed itinerary.
What's on at Góbéfest 2023 and when is it?
Góbéfest returns to Cathedral Gardens for three days of festivities from Friday 23 June to Sunday 25 June 2023. Visitors to the event can expect to see multiple stages with music and dance groups showcasing their skills, traders' stalls and family activity tents.
The music programme includes the 150-strong ensemble the Children's Philharmonia of Szentegyháza from Transylvania as well as singer Koszika, Finom Zenekar and Berci Bíró who are all from the same region. the Manchester Zither Ensemble, the Kalinka Balalaika Orchestra and Manchester Youth String Orchestra will also perform.
Other artists taking to the stages include multi-national group Stacja Fanfara, which includes musicians from Bulgaria, Poland, Macedonia and the UK, Yek Duy, the Folktone Trio, Michael Billington and Ildikó Csige and the Michael Cretu Trio.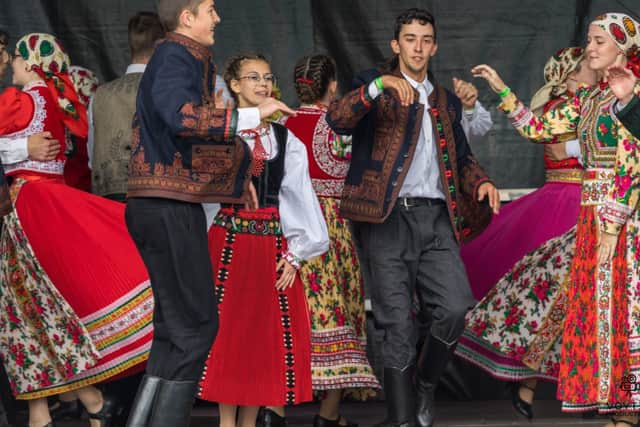 The dance programme includes Százlábú Caterpillar Dance Ensemble from Transylvania, the Ansamblul Tezaur Romanian Dance Group, the Hunique Folk Ensemble, the Polonez Polish dance ensemble, the Podilya Ukrainian Dance Ensemble, the TK "Ripni-Ka" North-West Bulgarian Dance Group, the Hungarian Folk Dance Group of Bristol, the Szép Arany Hungarian Folk Dance Group and the Manchester Hungarian Folk Youth Ensemble.
There will also be family workshops covering zither playing, Ringató baby music, folk dance, Kodály music workshops, storytelling, singing and arts and crafts.
The popular food and drink market, meanwhile, will be serving up a delicious array of famous and lesser known dishes from around the region, including langos, paprikash, chimney cakes and goulash. Visitors will also be able to sample drinks from the area, including the palinka fruit brandy.
All the performances and activities at Góbéfest will be free.
What is Góbéfest?
Góbéfest was established in Manchester in 2017 to celebrate the little-known culture and traditions of the Székler people, a minority group of ethnic Hungarians living in Transylvania, which is part of Romania.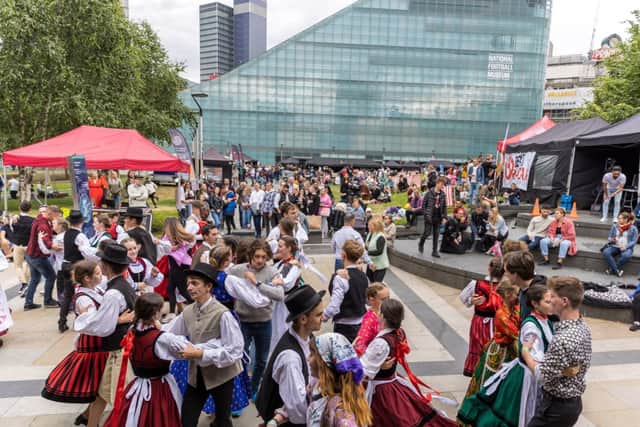 Since then the festival has grown in scope to include more Eastern European traditions and cultures and now celebrates the entire region known as the Carpathian Basin.
The name of the festival comes from the Hungarian word góbé, which is a friendly word for a 'crafty Székely'.