Wythenshawe Amateurs Football Club has announced that co-founder of Parklife and The Warehouse Project, Sacha Lord, will be joining the board and will be installed as chair when current chair, Carl Barratt, steps down.
The club's first team secured the NWCFL First Division South Title on Saturday (15 April) with a 4-0 win against Foley Meir and won automatic promotion to the NW Counties Premier Division League (Step 5).
Wythenshawe-born Sacha has long been a supporter of grass-roots football as well as being an avid Manchester United fan. He said: "I have been aware of 'The Ammies' for some years now after many friends watched the team during the Covid-19 pandemic from the hill in Hollyhedge Park when games were being held behind closed doors.
"Over the last few months, I've attended quite a few games and when the opportunity arose to take over the reins this was something I couldn't turn down, especially in such an exciting time for the club, following promotion.
"I am looking forward to helping to lead the next part of the journey at Wythenshawe. The club has so much potential, along with the board, have plans to grow attendance and improve the overall experience for fans and visitors, making this a thriving ground with a hugely diverse fanbase."
Current chair, Carl Barratt, said: "The board and I are incredibly excited to take the club forward with Sacha at the helm. We are proud of what we have achieved since opening our new home at Hollyhedge Park and are delighted that Sacha has identified for himself the true potential of our community-owned club.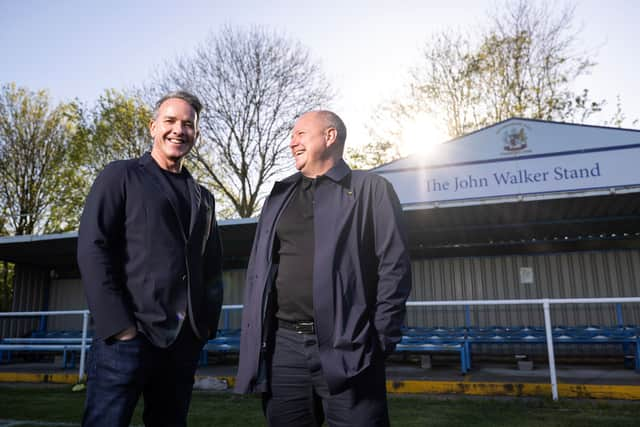 "Sacha also will be joining us following the recent news that we have had approval by the FA, Lancashire County FA and all 14 leagues to remove the word "Amateurs" from our name to reflect the progress the club has made, and we will shortly commence rebranding across all our platforms.
"Wythenshawe means the world to me, and I cannot stress enough my enthusiasm and support for Sacha and his plans for the Club. He has a superb track record of building destination venues with passionate and active communities and I know that we are in very capable hands when I hand over the baton in the coming weeks."
Carl will remain as vice-chair and will remain chair of the Junior section. He added: "We also wanted to say a huge thank you to all of our fans as the season draws to a close. As a token of our appreciation we will be providing food and drink vouchers for Saturday's game against Pilkington FC. Sacha's Warehouse Project team will also be on-site running hospitality for this game.
"We are hoping to get a huge crowd this weekend following our championship winning promotion and will be celebrating with a lap of honour for the players.
"It's a solid moment in our history - the highest we've ever been - and carries on our success in not having ever been relegated in our 77 years as a club."