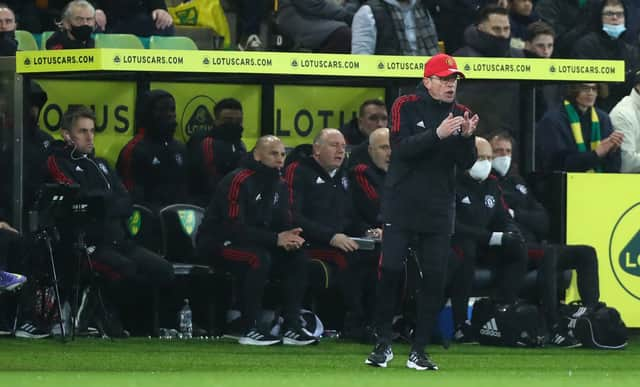 Manchester United have announced Ewan Sharp as their new assistant coach and analyst, replacing the recently-departed Kieran McKenna, who was appointed Ipswich Town's new manager on Thursday.
Sharp is well known to interim United manager Ralf Rangnick, with the pair previously working together at Lokomotiv Moscow and New York Red Bulls.
The appointment of Sharp is the third under the German, with Rangnick having already added Chris Armas and Sascha Lense to his backroom staff.
Who is Ewan Sharp?
Scottish-born Sharp was recently part of Russian Premier League Lokomotiv Moscow's coaching staff, the club Rangnick joined United from, working as a performance analyst.
He is no stranger to the German or his other assistant Armas, with Sharp recently working with the latter at Toronto and New York.
While part of New York backroom staff, the Scot went into detail on how he impacts the club's tactical approach, saying: "Our style is something which is really well communicated throughout the organisation, the characteristics we look for in first-team players."
"We try to instil that in the academy players, the USL adopts a very similar shape and playing style to the first team.
"In my role this is hugely beneficial, it helps me in opposition analysis, post-game analysis, the way I go about communicating with players. Without it, it would be very difficult to know what to look for when looking at games.
"For me, the biggest benefit of having this well defined playing style is the players are clear of their expectations, they know what the coaching staff is looking for and what is expected of them when they go out and perform."
What are the fans saying?
In reply to the club's announcement tweet, @unofficialra said: "Welcome. Congrats on the new job and I hope you can make this utd team better."
@PakuSidhu said: "Great to see a manager setting up his backroom staff with people he trusts/worked with previously. Steps into the right direction!"