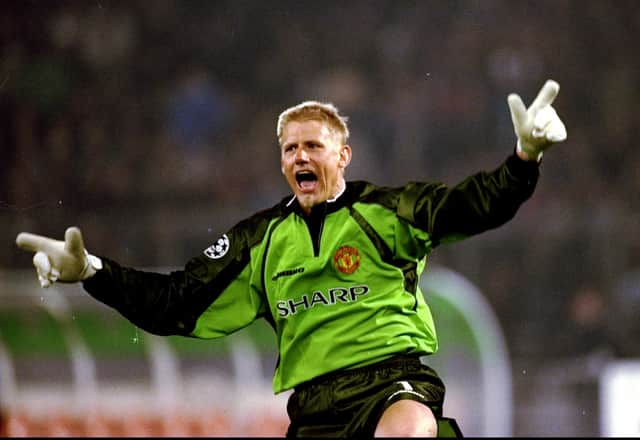 Peter Schmeichel
Peter Schmeichel reflected on his incredible football career on Monday night, in a live event at O2 Apollo Manchester to mark the release of his new book One: My Autobiography.
On a grey evening, thousands journeyed out in the rain to hear from the ex-Manchester United legend, who regaled supporters with tales and anecdotes from his nine-year stint at Old Trafford.
Our football writer Michael Plant was in attendance at the O2 Apollo and selected nine of the most intriguing topics discussed by Schmeichel.
Peter Schmeichel speaking during live event.
United struggled & 'got lucky' in treble season
There's only one place to start, and that's with the goalkeeper's last season at Old Trafford, 1998/99, when the club won the historic treble of the Premier League, FA Cup and Champions League.
While that squad is remembered as one of the greatest in English football history, Schmeichel reminisced how that campaign started poorly for the Red Devils and a December loss against Middlesbrough led to an honest post-match dressing room critique.
From there, the side never looked back and weren't beaten again that season. "No-one in that squad thought we could lose another game," the 57-year-old reflected, before admitting he's never "got so lucky" in his life as in the second half of '98/99.
"Hairdryer is just a headline"
Sir Alex Ferguson was renowned for his angry outbursts during his time as manager. Nicknamed the 'hairdryer treatment' in the press, Ferguson's tirades became infamous and many former players have spoken about being on the receiving end of one.
However, Schmeichel claimed they were more of a "media headline" and actually rarely occurred after a poor performance. The Dane stated his former boss knew when to shout at his players, and when to opt for a softer approach.
Schmeichel also said Ferguson only really lost his temper with the press when his players were unfairly criticised and that the legendary manager never held a grudge after an argument with a squad member.
Ferguson's incredible impact
The ex-goalkeeper could have devoted the entire evening to tales about the 13-time Premier League champion, and told a host of stories about Ferguson.
They included his remarkable memory and Schmeichel recalled a recent time when Ferguson met one of his ex-Denmark team-mates Preben Elkjaer Larsenand, and precisely described a goal he scored against Scotland in the 1986 World Cup, when Ferguson managed the national team.
Schmeichel also claimed his old boss had "two brains" during his tenure at Old Trafford, one thinking of the present, the other always planning for the future. He explained Ferguson once picked out a youth-team player at United and said: "He'll play 45 minutes in the League Cup in 18 months", although Schmeichel couldn't remember the youngster he referred to.
Ferguson also repeatedly laxed his very stringent rules for Eric Cantona, and the Frenchman even influenced his tactical approach to the 1996 FA Cup final, with the then No.7 putting the manager off the idea of man marking Steve McManaman.
"He makes you feel safe and it makes you do more every day," Schmeichel summarised at one stage.
The one career regret
The treble campaign was ultimately Schmeichel's last at Old Trafford and he subsequently moved to Sporting Lisbon in 1999.
Reflecting on his United career, the club's greatest-ever stopper admitted he wished he would have stayed for a few more years, however he was mentally drained after an extended summer at the 1998 World Cup and only had 10 days before returning to the Red Devils.
"I was in the wrong state of mind to make that decision," he said. "I made all the mistakes you can make. I was burned out. I know now it was wrong."
The choice to leave at the start of the '98/99 campaign led to a "downward spiral" which affected him mentally.
Schmeichel played his last game for United in the 1999 Champions League final. Credit: Getty.
Wanting to play for Keegan
The 'Great Dane' infamously joined Manchester City at the end of his career, spending a solitary season at the club before retiring. Schmeichel reflected on the numerous reasons he opted to join the club in 2002, one of which was the allure of playing under Kevin Keegan.
"This wasn't 2021, it was 2003," he explained. "It was very different then." Keegan had challenged United for the title in the mid-1990s when in charge of Newcastle United, and the goalkeeper was impressed with his approach to the game.
Schmeichel and his family also wanted to return to Manchester, while he also revealed a chat with Ferguson encouraged him to make the move, when the United boss claimed City "weren't a real threat".
Solskjaer wrong to drop Ronaldo
The five-time Premier League champion weighed in on the debate surrounding Ole Gunnar Solskjaer's decision to drop Cristiano Ronaldo against Everton on Saturday.
"It was a brave decision, but I don't think it was the right one," Schmeichel said, although he explained later that he fully supports his fellow Scandinavian and feels suggestions Solskjaer should lose his job are premature.
The best save
Unsurprisingly, Schmeichel was asked about which save he felt was the best in his career and the Dane chose his famous stop against Ivan Zamaorano in the 1999 Champions League quarter-final.
His best team-mates
Schmeichel played with some top stars at United, but chose none of them when asked who was the most talented team-mate he lined up alongside.
Instead that accolade went to Michael Laudrup, who, along with Schmeichel, guided Denmark to their Euro 1992 triumph.
One player who surprised him
The former No.1 also revealed during the show that David Beckham's development as a youngster amazed him. Schmeichel felt the midfielder wouldn't make it at United during his early days at the club, and was staggered by his improvement when he returned from a year on loan at Preston North End in the 1994/95 season.
"He left us a boy and came back a man," the Dane reflected, of a player who went on to make nearly 400 appearances for the Red Devils, and became a global football icon.
* One: My Autobiography is out now at bookstores, priced £20.