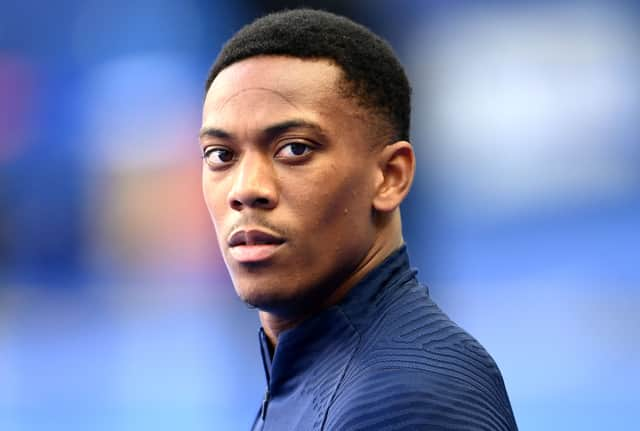 Anthony Martial has been linked with a move away from Manchester United. Credit: Getty.
With the January transfer window rapidly approaching, several Manchester United players have been linked with moves away from the club.
"Anthony wishes to leave the club in January," said Philippe Lamboley, Martial's representative. "He just needs to play. He doesn't want to stay in January and I will speak to the club soon."
Martial has scored once this season, in the 1-1 draw with Everton. Credit: Getty.
Which clubs are interested in Martial?
Since those comments, several clubs have been linked with Martial, with reports in Spain suggesting he could be a target for Barcelona.
El Nacional claim the Catalans have registered an interest in the United No.9, although their preference would be a move for Mason Greenwood. Barcelona have also been heavily linked with a move for Edinson Cavani.
Elsewhere, in Italy, Gazzetta dello Sport report that Juventus are keen on bringing Martial to Turin on loan until the end of the season.
But, according to ESPN, there hasn't been a huge level of interest in the former Monaco man and United are 'yet to receive a serious inquiry'.
They claim the Red Devils are willing to listen to offers but are not interested in agreeing a cut-price deal or paying a significant amount of Martial's wages as part of a loan deal.
What's Ralf Rangnick had to say?
Asked last week about transfers, Ralf Rangnick said in a pre-match press conference that: "Players have to want to play and stay at a big club like Manchester United.
Rangnick said he is willing to let players leave United if they wish to go. Credit: Getty.
"If a player does not want to play for a club like Manchester United [in the] medium or long-term, I don't think it makes sense to convince him to change his mind. I don't think anyone in the club should try to convince a player to stay."
Asked separately about Lamboley's comments, the interim manager said: "I don't communicate with agents via the media or the press. The player hasn't spoken with me or with us about it.
"To be honest, what his agent has said in the media is not that much of interest. It should be the player. If a player wishes to go to another club, it should be the player who informs either the board or myself, whoever. I have never spoken to a player via media or agents."
Our view - could a deal happen?
Given the message from Martial's agent, his on-field performances and body language, it seems unlikely the striker has a long-term future at Old Trafford.
However, finding a buyer for the 26-year-old is another issue. Few clubs would be willing to match the wages he currently earns, or pay a significant fee for a player who has two and half years left on his contract.
Certainly a permanent move in January seems unlikely given the squeezed finances across Europe due to the impact of Covid-19, plus mid-season transfers are notoriously complex to arrange.
A loan deal does seem much more plausible next month and for all the issues surrounding Martial at present, there should be plenty of interest in a player with undoubted potential and quality. Finding that on a regular basis has been a reoccurring stumbling block throughout his career at United.
But that's why there could still be hope of Martial moving on in January, that a manager across the continent will believe they can find the combination to unlock his unquestionable talent.