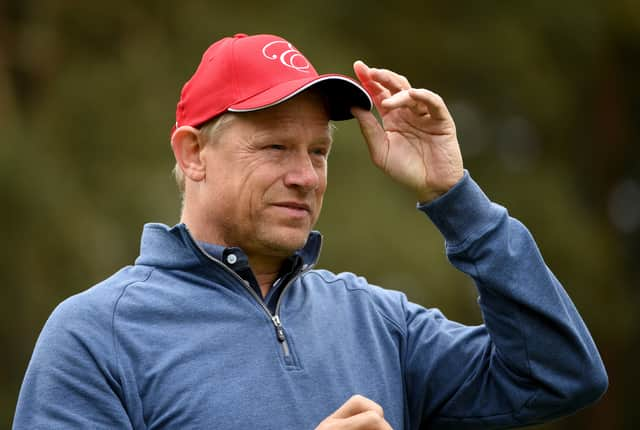 Peter Schmeichel. Credit: Getty.
Peter Schmeichel has delivered a riposte to Manchester United fans about why Ole Gunnar Solskjaer should be given time in the Old Trafford hotseat.
The ex-goalkeeper was speaking as part of a live event at the O2 Apollo Manchester on Monday night, when he gave an extended monologue about his former team-mate.
Schmeichel discussed the club's identity, managerial record since Sir Alex Ferguson left, the importance of youth production and the current squad, during the talk. Here's what he had to say...
Peter Schmeichel speaking during live event.
'No one is bigger than Man Utd'
"I'm very sad with some of the narrative that surrounds him and the club. I really do not like that #OleOut slogan. I think it's very disrespectful, and is also too much of a headline. Everyone, of course, is entitled to have an opinion on what's going on. But let's just say Ole was sacked, then what? Then who? Seriously, who? We've tried three managers."
"I would do precisely what he's doing now," he responded to a question from the crowed. "I would restart the whole club again. With David Moyes, we had a manager for 27 years and then suddenly we have one for seven months. That's not great for Manchester United and it says we weren't good enough or didn't have the players. We made a massive mistake on that one.
"When you get a big manager [in Louis Van Gaal] who's been there and done that, he's been at Barcelona, at Ajax. But you also know what his personality is. He's very much for the results here, he doesn't look back or 18 months into the future. We saw that and he was 'bigger' than Manchester United and that's not on.
"No-one is bigger than Manchester United. Even Fergie [Sir Alex Ferguson] believed he wasn't bigger than Manchester United. No-one is bigger than Manchester United, that's how we have to see it. Then we get someone [Jose Mourinho] who thinks he's bigger than the whole world!
"This is something that never gets into the public domain, but one of these managers didn't want the young players to eat with the first team. That is very much a part of Man United's DNA that the young players travel over from the academy. They travel through like a glass tunnel, but all the players who have made that trip from the academy to the first team, they are there every day.
"When they go for lunch they are there and it's an inspirational thing. Every day it says: 'You have to be the best you can be to get here'. Now they were denied access because that manager didn't want them anywhere near the first team. For me, that is just wrong, not caring about the academy.
"So you can take one year out where there's no focus on recruitment, that means you're one year behind everybody else. If it's two years, you're two years behind. And what do we pride ourselves on? We produce players and then [they're supplemented] with players who come from the outside: [Eric] Cantona, [Cristiano] Ronaldo. But the core of our players come through our academy, that's who we are, and that's where we should be.
"Ole has taken over where there has been a very big break in that supply line. He is now changing that and focusing on the academy again. He's building it up again and they've made changes to the personnel, Darren Fletcher and John Murtagh, they've come in and we've never had these positions before.
"It's moving in the right direction but we cannot see it because it's hidden at Carrington. We won't see these players until they're in the first team. It takes time. Fergie had the time to do that. I know we live in a time where everything has to be now, everything has to be instant. If we're unsure, what's the answer? Google. What's the big panic today? Facebook, Instagram and Whatsapp are down. But when it comes to human beings and people who need to perform at any level, it takes time to develop these players and these people.
"Therefore, we have to be patient with Ole. He's not taken over the easiest squad. There are some football politics going on. There are a lot of things he's not in control of yet, but he will in time. And we have to wait for these talents to come through, and he's been brave. I think he's been incredibly brave in playing players like [Mason] Greenwood, giving [Marcus] Rashford so much playing time. Getting them in there and giving them that experience. I like it, I really do.
"I know it's not going the way we think it's supposed to. We signed Cristiano [Ronaldo] and the way that he plays, there's a lot of adjustment for the other players to do, but when it happens we have an absolute goal machine up front. We just have to make it work."
Following in their footsteps
In a separate answer, a few minutes later, Schmeichel expanded on some of his previous points, and hinted Solskjaer must try and emulate the great Sir Matt Busby and Sir Alex Ferguson, in being a long-term coach.
"I'm talking about how you build a quality squad and a winning team," said the Dane. "For me, this is as a Man United fan, but also knowing how it works from the inside. I cannot tolerate someone who comes in and thinks he's bigger than the club, and he wants to do things his way because that is the only way.
"In doing so, in having these managers who are there for three or five years, every time they leave, they leave something behind that has to be changed because it is them. I want somebody who's Manchester United, somebody who knows what we want.
"In our history, we've had two [long-term] managers, one was there for 25 years and one was there for 27 years. That's who we are. We look for that person; that's the person that we need to find again. Ole has got the opportunity. I think he has got a lot of what it takes, but he needs a lot of support from you guys, from us, from everywhere."