'Ronaldo will bring Man United to another level': here's what Pogba, De Gea & team-mates are saying about him
Here's what Ronaldo's team-mates are saying about his surprise return - and what they expect his impact on the team to be this season.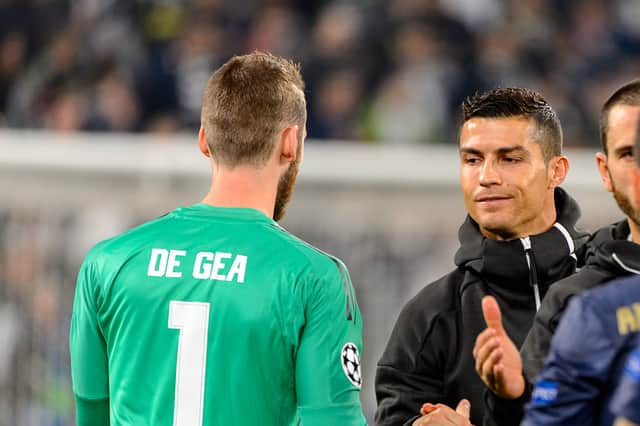 Ronaldo shakes hands with de Gea Credit: Shutterstock
Manchester United stars have spoken of the 'massive lift' Cristiano Ronaldo's confirmed arrival at Old Trafford will have on the team this season.
Paul Pogba, David de Gea and Luke Shaw are among those to have hailed the arrival of the club 'legend' as his transfer was confirmed from Juventus on Tuesday.
Here is a selection of their comments they shared with the club.
"Everybody knows what he brings. He's already a legend in this club and he's coming back, so obviously it's huge for us, for the club. He's going to bring his experience, his quality and obviously when he comes the level goes up. We're really pleased he's coming... when he comes we keep this mentality of winning, and keep winning."
"I feel like it's given the club a massive lift, not just inside but also outside. Obviously it's a big positive. He's been one of the best players in the world for a number of years now. Everyone is excited for him to come in and not just learn off him but be able to play with him too."
"It's like a dream for all the Manchester United fans, for us. To have him back it is going to be great, you can feel in the atmosphere. Hopefully he can bring something special as well to make the team even better. It's great to have him."